A crowdfunding campaign to buy Jeremy Corbyn the bicycle he was mocked for "coveting" has raised enough money to buy the Labour leader eight new bikes.
Corbyn, a keen cyclist, told Stylist magazine that his ideal bike was a Raleigh Criterium, costing £475.
"I use my bike less frequently now that I'm leader of the Labour party, but I still prefer to cycle whenever I can," Corbyn said.
"Not only is it free, environmentally friendly, and often the fastest way to travel, but it also gives the snappers outside my house a bit of variety."
Corbyn's choice was mocked in a Daily Telegraph article published yesterday, which made repeated references to him being a socialist, while a now-deleted tweet accompanying the article said Corbyn "covets" the bike.
In response, someone set up a project on the Crowdfunder website to buy Corbyn "his dream bike for his birthday", despite the Labour leader not turning 67 until 26 May.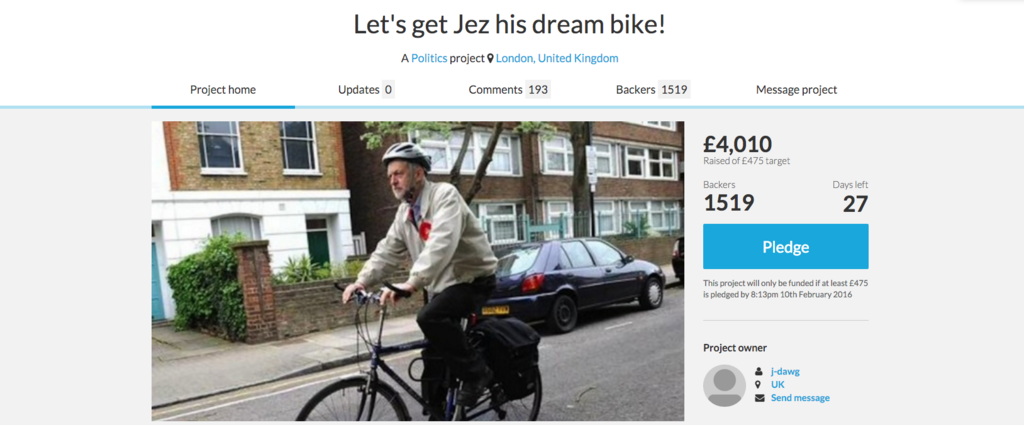 A day after it was launched the appeal has already raised £4,000 – comfortably enough to buy Corbyn the Raleigh Criterium and have a few thousand left for charitable causes.
Crowdfunder user j-dawg, who set up the appeal, said he had contacted Corbyn's office to find out the organisations he would like the remaining money donated to, but had suggested Calais Action, which supports refugees and migrants.
BuzzFeed News has reached out to both Corbyn's office and j-dawg to establish how the bike will be delivered.