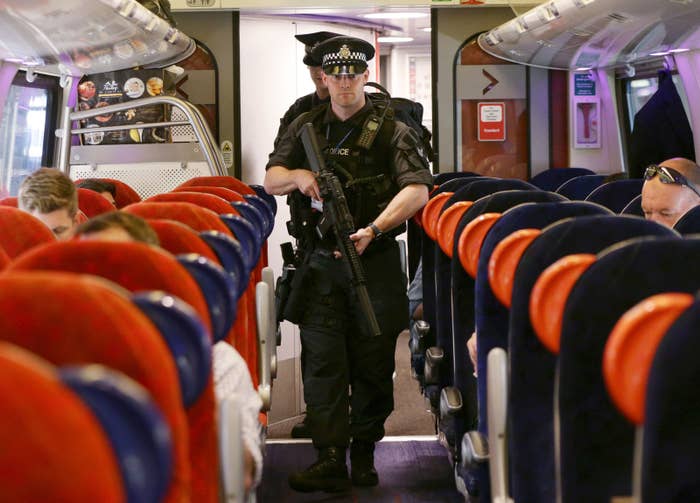 In the wake of the Manchester attack this week the threat level in the UK was raised to critical – meaning an attack could be imminent – for only the third time since the system was introduced in 2006. On both previous occasions, the critical threat level was lifted within four days.

One of the most visible effects of the threat level being raised is soldiers being deployed to key sites such as Downing Street and Buckingham Palace, freeing up the armed police who are usually stationed there to carry out patrols elsewhere.
Many of those armed police will be highly visible at a number of major events taking place as planned this bank holiday weekend in Manchester, London, and elsewhere around the UK, despite the increased terror threat level.
Manchester
The Great Manchester Run will go ahead as planned on Sunday, organisers announced, after talks with police and the council, with a full security review being undertaken.

Entrants have been told to expect a detailed email explaining plans for Sunday, which may differ from those previously issued, and additional security measures will be in place.
The Great CityGames will also take place on Friday at a purpose-built sprint track on Deansgate and a pop-up athletics arena in the city centre.
Councillor Luthfur Rahman said: "The Great CityGames and Great Manchester Run are two of the real highlights of Manchester's sporting calendar.
"We know that thousands of Mancunians have been looking forward to taking part, or cheering the athletes on, so I am pleased and proud to confirm that these fantastic events will be held as planned this weekend."
He added: "Manchester is a truly resilient city and we look forward to successfully hosting these great sporting events, with the support of Greater Manchester police."
London
The Metropolitan police said policing operations for all major events taking place in the capital this weekend had been reviewed, with extra measures and officers in place.

Chief Superintendent Jon Williams said people could expect to see armed police conducting foot patrols or in cars alongside their borough colleagues, with additional armed officers at events such as the FA Cup final between Chelsea and Arsenal at Wembley on Saturday evening. Wembley also plays host to two football playoff finals on Sunday and Monday, while the final of Premiership Rugby between Wasps and Exeter is at Twickenham on Saturday afternoon.
Fans have been asked to arrive earlier to the matches as additional security and entry searches may take a bit longer than they are used to.
"We are working closely with both the Football Association and Wembley to ensure this weekend's iconic football matches pass off without incident. Together we have a long history of delivering safe and secure major sporting events," Williams said.
"The focus is the safety and security of fans. Anyone coming to the FA Cup Final or the other play off matches over the weekend will see an increase in police numbers in and around the stadium."
Premier League champions Chelsea have cancelled a victory parade scheduled for Sunday. Arsenal have said they will not have a parade should they win the FA Cup, and plans to screen the final on a big screen at the Emirates stadium have also been scrapped.
In a statement, Williams added:

Our operation across London is also designed to move around from location to location – focusing on popular areas where people gather and events that may not have previously had a police presence.

All of this is designed to make the policing approach unpredictable and to make London as hostile an environment as possible to terrorists.

I would ask people to be our eyes and ears – if you see something suspicious tell a police officer or member of security staff.

If you are out in London this weekend or at an event talk to our officers, they are there to reassure, help and keep you safe.
Birmingham
This weekend is Birmingham Pride, and police have reassured people the event is still going ahead and they will be doing all they can to keep people safe.
"I appreciate that people planning to attend may feel a sense of nervousness – I would like to take this opportunity to give you some reassurance that a full policing operation is in place and is subject to ongoing reviews," said West Midlands police Assistant Chief Constable Alex Murray.

"We will have a large number of police officers, specials and police staff on hand to keep the public safe – this isn't only for the Pride event, but also for anyone visiting the city to enjoy all it has to offer."

Hull
The Radio 1 Big Weekend festival is going ahead as planned, with police reassuring people that there is "no information suggesting an imminent threat to our area at this time".
"We are taking all possible steps to keep people safe and to minimise the risk of a terrorist attack occurring in our force area," said Humberside police Assistant Chief Constable Andy McDyer.
"The public will see an enhanced policing presence, including armed police, across Humberside as the UK police, together with security and intelligence services, work around the clock to keep communities safe."
Ben Cooper, controller of Radio 1 and 1Xtra, told the BBC: "Radio 1 has taken security so seriously, we would not be going ahead if we didn't think we could provide a safe and secure event this weekend.
"The safety of everyone involved in Big Weekend is our priority, whether that be our audience, the artists or the people working across the weekend."
Liverpool
A Take That gig that had been due to take place at the Liverpool Arena the day after the bombing was postponed until today (Friday), and the band cancelled three concerts scheduled for the Manchester Arena this week.
Writing on Twitter, lead singer Gary Barlow asked fans to "sing a little louder" in Liverpool.
Trains
As of yesterday, specialist firearms officers from the British Transport police are patrolling on trains for the first time.
"Since the devastating events in Manchester on Monday evening, our force has radically increased the presence of our officers nationwide," Chief Constable Paul Crowther said.
"By having firearms officers on board trains we're ensuring that trains remain as safe as possible for passengers. Our patrols will be highly visible and passengers should feel comforted by their presence. Please do speak to them if you have any concerns at all."