The game has been a huge success, capturing people's imaginations and sending Nintendo's stock price soaring.

After its launch in the US, police there began issuing safety advice that in some cases bordered on the hilarious.
Police over here are now following suit.
Derbyshire constabulary issued a note of caution to "users of the popular augmented reality game".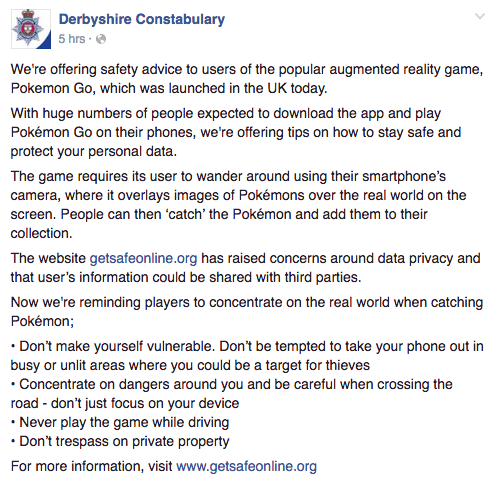 Don't accuse them of not doing their research.
Overall their warnings were extremely terrifying.
Sussex police admitted to having played Pokémon Go, albeit in an entirely safe and responsible manner.
West Yorkshire police made a cutesy yet ~serious~ graphic.
"Enjoy Pokémon Go, but please stay safe."
Warwickshire police stepped up its Pokémon chat game.
"Please remember that your safety comes before catching that Drowzee or Squirtle! Let someone know where you're going, be aware of your surroundings and follow all normal road safety advice," they said in a Facebook post.
British Transport Police continued the tradition of police forces apparently mainly tweeting pictures of Kakuna, as they warned people to stay off train tracks.
Police in Richmond, part of the Metropolitan police in London, took the jokes to level 15, however.
They said: "Don't Pokémon and drive. That egg won't hatch if you're driving. Remember it's onyx-acceptable and if you're caught – you risk a £100 fine and 3 points on your licence."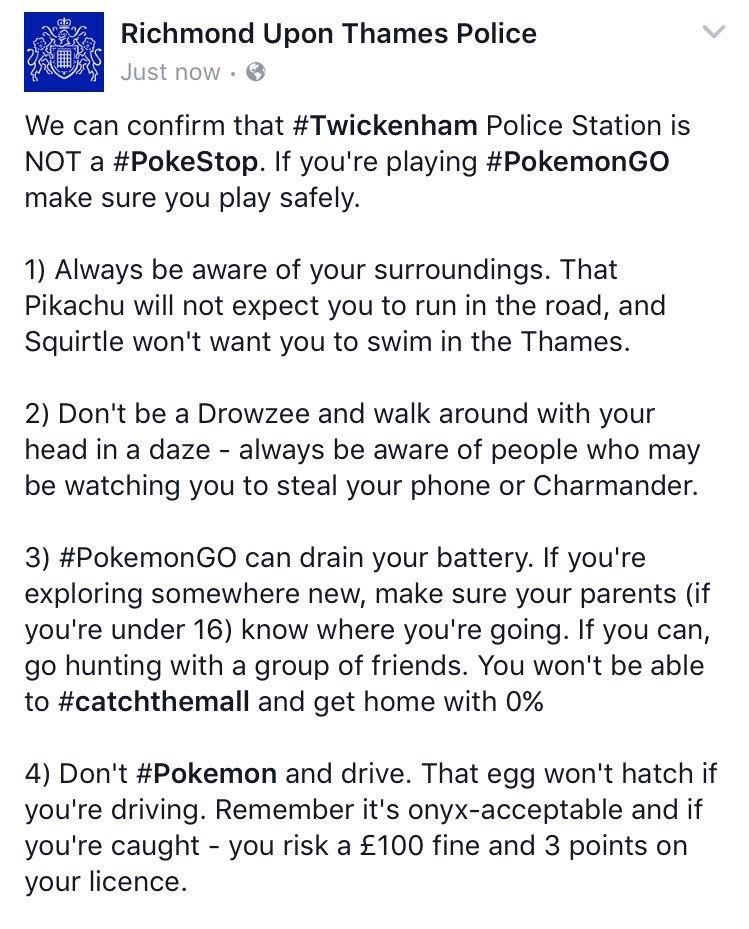 They also tweeted a picture of a fairly strong Drowzee, which suggests at least someone on the force is playing the game for real.
Police later tweeted to clarify reports that gamers were being told to stay away from hunting for a Gastly at the police station.
Meanwhile, the NSPCC issued a guide for parents on keeping children safe while they're playing Pokémon Go.
"The game is designed to bring people together. Usually strangers. So you never know who they might meet," the guide says.