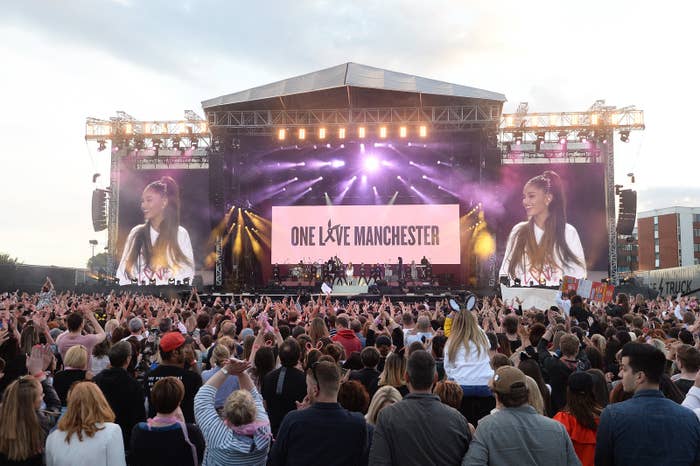 An estimated 50,000 people packed an emotional benefit concert headlined by Ariana Grande on Sunday for the victims of the Manchester attack – just one day after seven more people were killed in another terrorist attack at London Bridge.
The concert raised more than £2 million (around $2.6 million) during the three hours it lasted, the organisers said, bringing the total for the We Love Manchester Emergency Fund to around £10 million.
Familiar songs took on new meaning as the star-studded lineup performed with heightened emotion between moving speeches.
Grande took the stage at Manchester's Emirates Old Trafford Cricket Ground along with performances by Justin Bieber, Imogen Heap, Miley Cyrus, Pharrell, Coldplay, Katy Perry, Robbie Williams, and a surprise appearance from Liam Gallagher of the famous Manchester band Oasis.
"I want to thank you for coming together and being so strong," the visibly emotional Grande said to the screams of the crowd. "The kind of love and unity you're displaying is the medicine the world needs right now."
"I love you so much," the singer told the audience, mostly composed of young people and children.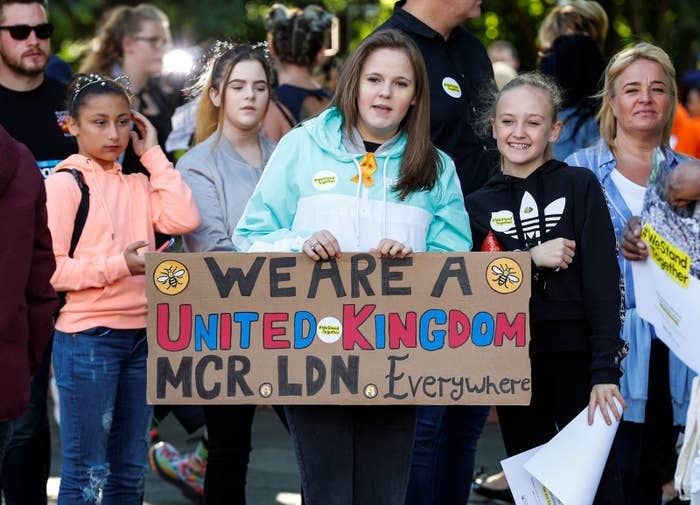 Grande said that she had met the mother of Olivia Campbell, one of the girls killed in the Manchester attack. "She said I should stop crying because Olivia wouldn't have wanted me to cry," Grande said. "And then she said Olivia would've wanted to hear the hits." So Grande changed her whole set at the last minute.
At other points in the concert she sang "Better Days" with Victoria Monét, the Iraq war-era song about terrorism "Where Is the Love?" with the Black Eyed Peas, as well as duets with Miley Cyrus and Mac Miller, among others.
She ended the emotional musical marathon with an impassioned rendition of "Over the Rainbow." At one point she was so overcome with emotion she had to stop singing.
Grande's manager, Scooter Braun, also gave a moving speech to the tearful crowd.
"Last night, this nation was challenged, and all of you were challenged," Braun said, referring to the attacks on London Bridge. "And you had to make a decision about whether you were going to come here tonight. And look at this, this is so beautiful. You looked fear in the face and said, 'This is Manchester, the world is watching.'"
He told the crowd that children injured in the attacks on Grande's last concert were watching the event from hospital. One 15-year-old boy named Adam told Braun to tell the crowd, "Don't go forward in anger," Braun said. "Love spreads."
"Hatred will never win, fear will never divide us, because on this day we all stood with Manchester," he concluded.

Stevie Wonder and David Beckham sent video messages to the audience.
"Anyone that tries to make anyone think that things of destruction has anything to do with God or Allah, they're a lie," Wonder said.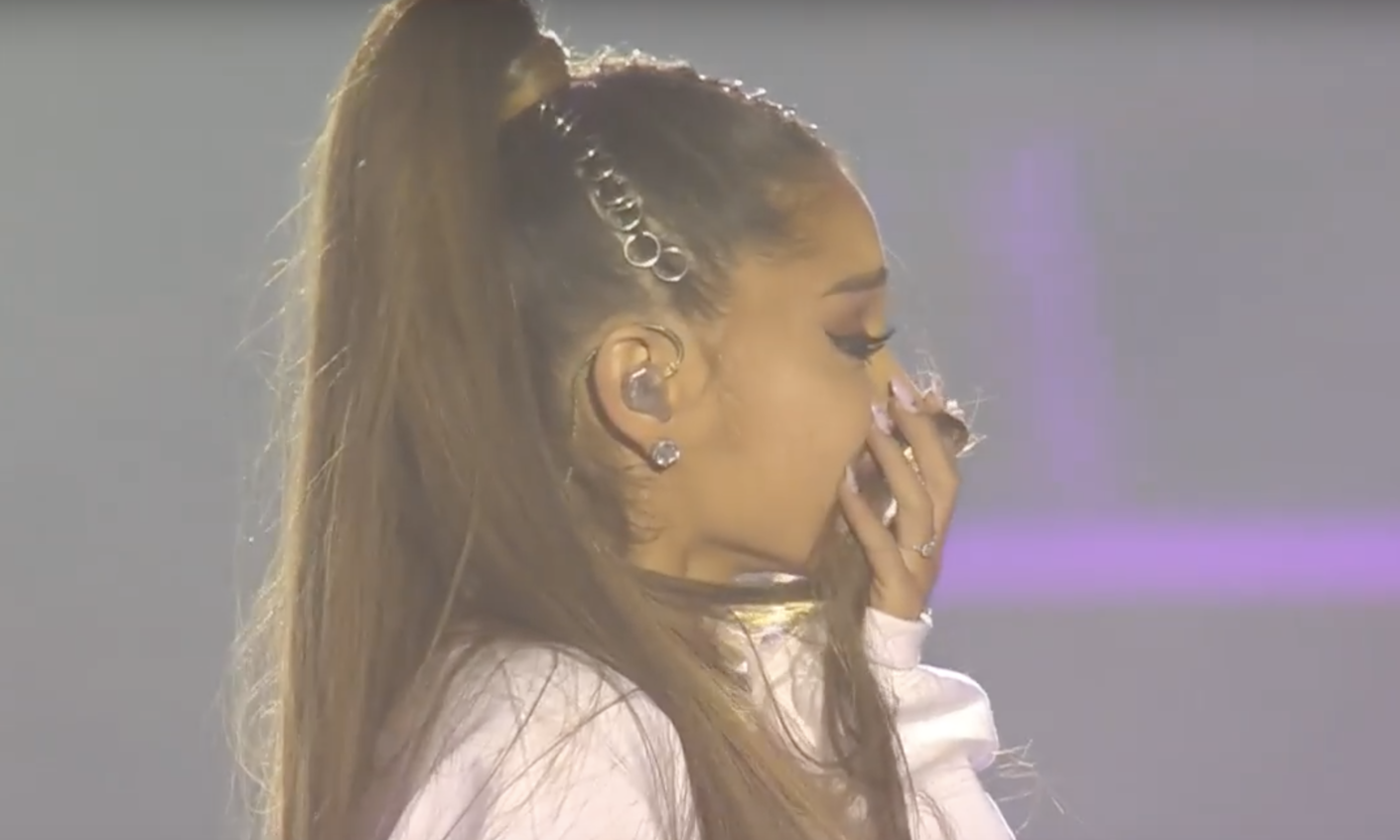 In one particularly moving moment, Grande joined a local school choir on the stage to sing her song "My Everything", which they previously covered shortly after the attack as part of a fundraising effort for victims and their families.

Many of the chorus members of Parrs Wood High School's Harmony Choir were at Grande's concert the night of the attack and had witnessed the horrors that took place, the Manchester Evening News reported.
Grande stood with the children, holding the hand of 12-year-old soloist Natasha Seth and giving her the microphone to sing. Both the crowd and performers wiped tears from their eyes throughout the song.
Armed and unarmed officers from police forces around the country were expected to be drafted in to help bolster security at the venue, but on Sunday, Greater Manchester police did not comment on how the London attack on Saturday night would affect the policing plan for benefit concert.
Around 70,000 people were also due to attend a testimonial football match at Manchester's United Old Trafford stadium on Sunday.
Braun also said that, given the most recent attack, the concert would "not only continue, but will do so with greater purpose".
The three-hour concert was broadcast in over 50 countries.

Twenty-two people, many of them children, died when a suicide bomber blew himself up at the end of Grande's concert at the Manchester Arena on 22 May.
Proceeds from One Love Manchester, which was announced last week, will go towards the We Love Manchester Emergency Fund, set up by Manchester City Council alongside the British Red Cross.
Grande arrived in the UK on Friday, and later that day visited some of her fans who were injured in the attack in hospital.

Announcing the concert last week, she said: "My heart, prayers, and condolences are with the victims of the Manchester attack and their loved ones. There is nothing I or anyone can do to take away the pain you are feeling or to make this better. However, I extend my hand and heart and everything I possibly can give to you and yours, should you want or need my help in any way.

"We will not quit or operate in fear. We won't let this divide us. We won't let hate win… Our response to this violence must be to come closer together, to help each other, to love more, to sing louder and to live more kindly and generously than we did before.
"Music is meant to heal us, to bring us together, to make us happy. So that is what it will continue to do for us. We will continue to honour the ones we lost, their loved ones, my fans and all affected by this tragedy. They will be on my mind and in my heart every day and I will think of them with everything I do for the rest of my life."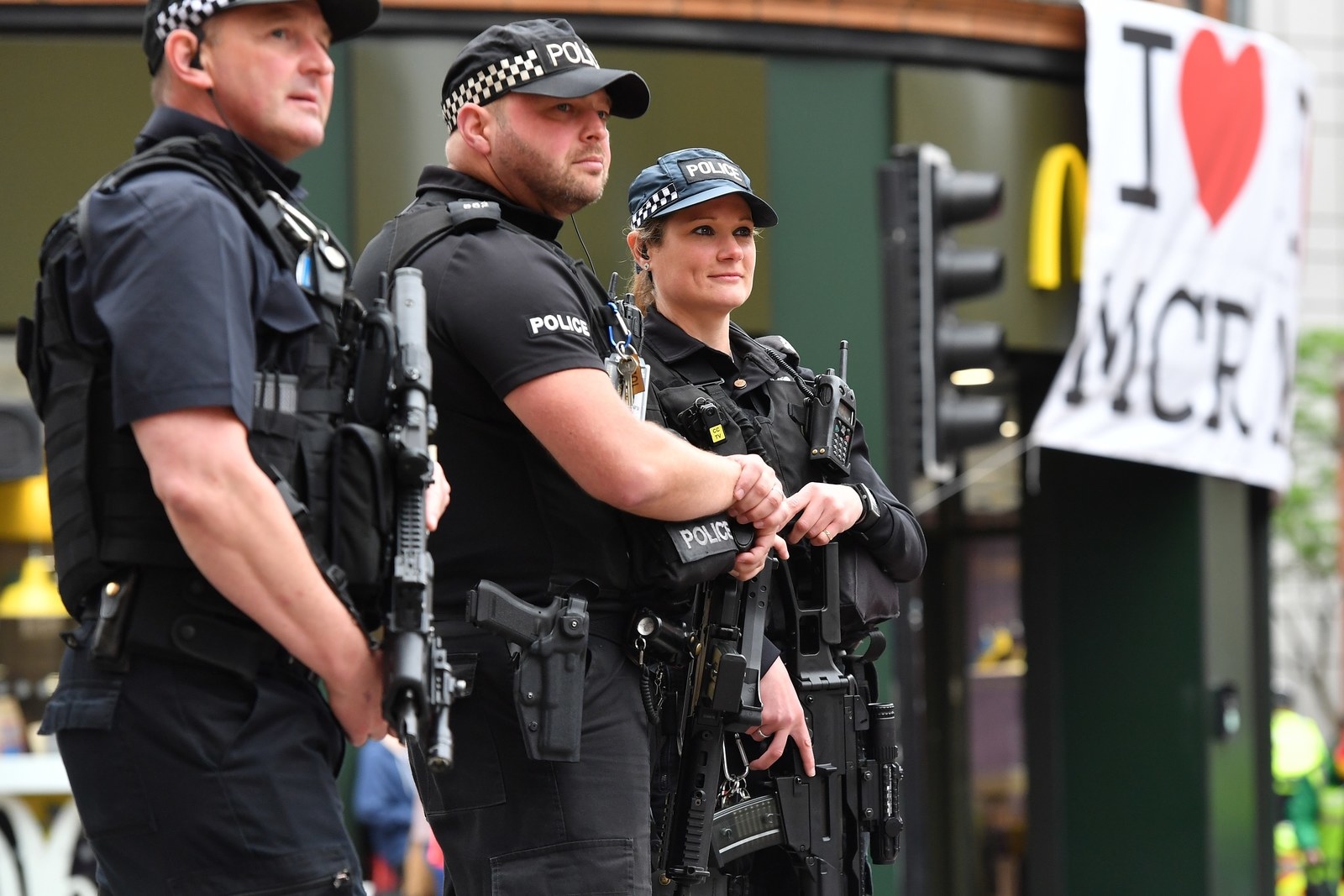 General admission tickets for the concert sold out within 20 minutes on Thursday, while around 14,000 complimentary tickets were allocated to people who were at Grande's show on the night of the attack.