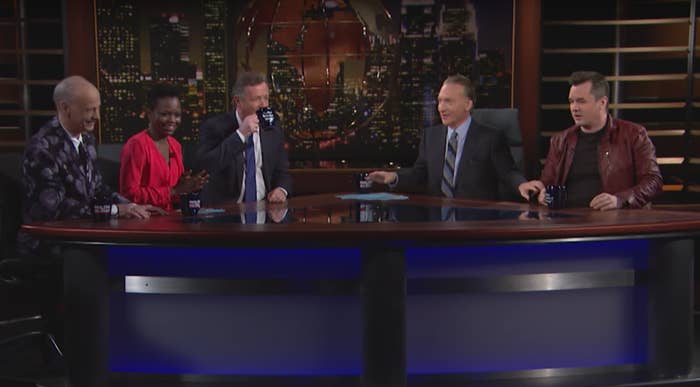 On last night's Real Time With Bill Maher, a talk show that airs weekly on HBO, the guests included Piers Morgan and Australian comedian Jim Jefferies.
Towards the end of the programme, Maher asked whether people who said during the US election campaign that Hillary Clinton was the "lesser of two evils" should apologise, in light of president Donald Trump's executive orders to build a wall between the US and Mexico, and implement a travel ban on people from seven Muslim-majority countries.
As the clip below shows, that's when it all kicked off.
When Morgan questioned why people should apologise, Jefferies described Trump's travel restrictions as a "Muslim ban", to which Morgan said "there is no Muslim ban".

At this point Jefferies interjected to say: "Oh, fuck off. This is what you do, Piers –you say, 'he hasn't done this, he hasn't done that, he's not going to do all these things'. Give him a fucking chance, mate – Hitler didn't kill the Jews on the first day, he worked up to it."
Jefferies added: "You just like that you won The Apprentice and you have a famous friend, mate."
Morgan described this as "ridiculous, hysterical over-the-top nonsense", and accused Jefferies of losing the audience, to which the comedian flipped him off.
The former CNN host made light of the on-air row after the show. He said Jefferies had made himself look "hysterical and silly. Shame, as he's usually quite funny."
Morgan also defended saying that Trump's travel restrictions, currently halted by US judges, were not a Muslim ban, writing: "I don't agree with the travel ban but it's not a Muslim ban if 85% of the world's Muslims aren't affected."
Jefferies meanwhile tweeted a video of the clip, asking Morgan if he wanted to retweet it.