A Media Lawyer Says There Will Be A Huge "Chilling Effect" From The Daily Mail's Libel Payout To Melania Trump
Mark Stephens told BuzzFeed News the $3 million the Mail reportedly paid in damages and costs was a "phenomenal sum of money".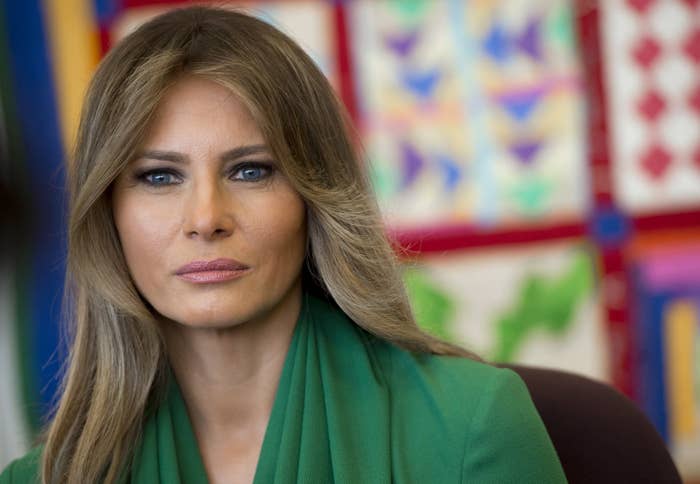 US first lady Melania Trump has accepted damages and an apology from the Daily Mail and MailOnline over an article that reported allegations she worked as an escort during her professional modelling career.

While the extent of damages paid by the Mail's owner, Associated Newspapers, has not been disclosed, sources familiar with the settlement told CNN and Reuters the total payout – including costs – was around $3 million. Calls to Melania Trump's spokesperson in London went straight to voicemail.
Melania Trump's lawyers registered the case in New York and London earlier this year, and the settlement was announced after a statement agreed upon by both parties was read out at London's High Court.
Mark Stephens, a British lawyer specialising in media law with the firm Howard Kennedy LLP, told BuzzFeed News the reported figure of $3 million (around £2.4 million) was a "phenomenal sum of money" that could have big implications for freedom of speech.
Stephens said that given that under UK libel laws the maximum award is £250,000 and the lawsuit filed in New York, which initially sought damages of $150 million (£120 million), was unlikely to succeed due to the first amendment of the US constitution, the reported payout was a "surprisingly massive sum".
He said the payout, if accurate, could have a chilling effect on press freedoms, describing the situation as "freedom of speech, not freedom after speech".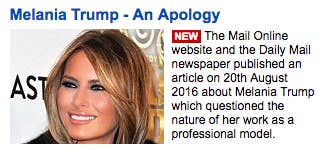 Stephens said the allegations the Mail reported on, including Melania Trump's denials, were of public interest as her husband was running for president at the time they were reported.
The article in question was published last August under the headline "Racy photos and troubling questions about his wife's past that could derail Trump", and reported claims questioning the nature of work Melania Trump had undertaken in the 1990s, including allegations that she "provided services beyond simply modelling".

The article also reported allegations that Melania and Donald Trump had first met each other three years before their actual first meeting, which was "staged" as a "ruse".
The Daily Mail and MailOnline had already published a retraction to the article, last September.
The full apology, which is already on MailOnline, reads:

The Daily Mail newspaper and the Mail Online/DailyMail.com website published an article on 20th August 2016 about Melania Trump which questioned the nature of her work as a professional model, and republished allegations that she provided services beyond simply modelling. The article included statements that Mrs. Trump denied the allegations and Paulo Zampolli, who ran the modelling agency, also denied the allegations, and the article also stated that there was no evidence to support the allegations. The article also claimed that Mr and Mrs Trump may have met three years before they actually met, and "staged" their actual meeting as a "ruse."

We accept that these allegations about Mrs Trump are not true and we retract and withdraw them. We apologise to Mrs Trump for any distress that our publication caused her. To settle Mrs Trump's two lawsuits against us, we have agreed to pay her damages and costs.
Before he became president, Donald Trump gave an interview in which he said the US could benefit by adopting UK libel laws where the burden of proof is on the defendant. In the US the opposite is the case – a plaintiff must prove that a statement is either true or untrue.

"Well, in England they have a system where you can actually sue if someone says something wrong," Trump told a CBS affiliate in Miami last October.
"Our press is allowed to say whatever they want and get away with it. And I think we should go to a system where if they do something wrong – I'm a big believer, tremendous believer of the freedom of the press, nobody believes it stronger than me – but if they make terrible, terrible mistakes and those mistakes are made on purpose to injure people, and I'm not just talking about me, I'm talking about anybody else, then yes, I think you should have the ability to sue them."