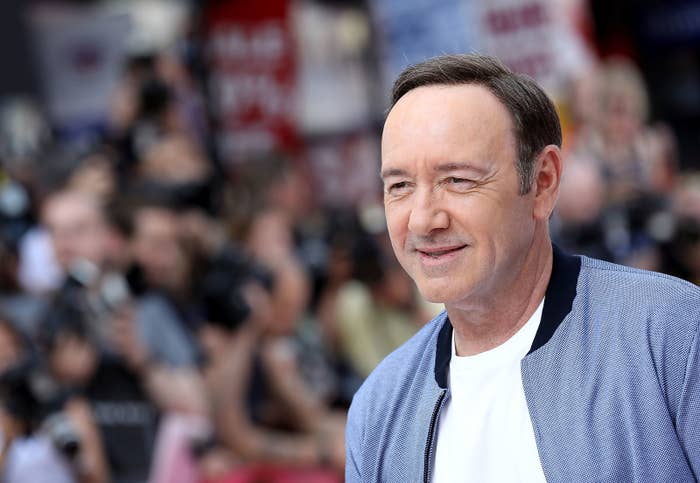 Days after actor Anthony Rapp told BuzzFeed News that Kevin Spacey made a sexual advance towards him when he was 14, more men have come forward with allegations of sexual harassment and misconduct against the House of Cards actor.
On Oct. 30, Mexican actor Robert Cavazos shared on Facebook an account, in which he alleges Spacey made "unpleasant" sexual advances on him and others at the Old Vic theater in London, where Spacey was the artistic director for 11 years. "It seems that it only took being a male under 30 to make Mr. Spacey feel free to touch us," Cavazos wrote.
The Old Vic has since released a statement in response to the claims against Spacey. "We are deeply dismayed to hear the allegations levied against Kevin Spacey," it reads.
On Oct. 31, filmmaker Tony Montana told Radar that Spacey groped him when they were at a bar in Los Angeles in 2003: "He put his hand on my crotch forcefully and grabbed my whole package."

Then on Nov. 1, an unnamed man told BBC reporter Victoria Derbyshire about an incident he alleges took place in the 1980s during his teenage years. He said he woke up to find Spacey lying on top of him.

Referred to as "John," the man said he met Spacey in 1984 at a summer theater when he was 16. The following year, Spacey — then an up-and-coming Broadway actor — invited him to New York.
At Spacey's home, John said, Spacey asked him to share his bed, but John insisted on sleeping on the sofa. "As we went to sleep, he was sobbing from his bed, which ... was likely meant to get me to respond in some way, which I didn't. I just tried to make it through the evening," he said.

John told BBC that he woke up the next morning to find Spacey's head on his stomach and his arms around his torso. John said that while he was fully clothed, Spacey was in his underwear. John said he did not believe anything sexual took place, but he was left feeling "uncomfortable at best, traumatized at worst."
On Nov. 2, eight current and former employees of House of Cards alleged to CNN that Spacey would repeatedly sexually harass male crew members. In response to the allegations, Netflix said in a statement that they had sent a representative to the show's set on Oct. 30. Spacey has yet to comment on those accusations.
Also on Nov. 2, another man came forward to allege that Spacey preyed on him at age 14. The unnamed East Coast artist told New York magazine that Spacey, then 24, pursued him for a sexual relationship that he said ended in attempted rape. "I always have said, 'He tried to rape me,'" the man said. Spacey's lawyer responded to New York in an email: "Mr. Spacey absolutely denies the allegations."

Spacey also responded to Rapp's accusation, apologizing for any inappropriate behavior and coming out on Oct. 29.
Spacey's representatives recently issued a statement explaining, "Kevin Spacey is taking the time necessary to seek evaluation and treatment."
Meanwhile, Netflix has suspended production on the latest season of House of Cards.
Adam B. Vary contributed reporting.