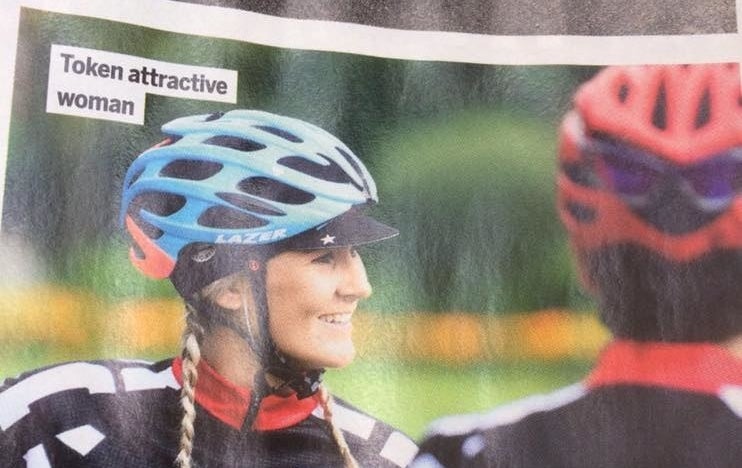 A magazine has apologised after referring to a female cyclist as a "token attractive woman" in a photo caption.
Cycling Weekly said the "idiotic" caption was written by a subeditor but missed by other editors before the magazine was sent to print.

The image was published alongside a feature on Hinckley Cycling Race Club in Leicestershire, which is celebrating its 70th anniversary this year.
The cyclist pictured, who did not wish to be named, told BuzzFeed News she was "absolutely gutted and disappointed" at the way she had been featured in the magazine.
In a statement supplied to BuzzFeed News through her club, she said: "I'm absolutely gutted and disappointed that my picture was used for such reasons rather than the fact that I actually took part in the ride. I do feel it's humiliating and degrading to women cyclists, but also a complete misrepresentation of our club who have had what should have been a positive article tarnished."
Club secretary Tim Ellershaw said everyone at the club was disappointed by the caption.
"We're a small club – getting a big feature in a big magazine was a big deal. But this was unacceptable, and very disappointing," he told BuzzFeed News. "It's taken the shine off an amazing year."
Many people criticised Cycling Weekly, with some questioning whether the caption was indicative of the culture at the magazine.
Cycling Weekly editor Simon Richardson said the caption was "neither funny nor representative" of the way the magazine works.

After apologising to the cyclist in the photo, the club, and the magazine readers, he said the "appalling lack of judgement by an individual is just that, and not a reflection of the culture in the CW office."
Cycling Weekly's full statement said:
In this week's issue of Cycling Weekly we published a regular Ride With feature with the Hinckley Cycling Race Club in Leicester. Unfortunately during the magazine's production process a member of the sub-editing team decided to write an idiotic caption on a photo of one of the female members of the club.

The caption is neither funny nor representative of the way we feel or approach our work. Sadly in the rush to get the magazine finished it was missed by other members of the team and eventually sent to print.

We would like to apologise unreservedly to the rider in the photograph, the Hinckley CRC and all our readers. This appalling lack of judgement by an individual is just that, and not a reflection of the culture in the CW office.
Looks like there are no comments yet.
Be the first to comment!