Why You Should Be Excited About The Executive Shakeup At Apple
The heads of iOS and Apple Stores are out. And lead designer Jony Ive now has more power than ever.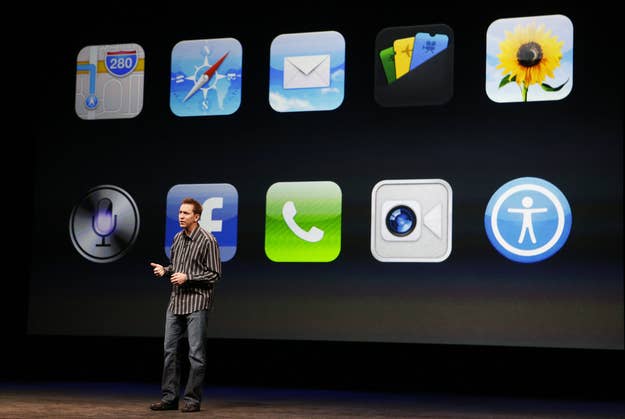 A blockbuster announcement — and Hurricane Sandy news dump — from Apple: The head of iOS, Scott Forstall, and head of retail, John Browett, are both leaving.
Personnel changes often aren't huge news, but Forstall's departure is significant. The head of iOS, the software that powers the iPhone and iPad, had become one of the most powerful people at Apple, as a Bloomberg Businessweek profile detailed last year, in parallel with the iPhone and iPad becoming Apple's most important products. (Also detailed in that profile: he is apparently kind of a dick. Except not kind of.)
Forstall and Browett are at the center of two of Apple's more high profile shortcomings this year — high profile enough for Apple to actually apologize for them, anyway. Tim Cook wrote a public letter saying he was "extremely sorry" for frustrations with Apple Maps, and an Apple spokesperson made the very rare admission that well-publicized Apple Store changes involving mass layoffs were a "mistake."
Most telling about Forstall's departure is that he won't be succeeded in that position — his responsibilities as Senior Vice President of iOS Software are being torn apart and redistributed across the executive team. Eddy Cue, who was originally responsible for iTunes and has gradually assumed responsibility for all of Apple's online services like iCloud and the App Store, is taking over Siri and Maps. Craig Federighi, who runs OS X, is taking over core iOS development. (The not-a-joke joke being that OS X is looking a lot more like iOS lately anyway.) Bob Mansfield, who's run hardware at Apple forlikeever, is starting a new group called Technologies, which sounds like where all the cool stuff is gonna happen. Finally, Jony Ive, Apple's design wizard, will now run Human Interface across the company — in other words, Apple's software might stop looking like hand-stitched leather and start matching its more minimalist hardware. There's been tension over that design direction, to the point that it's come out in the press to a slight extent, which is rare for Apple.
I'm suuuper excited about Jony Ive taking over interaction design. More and more of the software I've loved lately hasn't come out of Apple — it's come out of apps like Clear and Sparrow, and out of the groundbreaking work being done on Microsoft's Windows Phone and Windows 8. This could be exactly what Apple needs to make exquisitely designed software across the board again.