Laverne Cox Becomes The First Trans Woman To Be Immortalized In Wax
Cox sat down with BuzzFeed at Madame Tussauds San Francisco to talk Herve Leger dresses, Sophia's troubled past on Orange Is the New Black, and of course, hair products.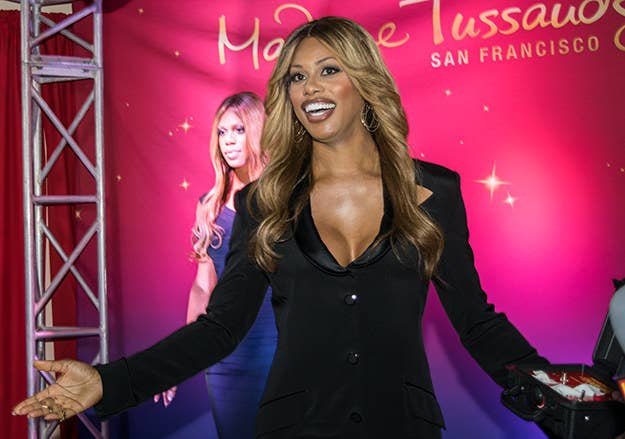 On June 26th, Laverne Cox became the first trans woman to receive the wax figure treatment at Madame Tussauds San Francisco. After the big reveal — a dramatic curtain drop and everything! — she spoke to BuzzFeed about what it's like seeing yourself in wax, transgender activism, and of course, whipping your hair back and forth.
Here are 6 things Cox wants you to know:
1.
Despite her fame and success, she still struggles with internalized feelings that she doesn't deserve love.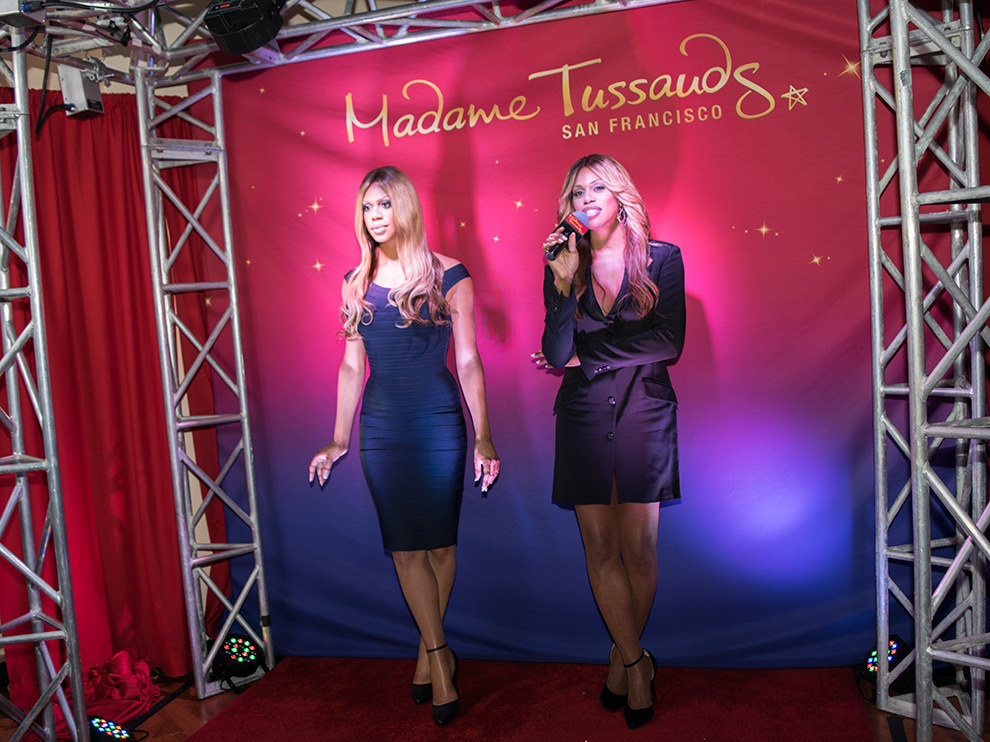 "I couldn't help think about how I so often internalize the messages that I do not deserve to be loved in public," Cox says. "That I am some how not worthy of being loved. So much of my work, every single day, is working to not internalize those messages, those stigmatizing messages that I am some how not worthy of love."
Cox also admits that even her newly minted wax likeness hasn't chased away her anxieties. "Getting a wax figure of yourself at Madame Tussauds has not, for me been this moment of me thinking 'Oh, now I finally deserve love.' It actually has created even more anxiety," she continues. "Have I done enough to be worthy of this? Am I enough? And I stand here next to this wax figure, I can't help but feel this disconnect. Am I somehow enough? Have I done enough? Because so much of my work that I have to do every day to love myself is to tell myself that I am worthy. That I am enough."
2.
Her mom is her most powerful inspiration.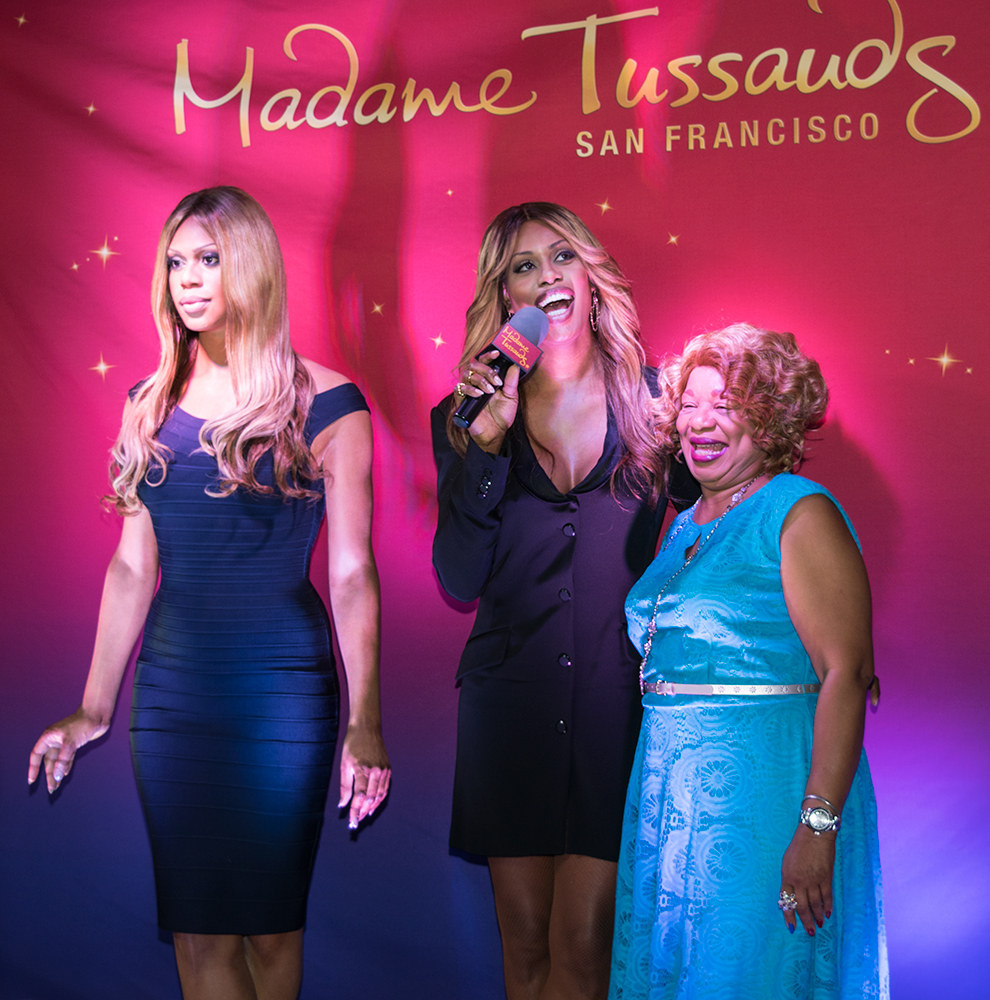 "Sometimes all of this life that I'm living, is really intense," the Orange Is the New Black star explained. "My mom reminds me of where I came from and puts it all in perspective for me. I wouldn't be here today if someone did not love me. If my mother did not love me."
"My mom raised me and my twin brother by herself," Cox continued. "She often worked three jobs to take care of me and my brother. And it means the world to me to stand here with my mother and celebrate this moment."
3.
Though she's humble about her wax figure, she believes now is an important moment for trans people everywhere.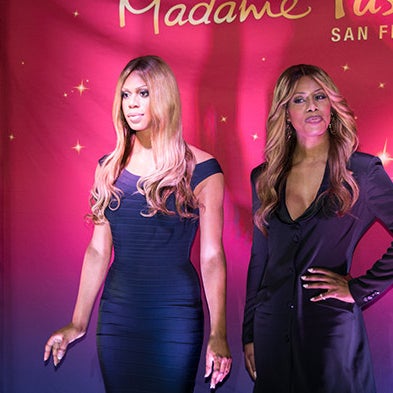 So what did she think of the wax figure? "I still feel like I need to have a moment alone with her," Cox told BuzzFeed. "No seriously, it's weird to see yourself for the first time in front of a ton of people. You saw me see it for the first time. Honestly, I'd love to go take another look at her without people looking. People were taking pictures and it was really intense!"
"It feels like it's about time," she says when asked about being the first trans woman to receive a wax figure. "Being here in San Francisco, I can't help but think of the Compton's Cafeteria riots and the amazing trans community, especially considering the trans folks of color who were at the forefront of this movement. It feels like it's way overdue."
As for the figure itself... why does that blue Herve Leger bandage dress look so familiar? "It's the actual dress I wore on the cover of Time Magazine," Cox says.
4.
Speaking of dresses, #TheDress isn't up for debate.
5.
Shooting season three of Orange Is the New Black was intensely personal for her.
[SPOILER ALERT] Sophia encounters violence in the newest season of Orange Is the New Black, something Cox has revealed she's experienced in her own life. "I always draw from personal experiences as an actress whenever I can," she explained.
"It has to be personal. I'm living this character's life, and we take everything personally as actors. And the issue of violence against trans folks is an issue that most people know is deeply personal for me. So yeah, it was really difficult for me to just live and shoot. But what I hope comes out of it is that people begin to think differently about violence against trans folks and hopefully it will spark some discussions that inspire social change."
6.
And she tells the secret to hair whipping like a pro.
Cox recently starred in Broadway Bares, an annual burlesque show that raises money for AIDS-related causes. "It was such an amazing, powerful event to be part of," Cox says. "I feel so blessed that I got to do it. We raised an unprecedented amount of money for HIV/AIDS, which I'm really proud of."
"In terms of hair whipping," Cox explained when we asked her for advice, "I would just make sure that whatever hair system you have, just make sure it's secured."