Out of everything the British have contributed to pop culture — Sherlock Holmes, the Beatles, the opportunity for the rest of the world to unite for a brief moment to acknowledge that the beans on toast thing is a little weird — The Great British Bake Off* may be one of my favorites.
Like any good franchise, it has generated spinoffs, including The Great Celebrity Bake Off, wherein famous people who are excellent at other things (acting, comedy, and athletics, to name a few) publicly fail at baking for charity. It is perfect.
Here's a carefully curated selection of 27 Celebrity Bake Off moments that embody what it means to be chaotic good.
Tragically, the celebrity edition of Bake Off can't be found on American Netflix (with the exception of the episode featuring the cast of Derry Girls, which can be found in Season 3 of the Holidays edition). But fear not! There are many, many, many YouTube clips out there. 
1.
When comedian Russell Brand immediately established that being on the show is Serious Business™.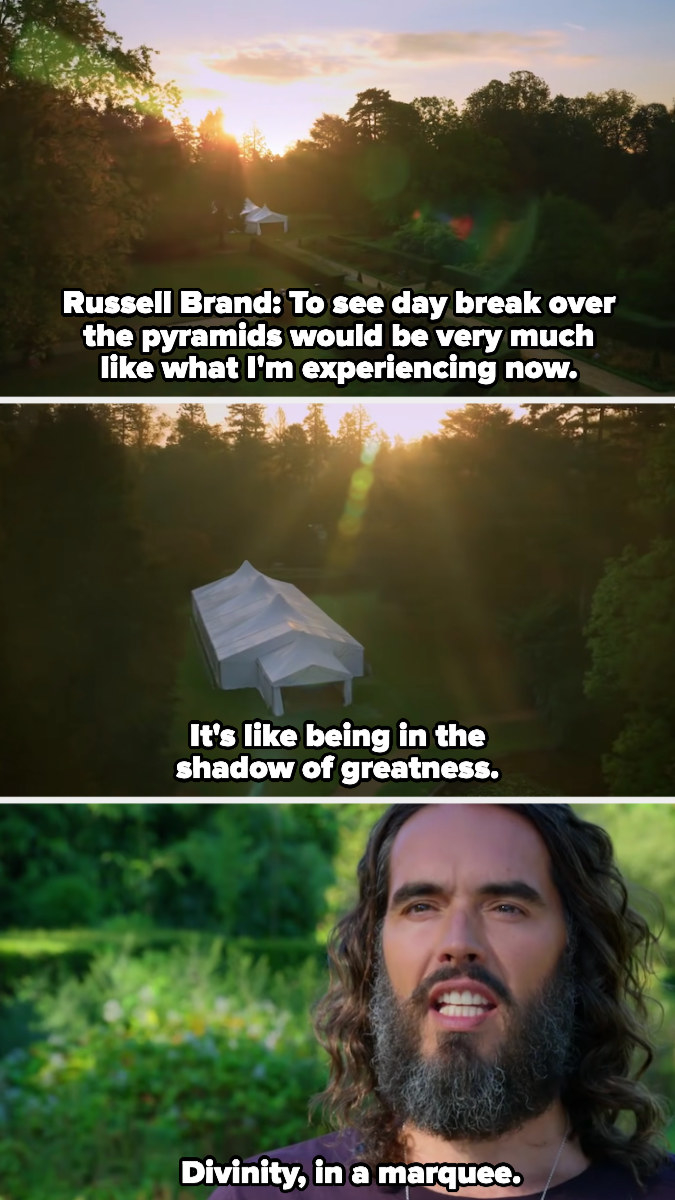 2.
When comedian James Acaster opened the oven to check on his flapjacks and discovered nothing but the void.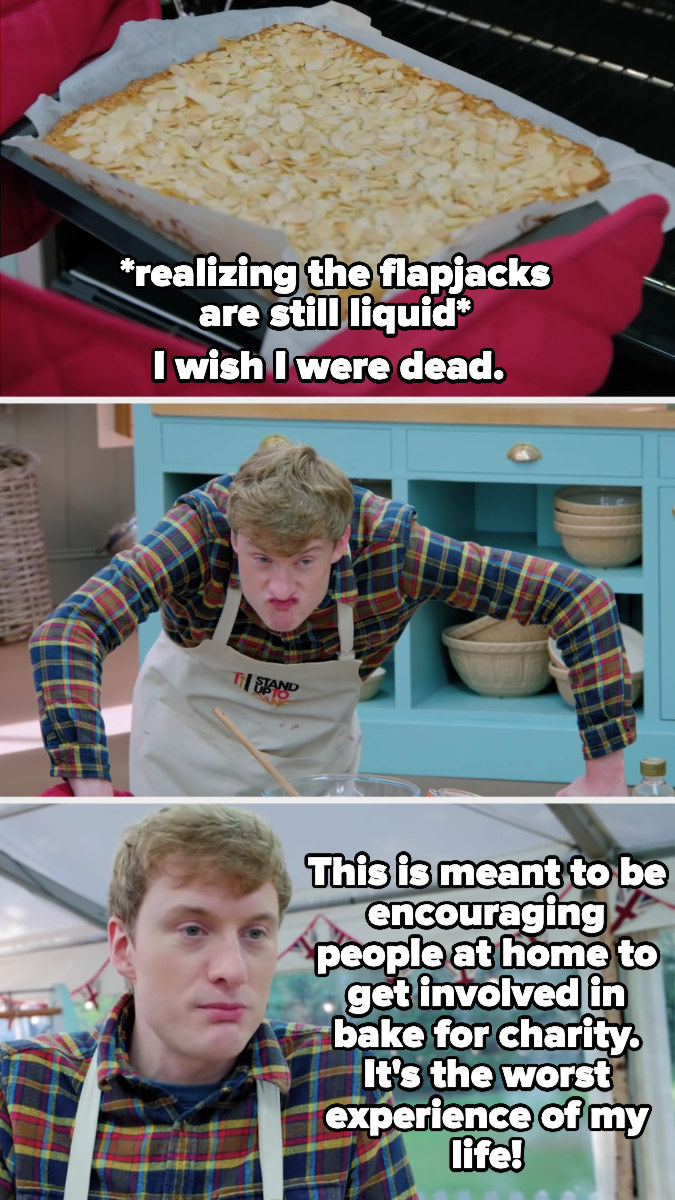 3.
When the aforementioned flapjack crisis resulted in one of the most iconic Bake Off quotes to date.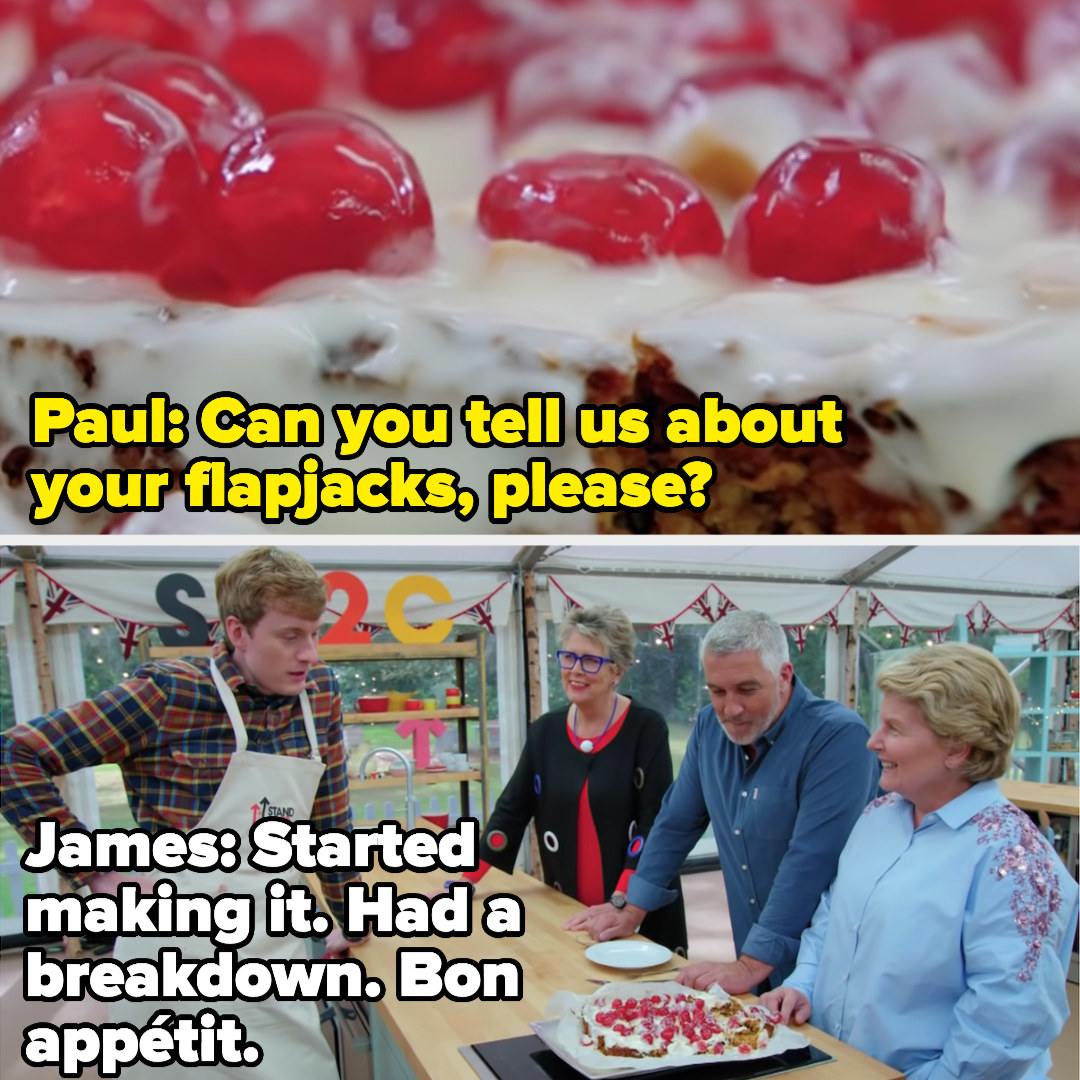 4.
When actor James McAvoy hatched a cunning plan to get a member of the crew to explain to him why his dough was so damp.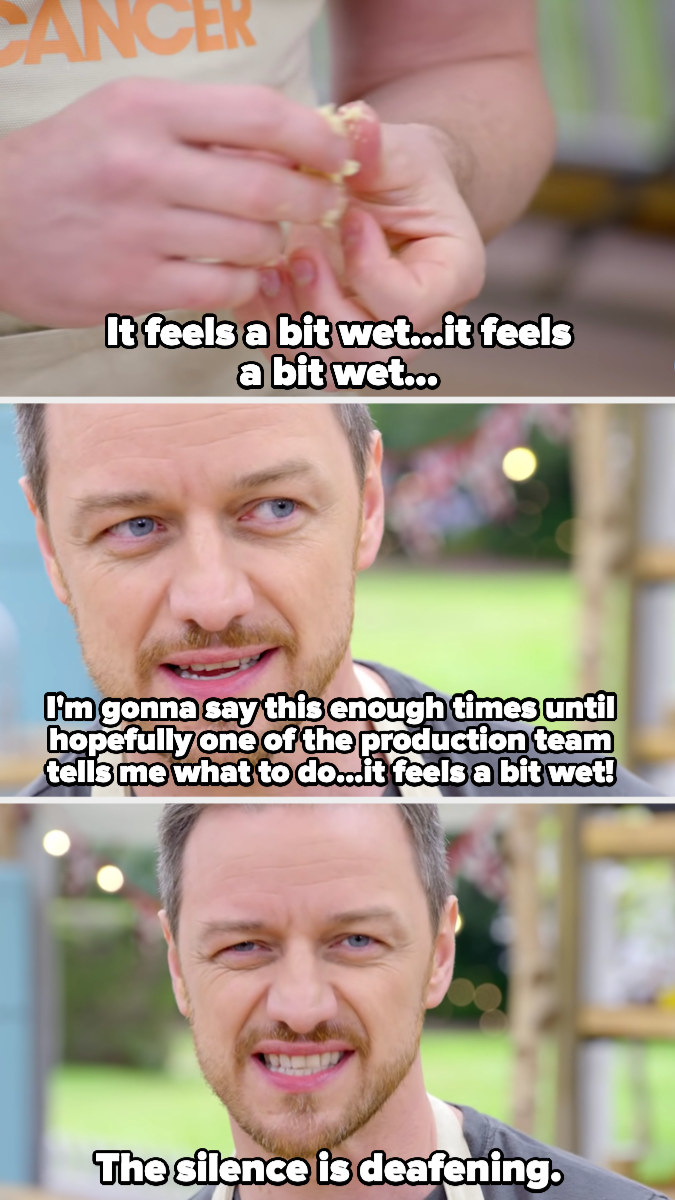 5.
When Russell tried to remind the judges why they were all there, but Prue held her ground on the subject of his oddly colored, overcooked brownies.
6.
When Star Wars actor Daisy Ridley got technical while describing her methods to Paul.

7.
When Queer Eye style expert Tan France turned the tables on Paul and roasted him while he was standing right there.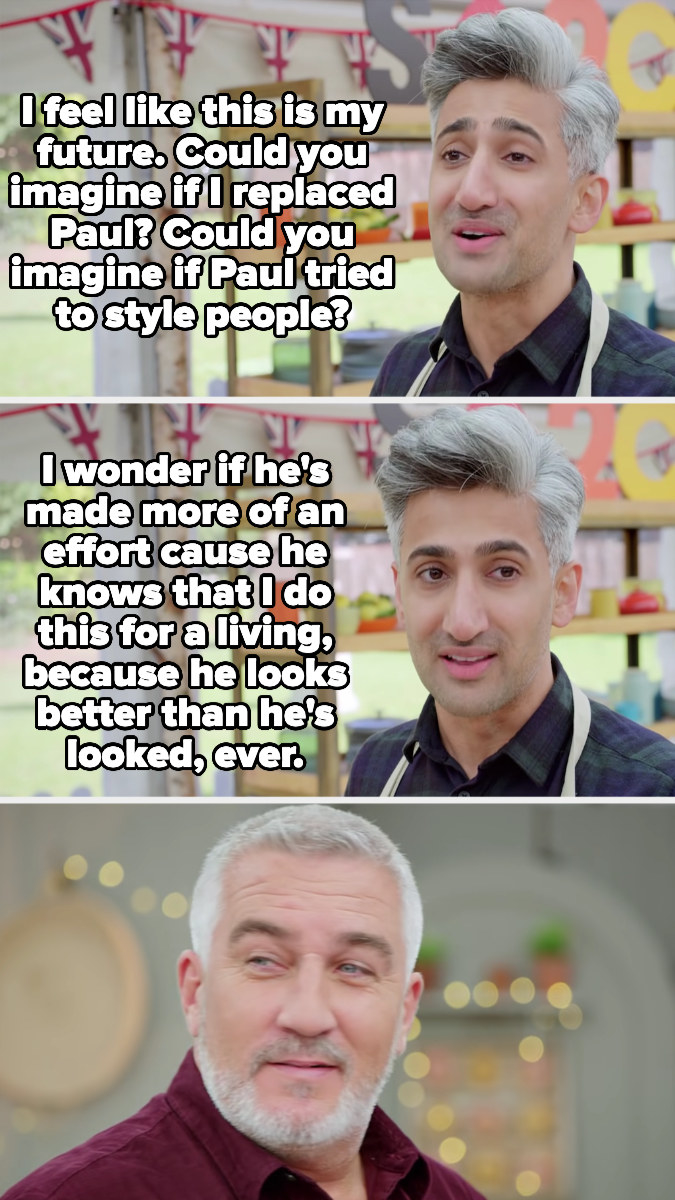 8.
When comedian Tom Allen saw an opportunity and didn't hesitate to seize it.
9.
When YouTuber KSI could do nothing but hopelessly watch as approximately 90% of his bake leaked onto the counter.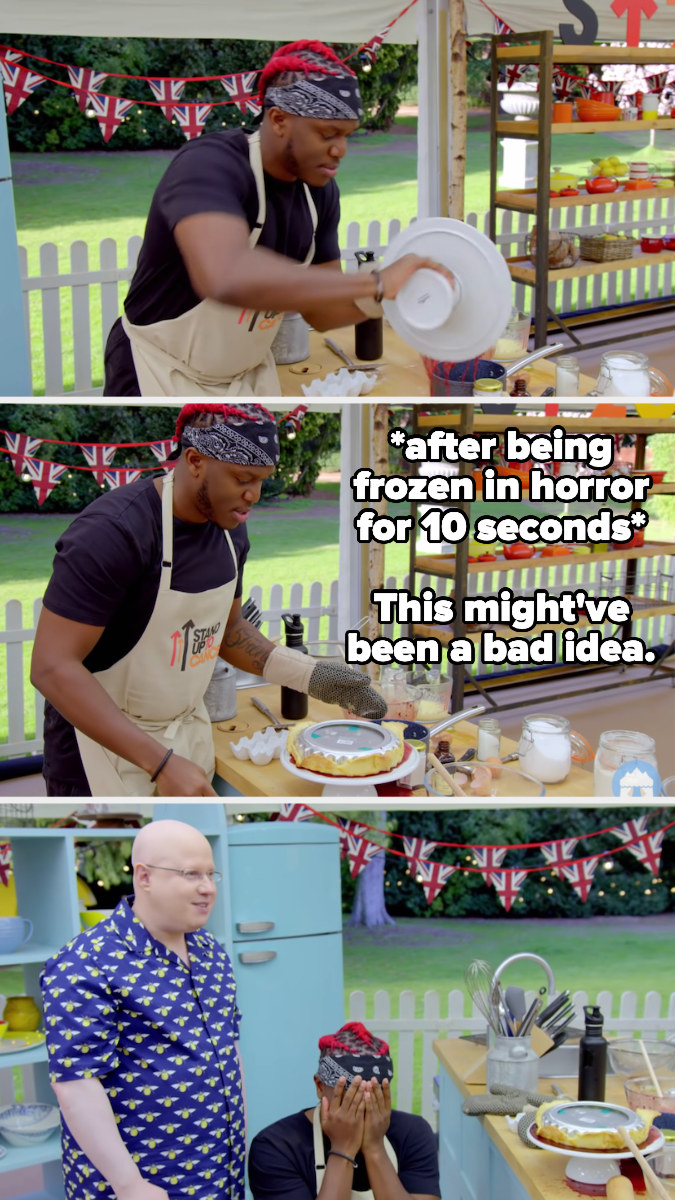 10.
When Russell pitched an exceptionally personal showstopper to the judges and Prue, as per usual, was unfazed.

11.
And when he presented the final creation to the judges with a heartfelt speech about the nature of life and also vaginas.

12.
When documentarian and journalist Louis Theroux admitted that he preferred his day job.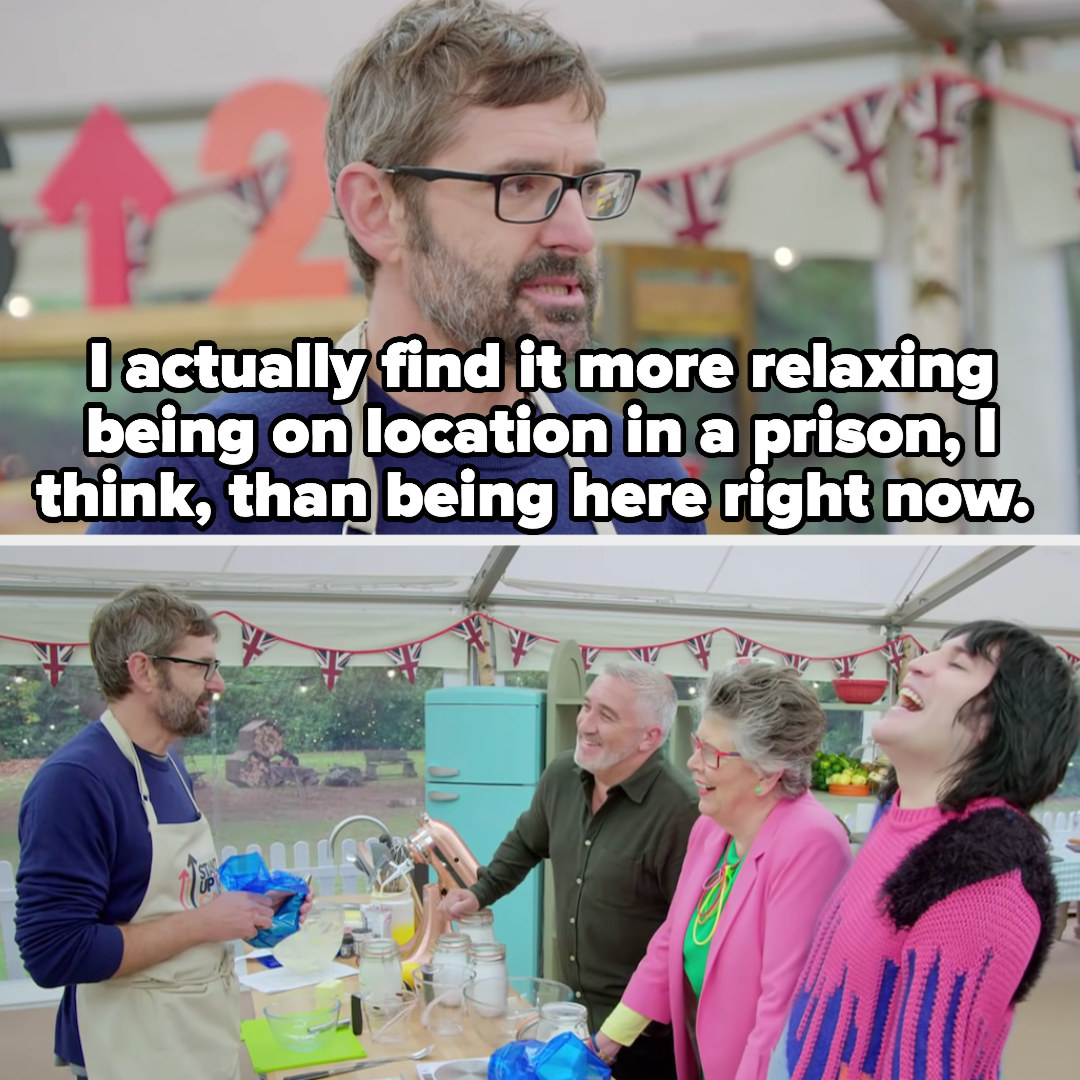 13.
When comedian Katherine Ryan highlighted how baking can also be a time for meditation.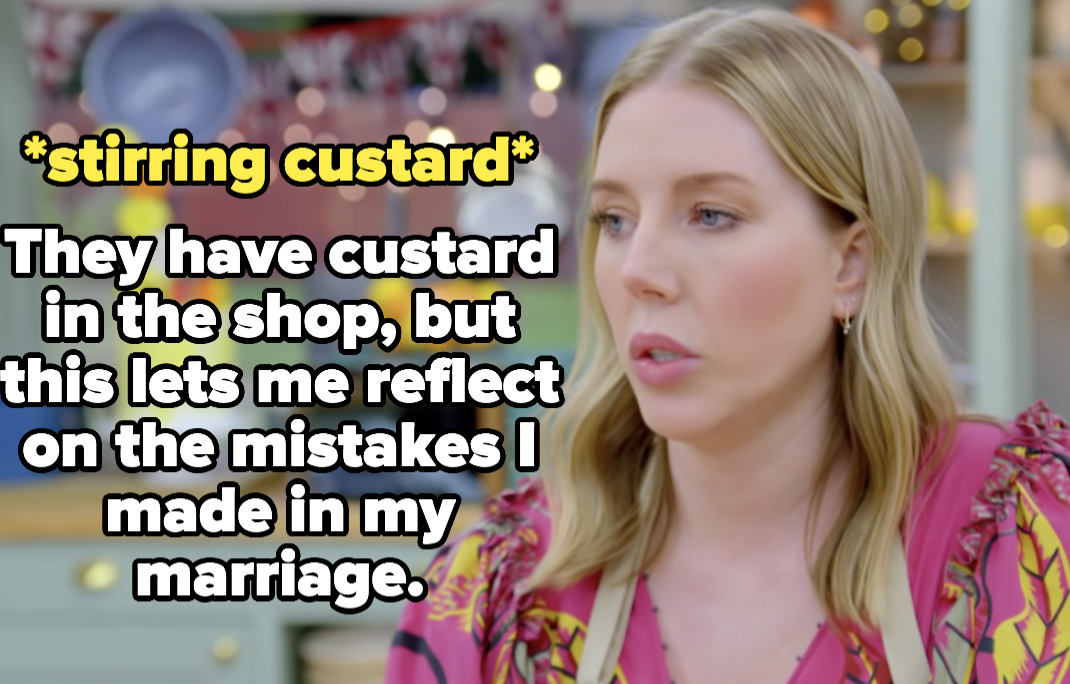 14.
When actor Nicola Coughlan (of Derry Girls and Bridgerton fame) was mystified by how thoroughly her cake went awry.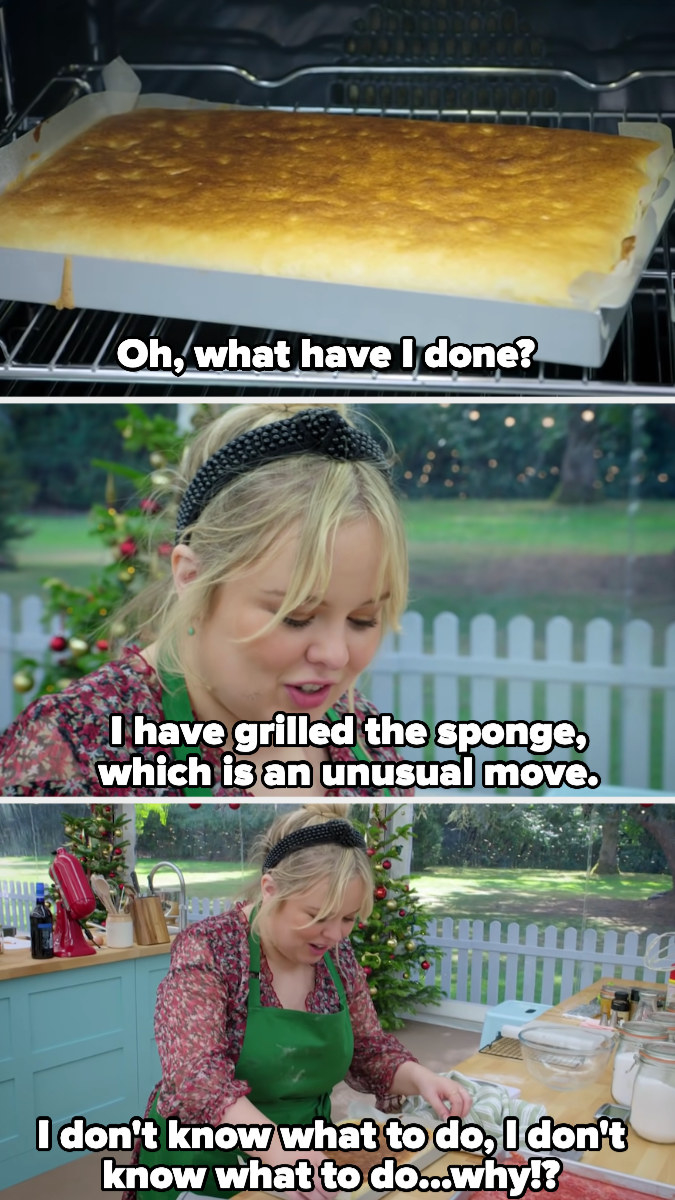 15.
When comedian and musician Tim Minchin thought he wanted to be an inspiration to the youth, but discovered he couldn't be bothered.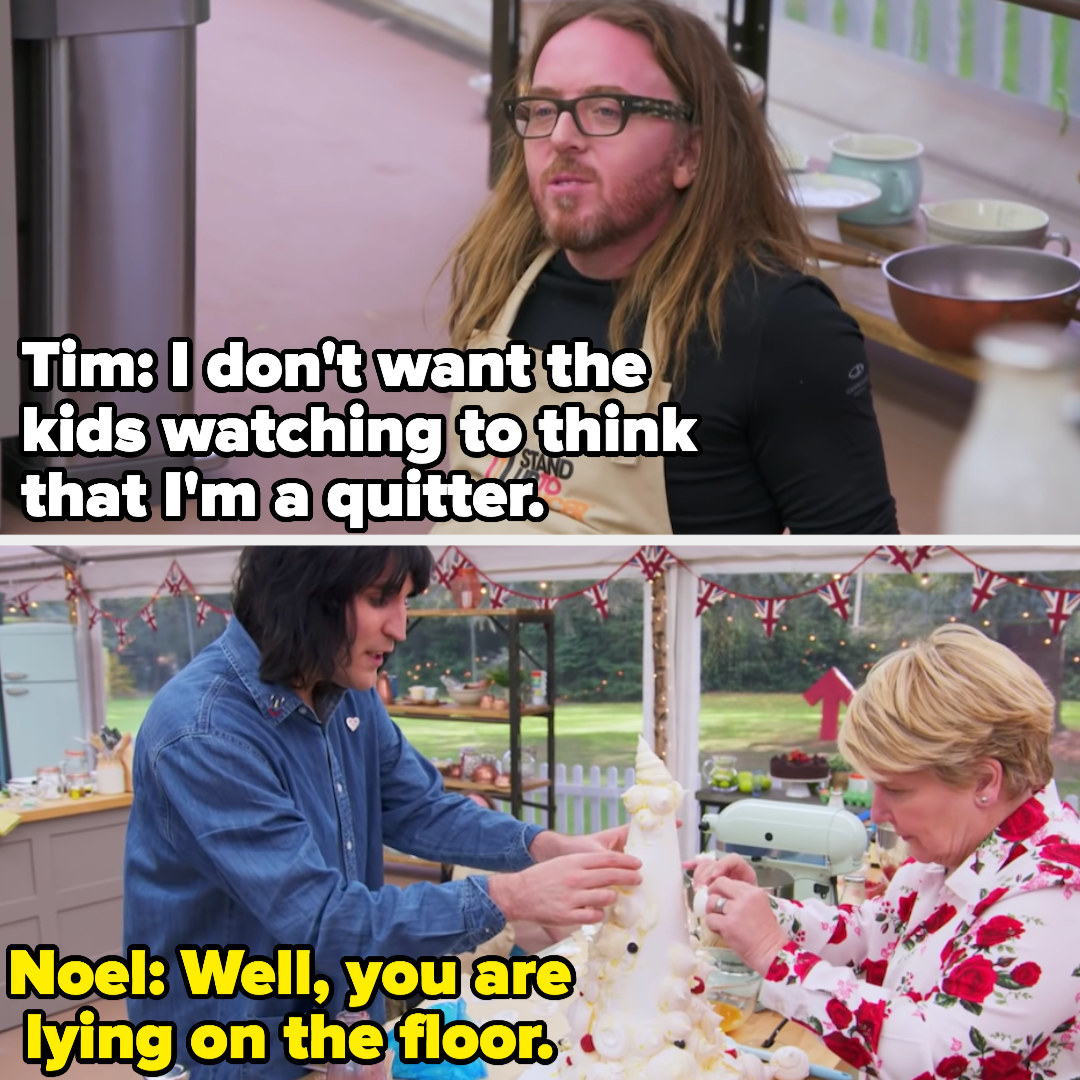 16.
And when he recovered just in time to deliver a timely message about both wealth inequality and the importance of being able to bullshit on the spot.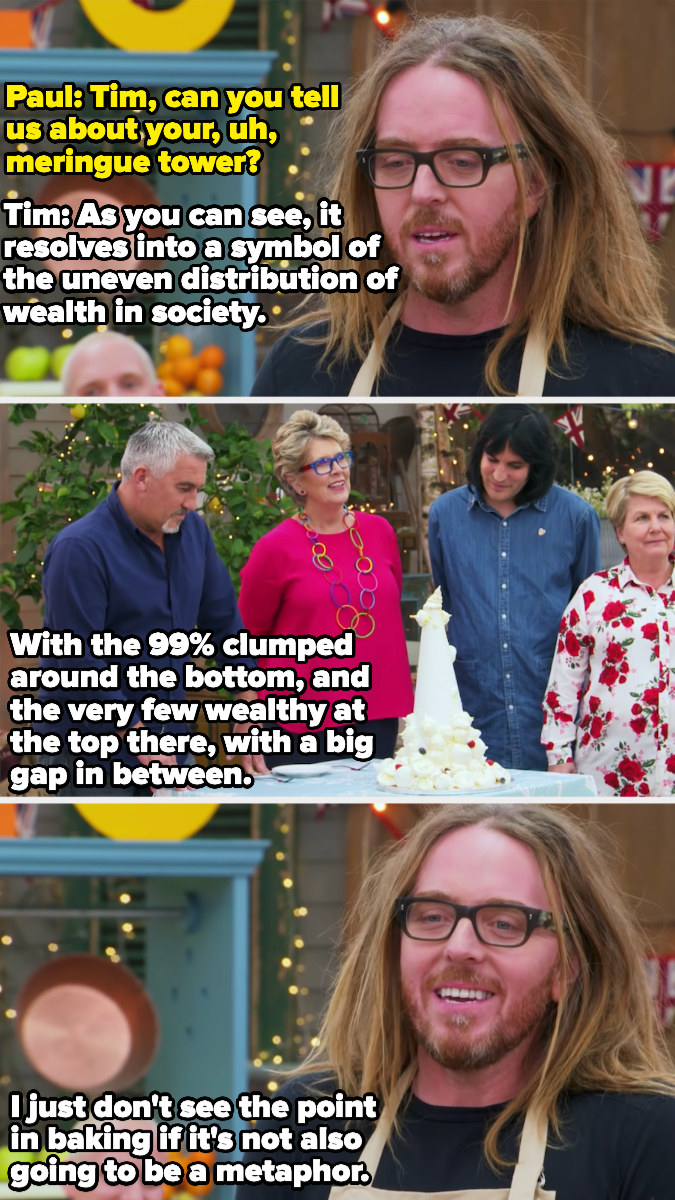 17.
When comedian Joe Lycett saw where his fruit turnovers were headed and made a run for it.
18.
When dancer Perri Kiely did a backflip after receiving a coveted Paul Hollywood handshake.
19.
When comedian and actor Aisling Bea needed a lil' something to soothe the nerves before attempting to make muffins.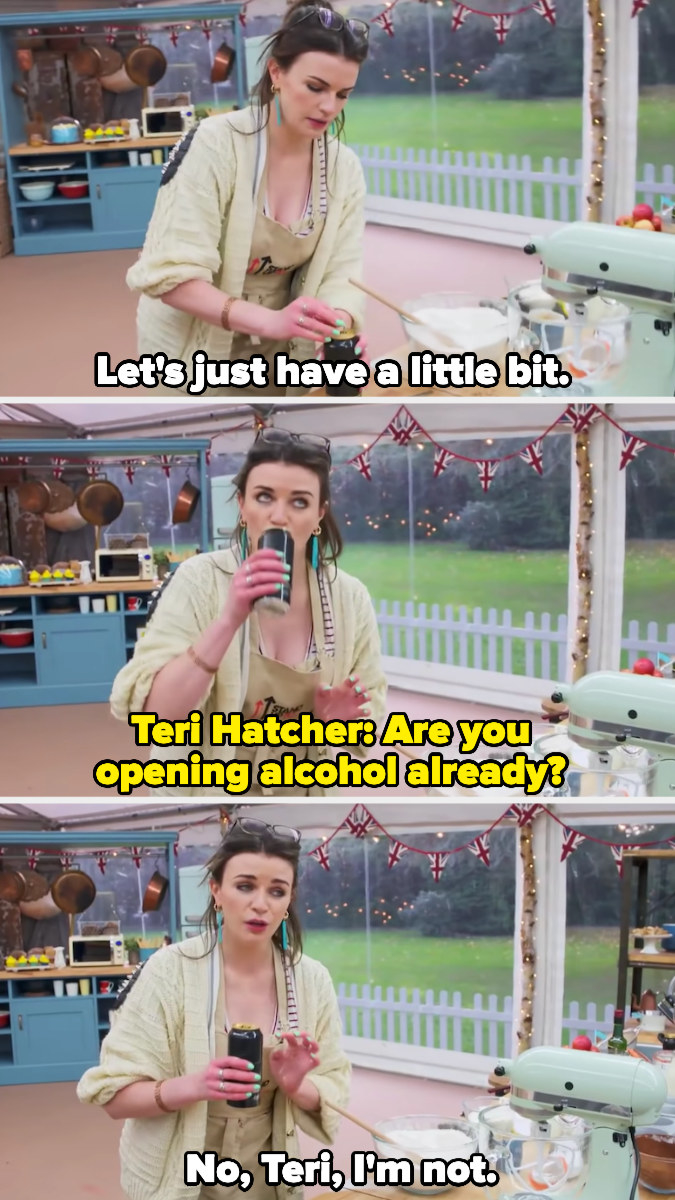 20.
When Russell got real with Paul Hollywood about the difficulties bakers have to face in their day-to-day lives.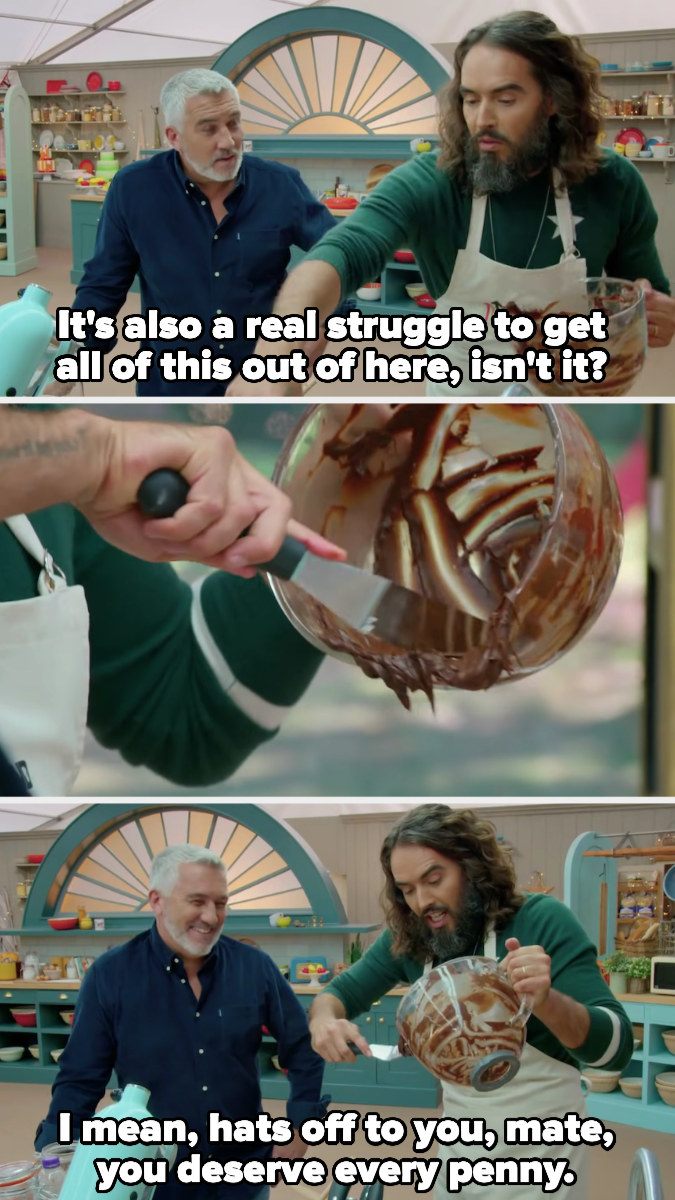 21.
When Joe declared his love for Paul, only to be cruelly rejected.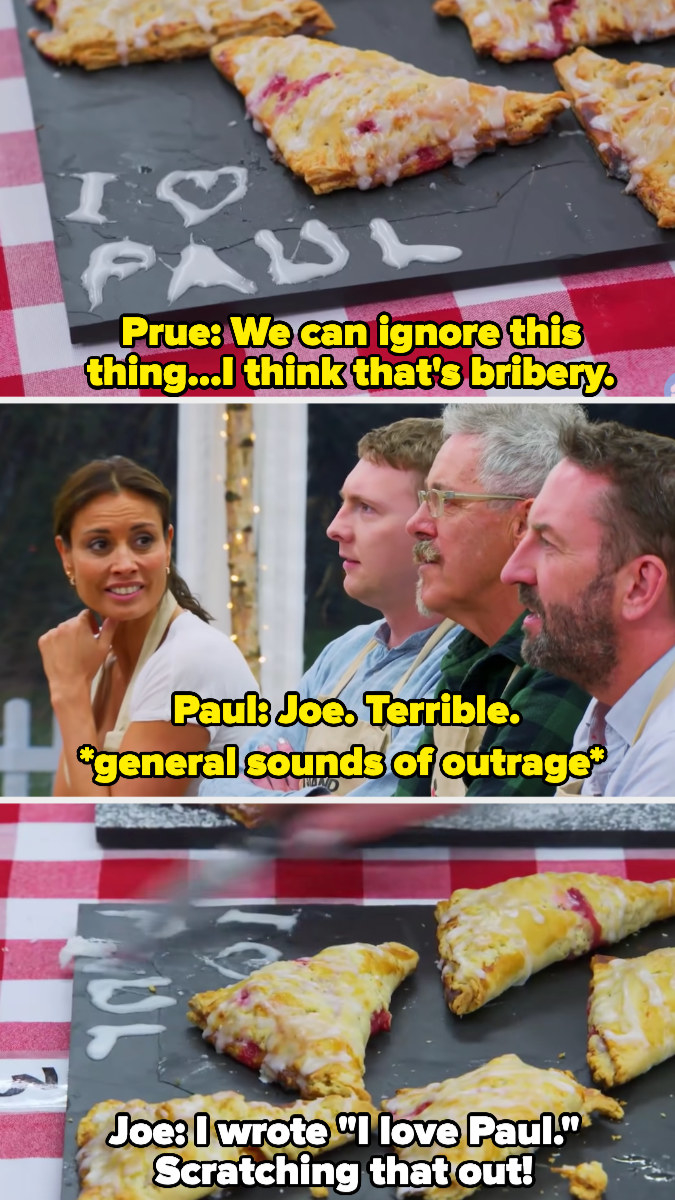 22.
When Aisling made a cake inspired by the LGBTQ+ community, only to worry that the final result may not be entirely welcome.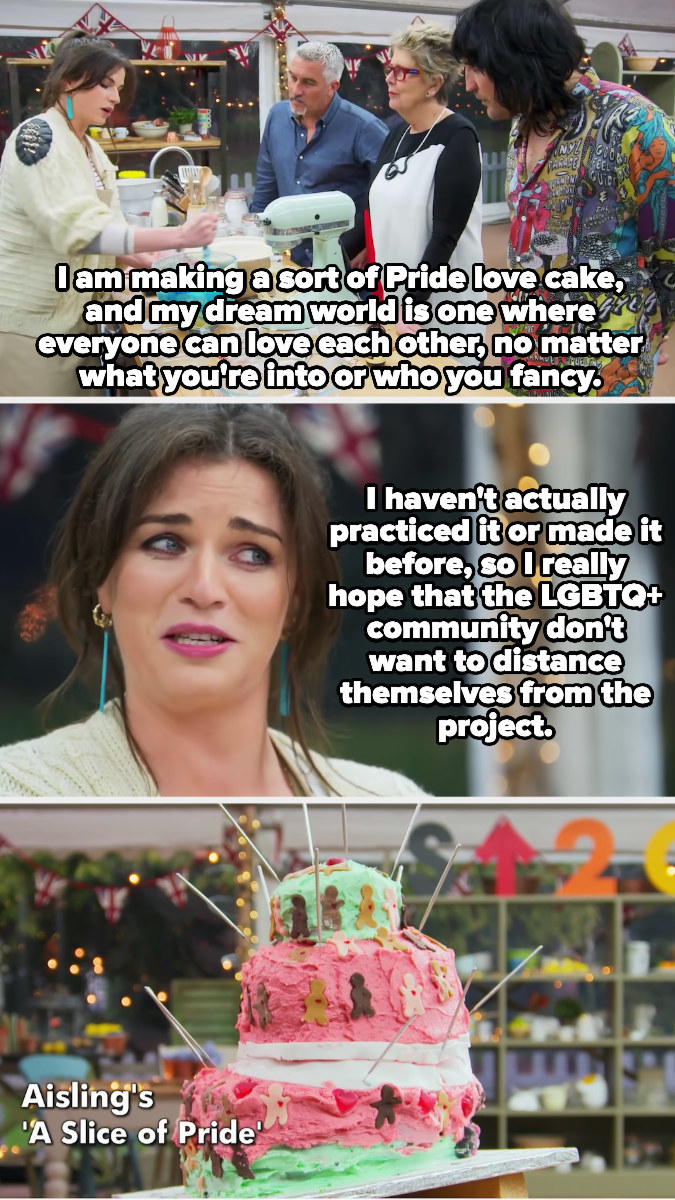 23.
When television personality Jamie Laing tried to make banana bread and instead delivered a "vile" gel cake.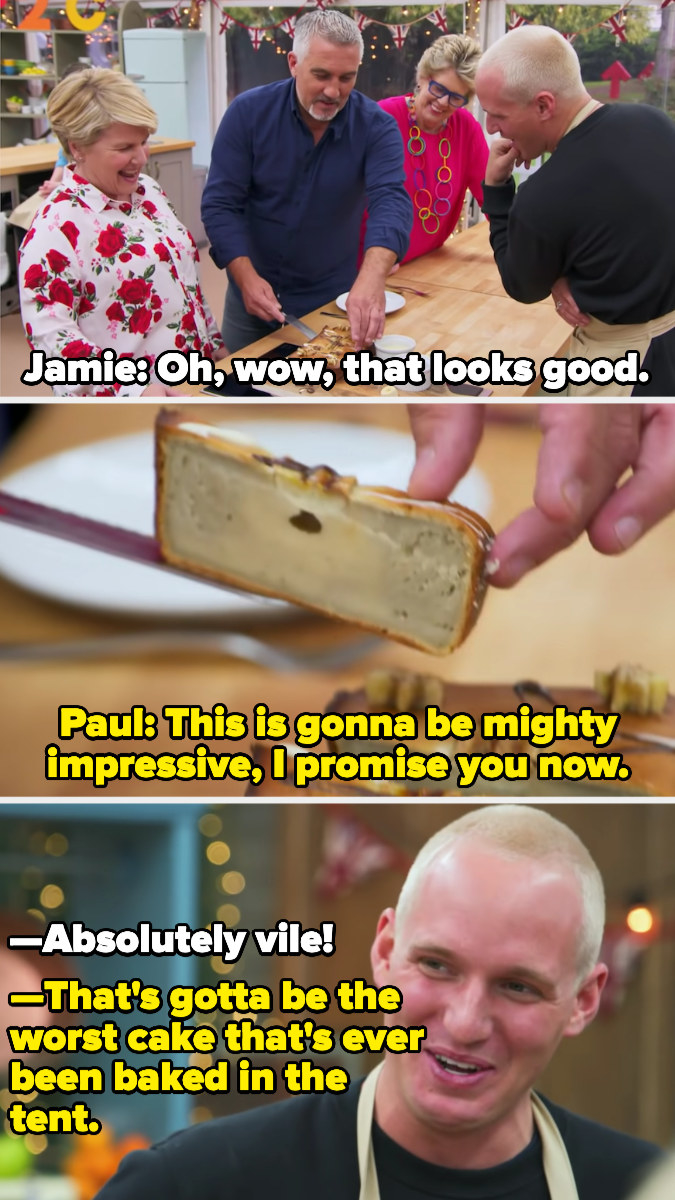 24.
When Russell got poetic in the face of a flawed Swiss Roll.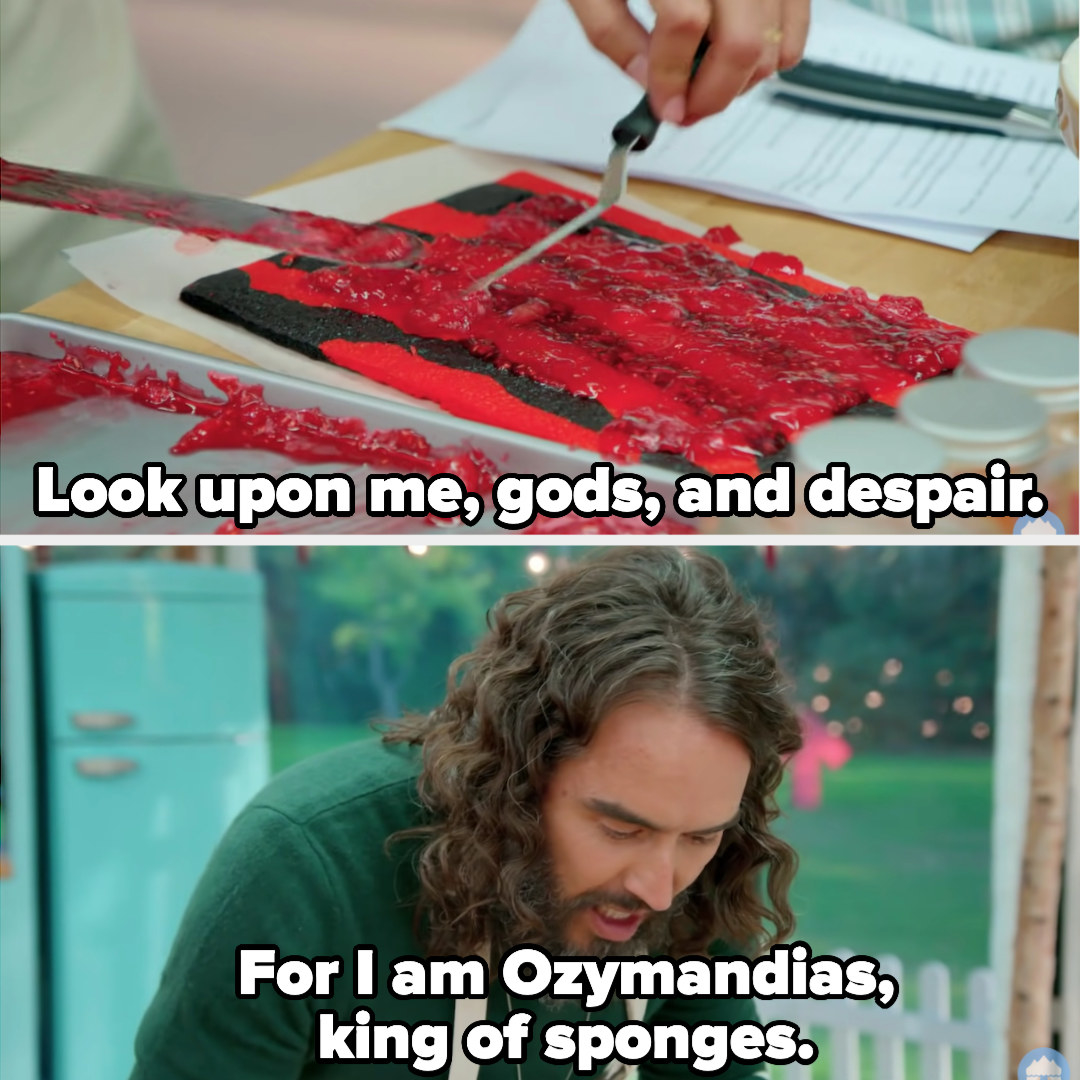 25.
When comedian and actor Jenny Eclair painted a vivid picture with both her words and her profiteroles.
26.
When actor Siobhán McSweeney stood up for her cultural traditions when no one else would (because they were made up).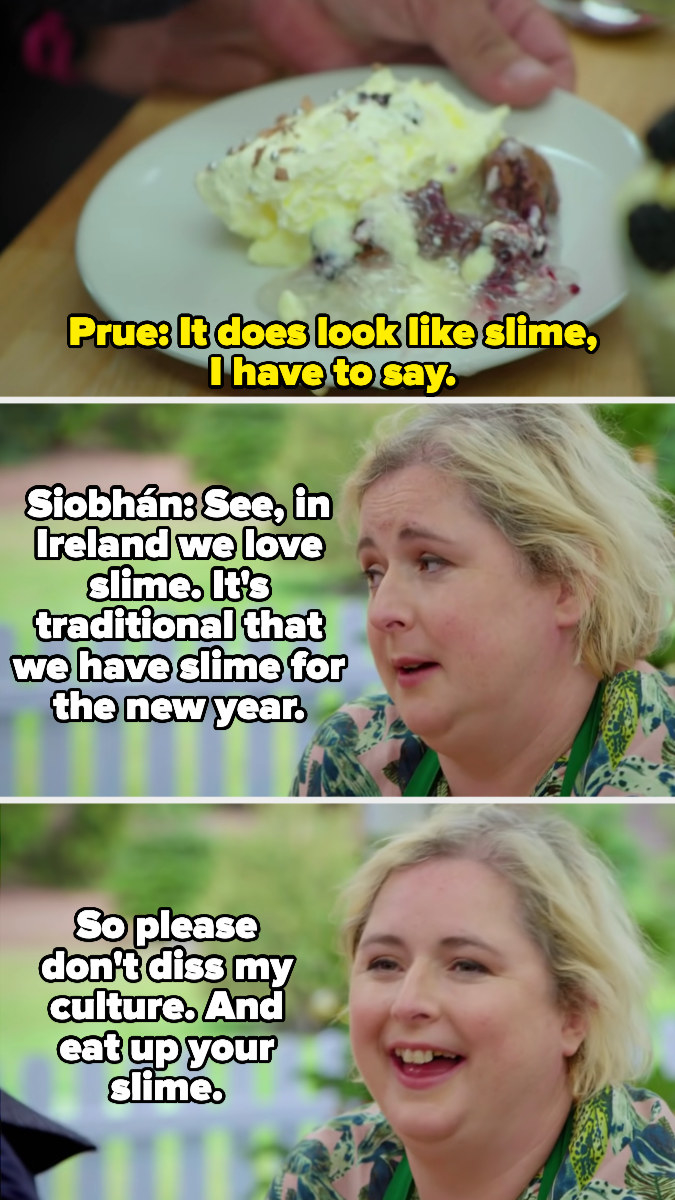 27.
And finally: When James kept his spirits high and his standards low during a cream horn technical challenge.