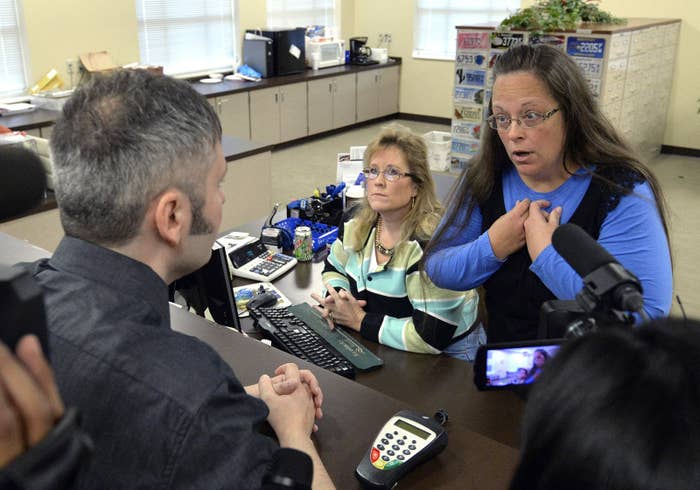 Rowan County clerk Kim Davis continued to deny same-sex marriage licenses Tuesday, a day after the Supreme Court denied the clerk's request to put on hold an a judicial order that she end her "no marriage licenses" policy.
Davis said she is denying marriage licenses "under God's authority," according to the Associated Press. She reportedly asked David Moore and David Ermold, who have been rejected several times, to leave.
"Tell her to come out and face the people she's discriminating against," Ermold said, according to AP. "We're not leaving until we have a license."

The American Civil Liberties Union (ACLU) filed a motion Tuesday seeking to hold Davis in contempt of court and to impose financial penalties on her for refusing to comply with U.S. District Court Judge David Bunning's order to stop enforcing her "no marriage licenses" policy against same-sex couples.

The ACLU filed the contempt motion on behalf of April Miller and Karen Roberts, who were denied a marriage license on Tuesday morning. In a signed declaration, Miller said that a deputy clerk at the Rowan County Clerk's office that no marriage licenses were to be issued "pending appeal."

The contempt motion against Davis stated that she "violated a definite and specific order" of the court by refusing to grant Miller and Roberts a marriage license following the Supreme Court's denial to intervene.

The motion asks the court to impose financial penalties on Davis, but does not ask for jail time. Heather Weaver, a senior ACLU staffer, told BuzzFeed News that "no one wants Davis to go to jail."
Weaver said, "We just want her to do her job and follow the court's order." She said that asking for a "substantial fee" to be imposed on her would "induce her" to that that.
The ACLU also filed a motion on Tuesday asking that Bunning expand his order to "clarify" that it applies "to all individuals who are legally eligible to marry in Kentucky."
On Tuesday morning, others yelled at Davis, telling her, "Do your job, Kim." The video below was provided by Camryn Colen, who is at the clerk's office.

Colen, a transgender man who was at the scene with his wife, Alexis, told BuzzFeed News the clerk's office was "pretty chaotic" this morning.
Colen said there are approximately 75 people, half of whom are Davis's supporters. Those demanding Davis issue marriage licenses attempted to stage a sit-in, but were kicked out by the sheriff's office.
"We're separated," he said of the two groups. "Kim's supporters are in a prayer circle right now. We're being respectful and quiet."
While Colen said same-sex marriage supporters are trying to be as peaceful as possible, and not engage, some of Davis's supporters have not shown the same level of respect.
"When the last couple went in to apply for a license — and was obviously denied — they booed and clapped in their face," Colen said. "It was very disrespectful."
Davis had argued that the state policy requiring her office to issue licenses to same-sex couples "substantially burden[s]" her religious freedom rights under the U.S. and Kentucky constitutions and Kentucky's Religious Freedom Restoration Act.
U.S. District Court Judge David Bunning ordered Davis to stop enforcing her "no marriage licenses" policy against the couples who sued her. He refused to put his order on hold while Davis appealed. In regard to that appeal, the 6th U.S. Circuit Court of Appeals also refused to grant her a stay, leading Davis to seek a stay from the Supreme Court.
The court's order requires only that Davis not deny marriage licenses to the couples who sued her. The plaintiffs have a request in to a judge to expand the case into a class-action lawsuit, which would cover everyone in Davis's jurisdiction.
The Supreme Court did not elaborate on why it denied Davis's request that the trial court's order be put on hold while she appeals the matter.
Despite calls for her resignation, Davis said in a statement she has done her job well and that issuing marriage licenses to same-sex couples would "violate my conscience."
She said her decision is "a Heaven or Hell decision," and one of obedience to God. She added that "to me this has never been a gay or lesbian issue."
Davis, an elected official, began her four-year term as clerk in January. Her husband, Joe Davis, arrived at the courthouse Tuesday morning to check on his wife, according to AP.

"I'm an old redneck hillbilly; that's all I've got to say. Don't come knocking on my door," he said, adding that he and his wife received death threats and had to change their phone number.
Joe Davis also compared his wife to Paul and Silas, the biblical figures sent to prison and rescued by God.
"They want us to accept their beliefs and their ways," he said of the same-sex couples in the clerk's office. "But they won't accept our beliefs and our ways."
Read the contempt motion the ACLU of Kentucky filed with Judge Bunning.
Download PDF