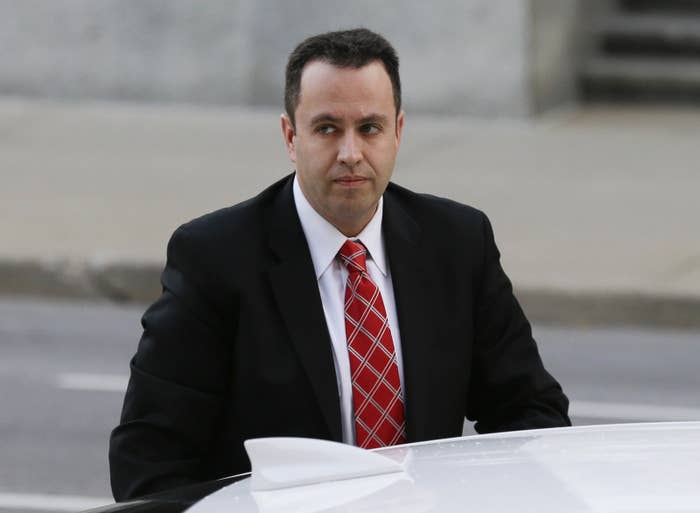 Jared Fogle, the former Subway spokesman who pleaded guilty to having sex with minors and distributing child pornography, was sentenced Thursday to more than 15 years in prison and a lifetime of supervision after he is released.
The 15.6-year sentence was three times what the defense had asked for and slightly higher than the 12.5 years prosecutors were hoping for.
The following account was live-tweeted by WISH-TV reporters who were present in the courtroom Thursday:

"This defendant was obsessed with child pornography and having sex with minors," the judge said.

Fogle entered a guilty plea in the morning to one count of conspiracy to distribute child porn and another to traveling to New York to have sex with minors. The judge made it clear that there is nothing in the plea agreement that bars the victims from seeking additional restitution.
In August, Fogle accepted a plea deal that could send him behind bars for 5 to 12 and a half years. Last week, prosecutors argued that Fogle should be sentenced to 12 years in prison and pay $1.4 million to the 14 girls filmed in pornographic videos he viewed.
Following his guilty plea, court took a short recess and resumed with the defense calling forensic psychiatrist John Bradford, who is an expert on sexual deviations, to testify. Bradford had conducted an evaluation on Fogle in August after spending five hours with him on the phone discussing his sexual experiences with minors.
Bradford testified that Fogle's significant weight loss caused him to develop a "hypersexuality." Bradford also said that he had diagnosed Fogle with "mild pedophilia." Fogle admitted that he paid for sex with girls as young as 16.
The psychiatrist added that Fogle's crimes are "more normal" than having sex with an 11-year-old.
Before Fogle issued a statement to the judge, his defense said that "he traded a horrible food addiction for a horrible sex addiction."
A tearful Fogle addressed the court and spoke about how he had become dependent on alcohol, porn, and prostitutes, and expressed remorse for his actions.
"Not a day will go by where I don't think about them and what I did to impact their lives," Fogle said before issuing an apology to his supporters. "It is my intent to learn from these experiences so that I never, ever do these things again."
Fogle, 38, is accused of traveling to New York City to pay minors to perform sexual acts on him at expensive hotels. He is also charged with receiving child pornography that was produced by Russell Taylor, the former executive director of the Jared Foundation. All of the incidents with minors took place between March 2011 and January 2015.

In November, Dr. Phil aired an interview with a teen who said she was "brainwashed and manipulated" by Taylor. The girl told Phil McGraw that when she was 14 years old, she was groomed to have sex with Taylor while she would spend time at his house, drinking beer and vodka.
Previously, the show aired an episode that revealed secret audio recordings of Fogle talking to an FBI informant about his attraction to minors and his strategy of sexually manipulating them.
"I like all ages. That's the thing I mean," Fogle said in the recordings, adding that it depends "who is ready for what. You know, who's going to give you that glance."
Subway terminated his contract shortly after the news broke.