The church basement started filling up at around 12:30 on a snowy Saturday afternoon last January. Though not parishioners of this place of worship in Montreal's east end, they had the zeal of the converted. Islam, they believed, was infiltrating the politics of both Quebec and Canada, encroaching on their way of life and ultimately setting the stage for Sharia law.
Organized by Justiciers du peuple ("the People's Robin Hood"), an anti-immigration group, many of the roughly 30 attendees had their allegiances stitched onto the backs of their hoodies and winter jackets. There were several of a horned, Canadian flag–draped viking, the fearsome effigy of the Soldiers of Odin. Katy Latulippe, president of the group's Quebec chapter, was an early arrival.
And then there were members of La Meute ("the Wolf Pack"), a Quebec-based group that often boasts of its 44,000 members — far and away the largest far-right anti-immigration group in the country. As BuzzFeed News has found through monitoring the group on Facebook, these numbers aren't altogether accurate, and La Meute's reality is closer to the spectacle that played out on this snowy Saturday: a bunch of disgruntled fiftysomethings trudging into a church basement to kvetch about Muslims for a few hours.
Rather than allow for it, Quebecers should rally to bar Muslims from the province altogether, she said.
The meeting was secret, with attendees having to register then wait for a call from Justicier founder Ella Kateri (a pseudonym) to find out the venue. Once inside, their names were checked off a list, they paid $5 to hear the speakers. Among them was Daniel Laprès, a writer and intellectual who believes the Muslim Brotherhood is "the most powerful Islamist group in Quebec."
Also speaking was Vanessa Varad, an ethnic Hungarian émigré from Romania's Transylvania region, who spoke of "legal jihad." Political Islam, Varad explained to the crowd, "attacks the judicial system and infiltrates the educational system to bring Islam into the schools."
Rather than allow for it, Quebecers should rally to bar Muslims from the province altogether, she said. After all, it worked in Hungary, her native country. "I am very proud of my country. It was the only country in Europe to put up fences. The last one was electrified. No other nationality has settled there. There is no Islam there."
The crowd erupted with cheers, including the dozen or so people wearing La Meute hoodies and, in one case, an outsize neck tattoo of the group's wolf paw logo. Then it was time for crustless chicken sandwiches, deviled eggs, and mini eclairs. One woman told her boyfriend how she recently saw a Muslim family on the streets of Montreal. She was scared, and not only for herself. What if the husband sets his wife on fire?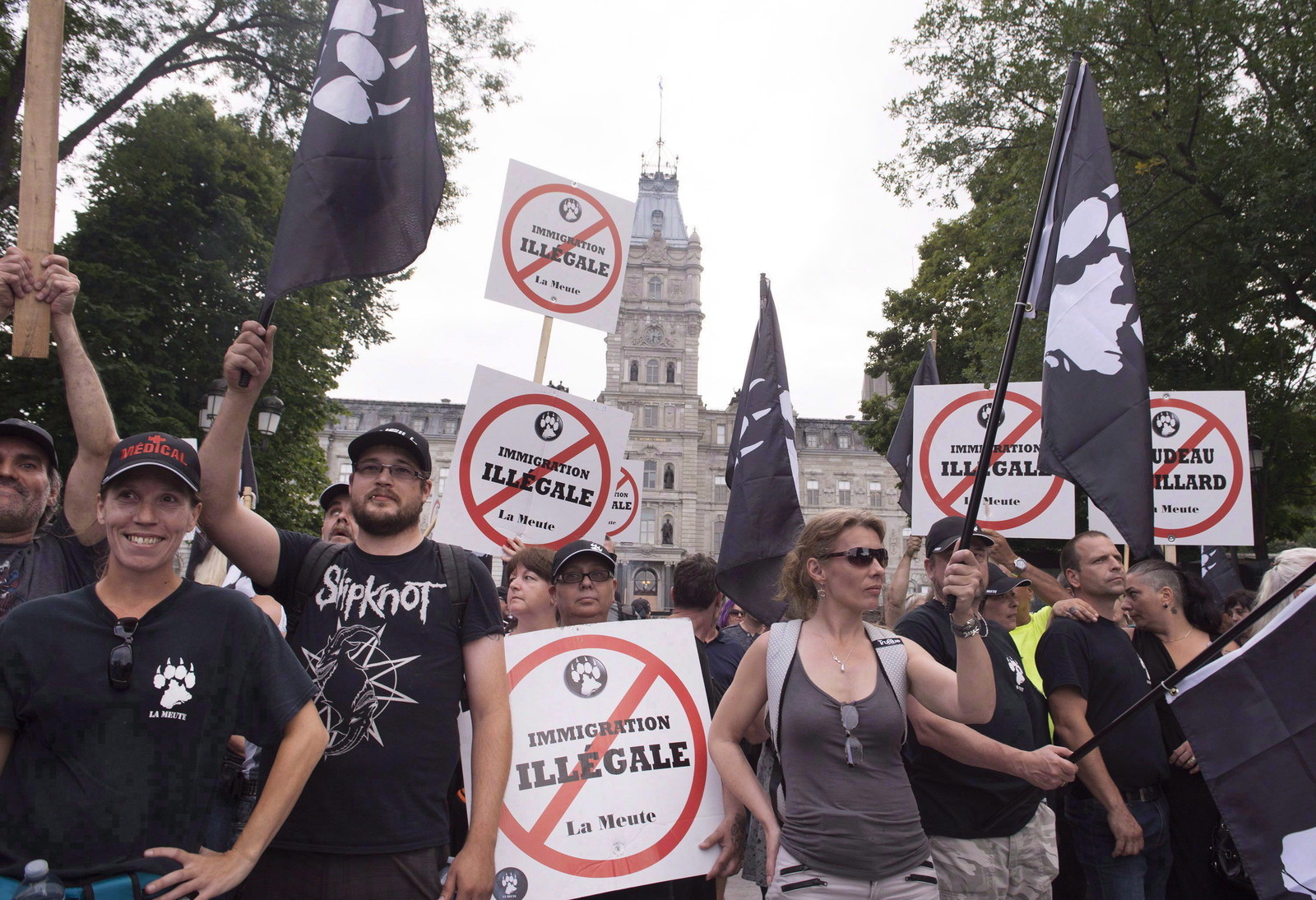 Just over 24 hours later, a gunman walked into a Quebec City mosque during Sunday prayers and opened fire, killing six and injuring 19. The incident had an immediate effect on the handful of Quebec's far-right groups. It became more difficult for these groups to hide behind the anti-immigration fig leaf, with much of the news media in Quebec City and elsewhere suggesting these radical fringe groups weren't simply critical observers but part of the overall problem of anti-Muslim sentiment in the province.
Soldiers of Odin's neo-Nazi roots in Finland were exposed, forcing the Quebec branch to defend itself from charges that it, too, had neo-Nazi sympathies. Its membership collapsed, and the remaining members have since largely ceased its nightly "foot patrols" in supposedly Muslim-dominated neighbourhoods. Today, groups like Pegida Quebec (Patriotic Europeans Against the Islamization of the West) are as likely to attack the self-described "antifa" movement targeting as they are issues of Muslim immigration.
But not La Meute. Though the group has had its share of leadership issues over the last several months, more than 6,300 people have joined the group since the mosque shooting, according to La Meute's membership list.
BuzzFeed News spent several months monitoring La Meute's secret Facebook group, and obtained a list of the Facebook group's nearly 44,000 members — far larger than La Meute's public page. As well, the secret group is demonstrably less guarded in its language and tone.
Its membership list boasts dozens of politicians, civil servants, and first responders — along with 228 active Canadian military members. Yet it is impossible to know whether all these people are bona fide devotees to La Meute's cause. In fact, it appears that the group contains numerous people who have nothing to do with La Meute and never agreed to join the organization or its secret Facebook group.
In any case, among the Facebook group's members are Jacques Gagné, a former police officer in a Quebec City suburb. On Oct. 14, La Meute spokesperson Sylvain Brouillette announced Gagné was the group's "security chief." Also listed as a member: an active member of the Hells Angels who was found guilty of conspiracy to commit murder. (Neither Gagné nor the Hells Angels member responded to requests for comment.)
La Meute also has a carefully crafted public image, perhaps best displayed on its publicly accessible Facebook page, as a pro-West group whose main concern is illegal immigration and religious extremism of all types. Tended mostly by Sylvain Brouillette, who is also a member of La Meute's nine-person council, the page features bromides to secularism and freedom of speech — along with the occasional inspirational quote from Martin Luther King Jr. and Albert Einstein.
La Meute's hidden face, meanwhile, is quite the opposite. On its private Facebook group, members often devolve into conspiracy theories about Muslims, the alleged "Islamification" of Justin Trudeau's Liberal government and near-endless discussions about the use of pigs' heads, blood, and entrails to prevent the building of mosques and cemeteries in Quebec. Paradoxically, members often accuse Muslims themselves of vandalizing their own mosques and holy places with pork products to drum up sympathy for their causes.

As BuzzFeed News also found, La Meute's Facebook membership list is full of people who have absolutely no idea that they are listed as members of the country's largest anti-Muslim group. And yet, despite the wolf pack being smaller and far more radical than it lets on, the group is cloaked in an air of legitimacy not afforded other like-minded groups — and has likely influenced Quebec's always fraught political discourse when it comes to Muslims and immigration.
La Meute's media coverage has been extensive and at times quite positive. This includes a series of CBC articles qualified as "one of the best things written by a journalist on La Meute," according to Brouillette. "They give us excellent visibility," Brouillette wrote on the group's private Facebook page. "Already we are getting requests to start an English chapter of La Meute."

Thanks in part to the coverage, the group has translated its formidable social media presence into actual boots on the ground. Hundreds of La Meute members turned out for an anti-immigration rally in Quebec City earlier this year. Along with Storm Alliance, formed by disaffected former Soldiers of Odin members, La Meute was the largest far-right contingent at a similar September rally in Lacolle, a tiny border town located about 60 south of Montreal.

The sheer number of ostensibly active La Meute members is often mentioned in the media coverage of the group — something its leaders like to remind their flock. "Remember, when you wear La Meute's colours in public, you represent 44,000 people," Brouillette wrote last fall.
Yet a closer look at the group's membership list and its private Facebook page shows all is not as La Meute would like to project. BuzzFeed News has contacted numerous people on La Meute's membership list, including politicians, civil servants, military members, and well-known media figures.
The vast majority of the people contacted had no clue that they were listed as members of Quebec's largest and most notorious far-right group, and said they have never had anything to do and were added against their will. This includes lawyer and pundit Anne-France Goldwater; Journal de Montréal columnist Richard Martineau; former Parti Québécois MNA (and widow of former Quebec premier Jacques Parizeau) Lisette Lapointe; activist Tarek Fatah; as well as former Parti Québécois president Raymond Archambault, and André Bellavance, the mayor of Victoriaville, Quebec.

The sole politician contacted by BuzzFeed News who admitted to joining La Meute was Conservative Sen. Pierre-Hugues Boisvenu, who said he did it to "monitor" the group. He withdrew his membership in August.
"What? I would never align myself with a group like that."
"Ms. Roy thanks you for telling us because she doesn't want to be part of this group," said a spokesperson for Nathalie Roy, a member of Quebec's National Assembly and one of the better-known members of the right-of-centre Coalition Avenir Québec party. Roy was stricken from La Meute's membership list within a few hours.
Roy became a La Meute member without her consent on Dec. 12, 2015. The La Meute member who included Roy isn't a part of the group's council and has added 123 people to La Meute's membership list over the last two years.
That this person was able to add members isn't particularly novel. La Meute claims only a handful of "gatekeepers," along with members of the council, can decide who will be granted access to La Meute's secret Facebook page. Yet according to the membership list, over 4,500 La Meute members added people to the list over the last two years — whether those people knew it or not.

"I can't say I've ever heard of them. Are they a veterans group?" said Dennis Manuge, a prominent veterans advocate. Informed of the group's raison d'existence, Manuge sounded surprised. "What? I would never align myself with a group like that."
Manuge was added to the list by Eric Venne, aka "Eric Corvus," one of La Meute's cofounders and its former leader. Himself a veteran of the Canadian military, Venne added 162 new members between October 2015 and Jan. 9, 2017. Venne continued adding members to La Meute even after he quit the group on Jan. 14 — three in total, the last on Aug. 14, 2017. He rejoined the group in September. (La Meute's most prolific recruiter has added over 620 names to La Meute. This person isn't a member of the group's council or one of its "gatekeepers.")
La Meute has also recruited people whose political ideologies are in sharp contrast to the group's. On Jan. 30, 2016, a La Meute member added a political attaché for Karine Trudel, the NDP MP for Quebec riding of Jonquière. The NDP is a left-wing, pro-immigration party. The attaché in question, who asked that his name be withheld because he doesn't think La Meute is above retaliating against him, often posts about social justice. He has a giant picture of newly minted NDP leader Jagmeet Singh on his Facebook page.
The attaché said he never consented to be a member, and was completely against the group's aims. He recognized the name of the person who added him to the list, however. "It's someone I met through my work," he said.
The person who added the attaché has added 44 people to La Meute's membership list in the last two years. "I'm no longer with the NDP or La Meute," the member who added him told BuzzFeed News in a Facebook message. Asked if she added the NDP attaché to the list, the person responded, "No, and it's none of your business."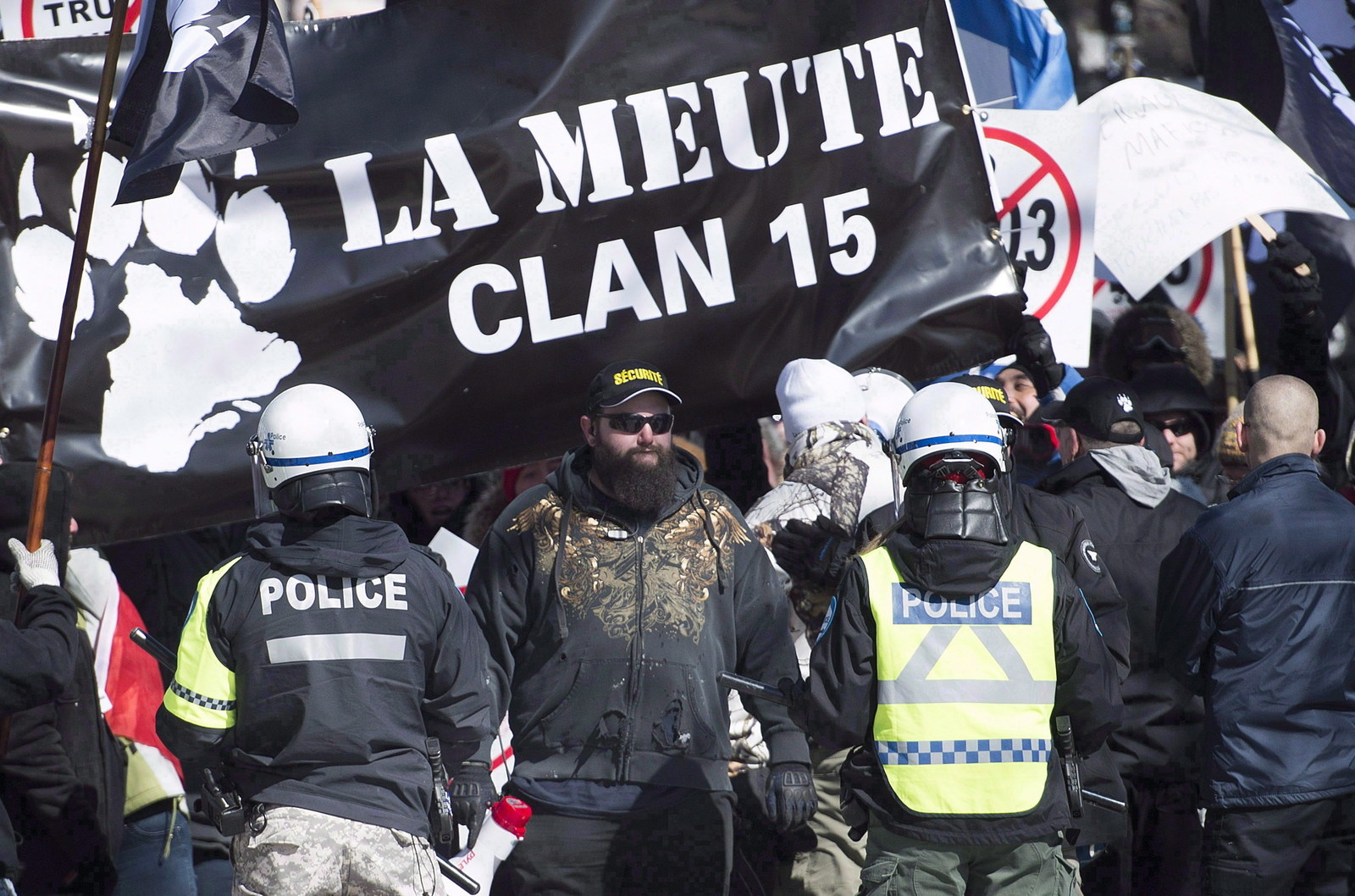 One of the keys to La Meute's mainstream success has been its ability to question the place of Islam and immigration in Quebec society without publicly devolving into outright xenophobia. La Meute's leaders often decry examples of anti-Muslim sentiment. In July, as Quebec City's Muslim community was seeking land to construct a cemetery, a torn-up Koran was left on the steps of the city's Islamic centre, the site of last January's shooting.

La Meute quickly denounced the stunt. "This kind of stupid, cowardly and counter-productive stunt is strongly condemned by La Meute," wrote Brouillette on the group's public Facebook page.
Yet it is often quite a different story on La Meute's private page. On Feb. 18, 2016, a member of La Meute's council named Johane Cayer, who oversees its public page, exchanged messages with a fellow La Meute member on the group's secret Facebook page. The conversation was about how to prevent the construction of a mosque in Sherbrooke, Quebec.
Member: A pig's head wrapped in a goddamned nice package with a little card welcoming them.

Johane Cayer: It must drip into the soil so that it becomes unclean/impure for the construction of a mosque… but pig's fat and piss are available at your local butcher… LOL!!!

Member: Or you let live pigs run, piss and shit everywhere. Then you are sure they'll leave LOL!

Johane Caher: I have a big imagination, and I am aching from laughter, imagining them [Muslims] shocked and running around like chickens with their heads cut off, totally offended.

Member: Wow that would be funny, I'd film it and put it on YouTube LOL!!
BuzzFeed News obtained a copy of the entire conversation, complete with timestamps and active links to each La Meute member taking part in the conversation, from a longtime La Meute observer who has access to the group's secret group. On Oct. 4, this person accessed this conversation by typing in "Tête de porc" (pig's head) into Facebook's search function. The exchange was erased by the time the Montreal Gazette first reported on it on Oct. 5.
In response to questions about the posts, at first said Cayer said those attributed to her had been falsified. She then said they might have been taken out of context, and finally wouldn't verify if the messages accredited to her were authentic or not. "I cannot confirm this conversation," she wrote in a message to BuzzFeed News, adding, "I don't encourage this type of language."
"Traditional political parties in Quebec watch what La Meute is saying."
Cayer remains part of the group's council, and is also an administrator for each of the group's 17 "wolf pack" subgroups around the province.
Though the post has since been taken down, the site remains replete with references to the use of pigs, which are sacrilegious according to both Islamic and Jewish doctrine, as a means to make Muslims feel unwelcome. "I work in a suckling pig store in St Jerome. Feel free to contact me, as I have tons of pigs heads for a protest," wrote a La Meute member in a 2015 post.
Sylvain Brouillette didn't respond to questions about La Meute's secret site, its membership list, or Cayer's words.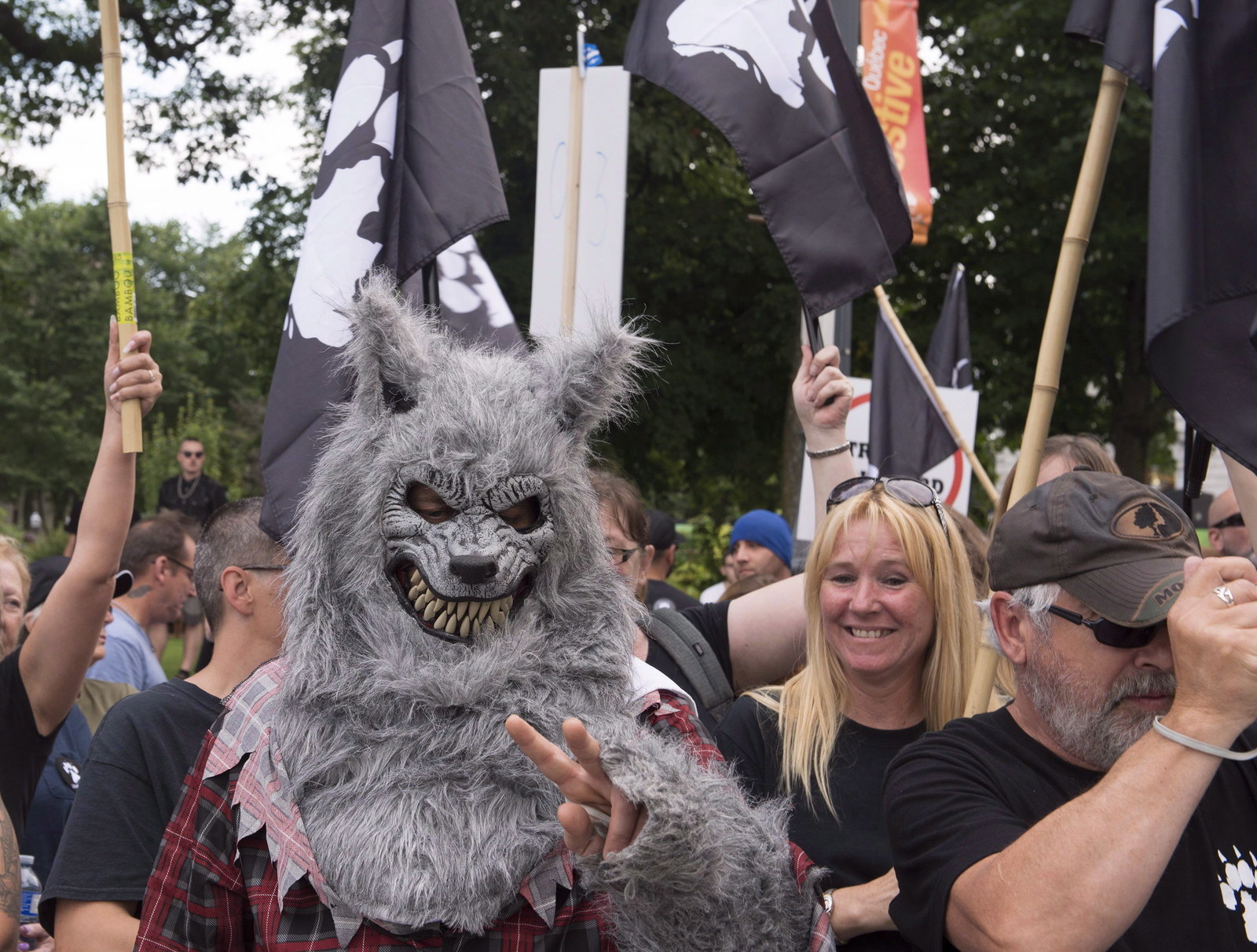 La Meute may be far smaller than its roughly 44,000 members would suggest. And the group's public message — that it is against Islamic extremism, not Islam itself — is undermined by the words of La Meute members and administrators alike. Yet because it can mobilize its members onto the streets, La Meute is far more than a disgruntled group of keyboard warriors, David Morin said.

As codirector of Université de Sherbrooke's observatory of radicalization and violent extremism, Morin has been studying La Meute for two years, and has watched it transform from an easily ignored fringe group to an established one with real political clout.
La Meute has been able to grow in influence, Morin said, largely because it straddles the line between extremist groups like Soldiers of Odin and the further reaches of acceptable political discourse — particularly on issues of immigration and worries about "creeping Islam."
"Traditional political parties in Quebec watch what La Meute is saying," Morin said. "These parties understand that there is an electorate that is sympathetic to what the group says. They know they can seize upon these themes for political gain."

As a result, the group has had a clear effect on the larger public debate over immigration and Islam in Quebec. "They are normalizing the language they use when talking about Muslims and immigration, and are therefore helping define how we talk about it," said Morin. "They have an echo that's far bigger than their size." ●
Alheli Picazo contributed additional reporting to this story.