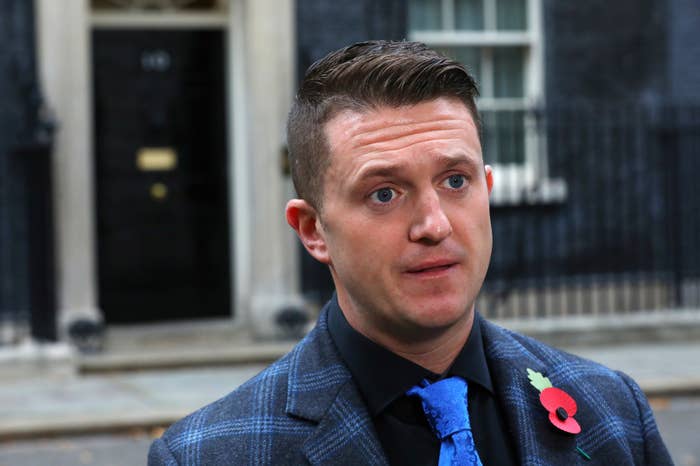 YouTube has moved to prevent far-right activist Tommy Robinson making money from his videos by suspending ads on his channel, BuzzFeed News can reveal.
The anti-Islam activist and founder of the English Defence League had been monetising his videos through YouTube's platform, which allows video-makers to collect money from advertisers.

On Thursday, YouTube told BuzzFeed News that it had suspended advertising on Robinson's channel — boasting more than 270,000 subscribers — for violating the company's advertising guidelines.
"We have suspended ads on Tommy Robinson's YouTube channel as it breaches our advertising policies," a YouTube spokesperson told BuzzFeed News.

Earlier this week, Robinson uploaded a photo of a computer screen to Instagram, which appeared to show YouTube taking action against a recent video. According to the message, YouTube had "placed restrictions on how the video will be shown".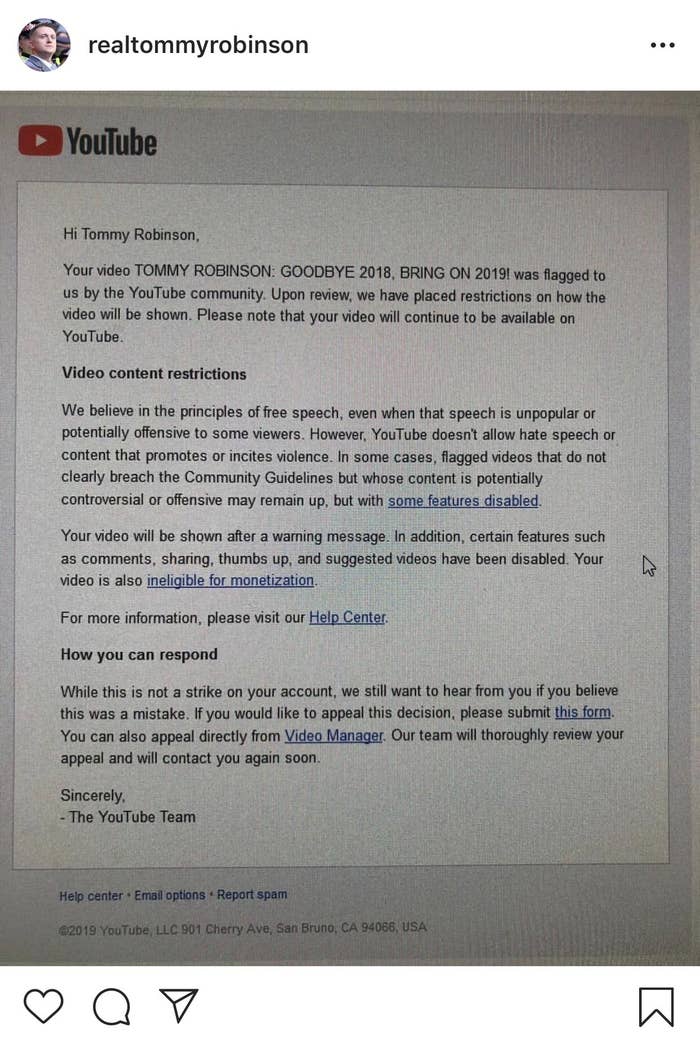 "We believe in the principles of free speech, even when the speech is unpopular or potentially offensive to some viewers," the statement from The YouTube Team read. "However, YouTube doesn't allow hate speech or content that promotes or incites violence."
In the 23-minute recap video of 2018, Robinson rails against "press-titutes" and "left-wing big tech platforms in Silicon Valley", and shows footage that he claims is of him punching a migrant on an Italian street.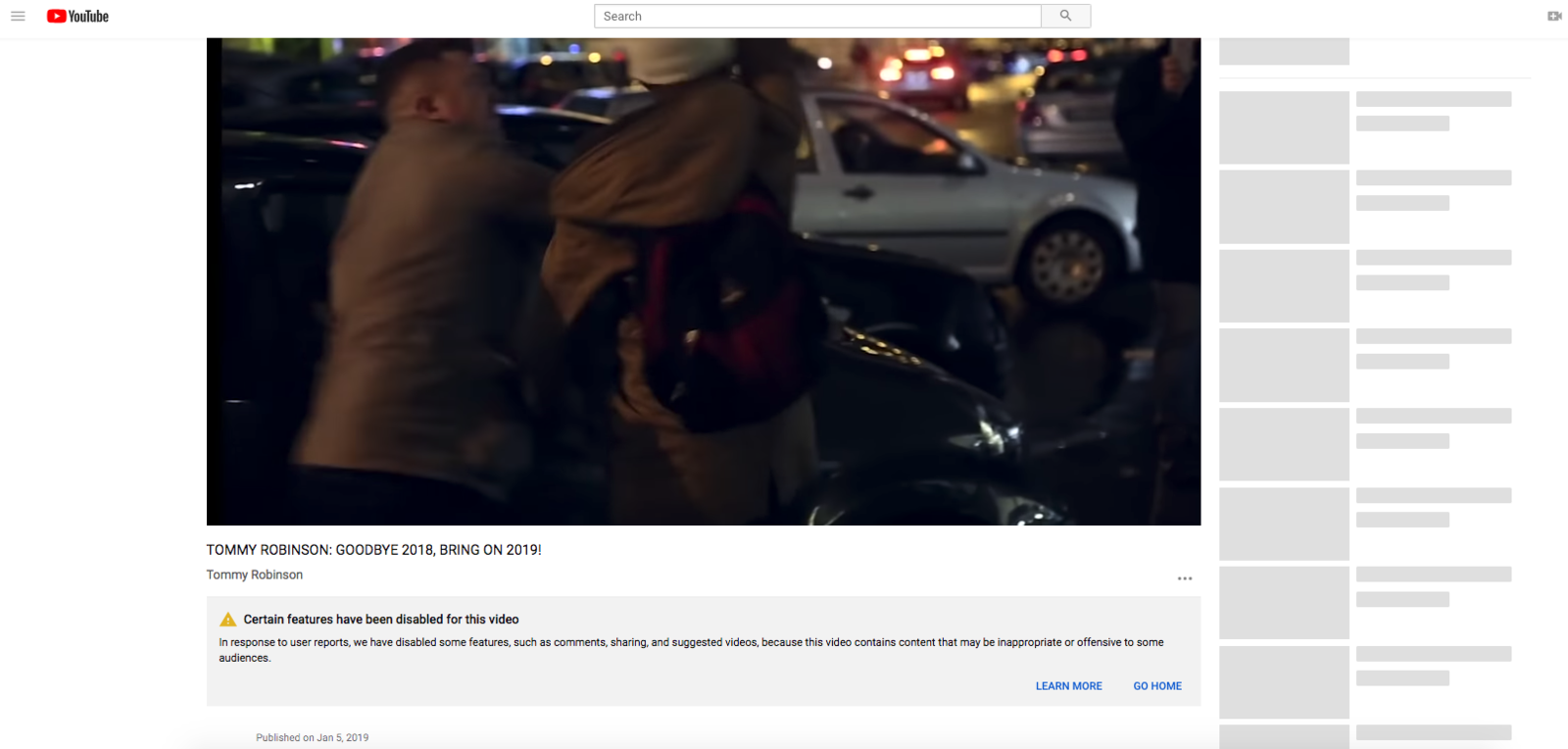 Robinson also claimed there was a "rape jihad phenomenon" in "pretty much in every major town and city in our country" and explained why he livestreamed video outside a grooming trial in Leeds, which saw him jailed for contempt of court.
"It would wake a lot of people up to what's going on with the globalist, no-border bullshit and the fact we're importing third-world alien cultures and treatment of women in Britain," he said.

The video no longer has comments, sharing buttons, or suggested videos, and features a pre-screen warning that the YouTube community has identified it as "offensive or inappropriate for some audiences".

His Instagram caption read: "Anyone who has watched my new yrs video know this is complete bollox. They want to remove my YouTube account."
YouTube "de-monetisation" has been an issue for the channels of prominent figures in the UK far right. One, Count Dankula, claimed he had been de-monetised by YouTube at one point last year.
Dankula (real name Mark Meechan) and Robinson are two of the right-wing personalities — along with Paul Joseph Watson and Sargon of Akkad, aka Carl Benjamin — who've recently been courted by UKIP's anti-immigration leader, Gerard Batten, in an attempt to attract younger members.
His push to formally admit Robinson as a member has also led to former UKIP leader Nigel Farage to cut ties with the party. Farage said Robinson's potential membership risked UKIP becoming a "street-activist party".
In March last year, Twitter removed Robinson's account for breaching the company's rules around "hateful conduct". He remains on Facebook, where he has nearly 1 million followers.