A week ago, on the letters page of Melbourne's The Age, there was this headline.

It ran above a letter from "Roger Riordan from Hampton", which explained why there would be "total chaos" on census night and people would "go to bed" after trying and failing to log on to the census website.
A spokesman from the Australian Bureau of Statistics has stated that: "Online could handle 1 million form submissions every hour. That's twice the capacity we expect to need" ("Chaos plagues countdown to online census", 2/8). The ABS is expecting to collect data on 24 million Australians, but the only information I have received is an envelope in the mail. One side states "Your census login inside. Keep it safe." And on the other: "Keep this safe and save the date. Census night is Tuesday, 9 August 2016." There is no suggestion you should do any preparations, or that there are any alternatives. So I expect most eligible people will arrive home on the ninth, have dinner, then think "oh, the (expletive deleted) census", and expect to be able to finish it before bedtime. This could mean up to 10 million people trying to respond in one hour. I predict total chaos, and as it will be too late to make other arrangements a very large number of people will say something like "To hell with that", and go to bed.

Roger Riordan, Hampton
That's pretty much precisely what happened.
In the Australian Bureau of Statistics' first effort to move the census completely online, millions of Australians were left stranded, locked out of the website on Tuesday night.
Roger Riordan is an electrical engineer and software expert. He told BuzzFeed News that last night went exactly as he predicted.
The ABS was claiming last month that its system could handle the insane amount of traffic.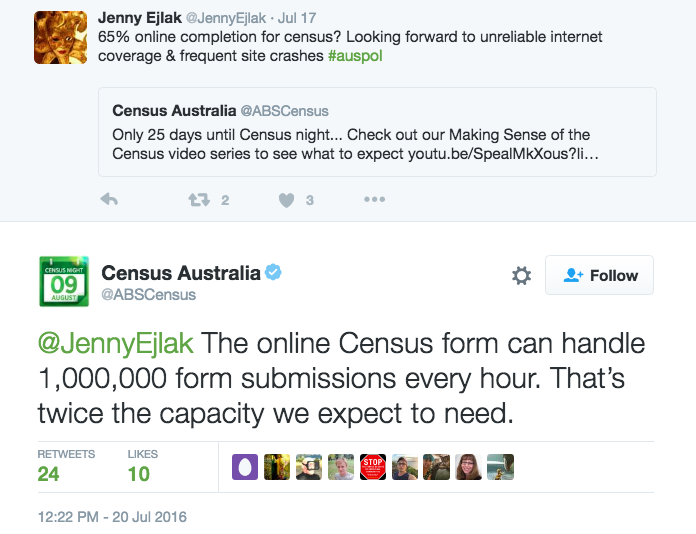 On Wednesday morning another excuse emerged for the system meltdown. The ABS was blaming overseas users launching four Distributed Denial of Service (DDoS) attacks on the website.
Who could have seen a DDoS attack on the ABS system? This person who tweeted last week that it would happen.
People are already casting doubt on the ABS' DDoS claims. The website digitalattackmap.com that tracks these sorts of attacks didn't register anything in Australia yesterday.