Malcolm Turnbull will soon have up to four new social media advisers, after a series of embarrassing missteps and fails on Facebook, Twitter and Instagram last year.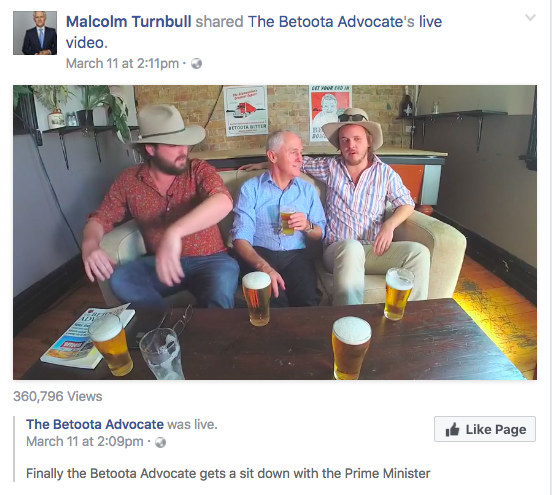 Since becoming PM, Turnbull hasn't had a dedicated social media team, instead relying on existing media staff who were taking it in turns to post on his behalf.
Last month Turnbull rehired one of his former staffers, Tommy Tudehope, to start a social media team.
Since then Turnbull has taken part in a series of Facebook Live interviews with websites including Mamamia, Babyology and satirical news site Betoota Advocate.
When asked by BuzzFeed News about the new push into Facebook Live, a source in the PM's office said Turnbull hoped "to make Facebook Live his version talkback radio".

Unlike former PMs John Howard and Kevin Rudd, who used morning spots on talkback radio and TV to connect with so-called "real voters", Turnbull is trying to spread the word via Facebook.
Along with the Facebook Live videos the new social media team has its own dedicated Twitter account under the handle @thePMO.
Ahead of the Budget the new social media advisers will resurrect Turnbull's Snapchat account, which was launched and then disregarded during last year's election, and post Instagram and Facebook stories.
Looks like there are no comments yet.
Be the first to comment!