The Australian War Memorial is defending the practice of hosting weapons companies at the war memorial as a photo and an invitation emerged from one function with a prominent drone maker.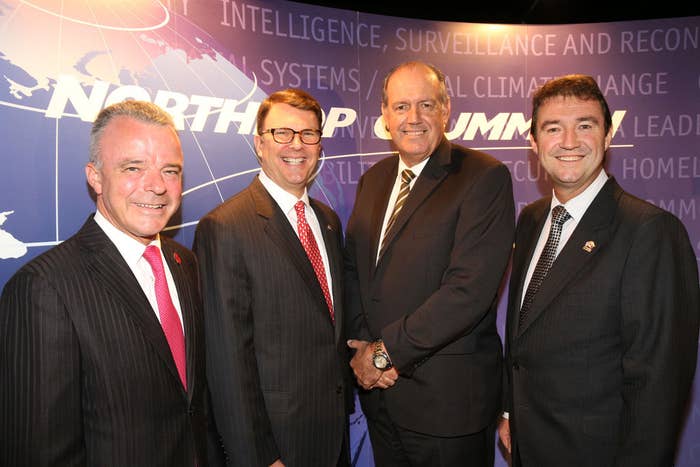 One of the world's biggest weapons companies, Northrop Grumman used the Australian War Memorial to host a corporate launch and promote its drone program in December last year. The company also specialises in fighter jets and stealth bombers.
A photo taken at the event (above) shows War Memorial Director Brendan Nelson, U.S. Ambassador John Berry, then Defence Minister David Johnston and Chief Executive of Northrop Grumman Australia Ian Irving.
BuzzFeed News has also obtained a copy of the invite to the event which prominently features an unmanned drone and details that it was held in the ANZAC Hall of the memorial.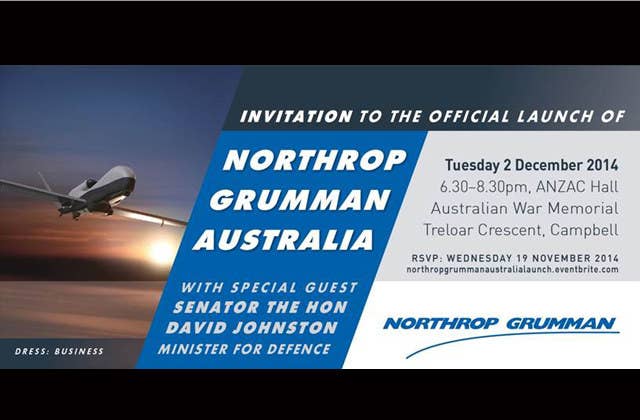 Mr Nelson was questioned about whether it was appropriate to host weapons makers during a Senate Estimates hearing last night. He confirmed several top companies including Lockheed Martin and Boeing also used it for corporate events.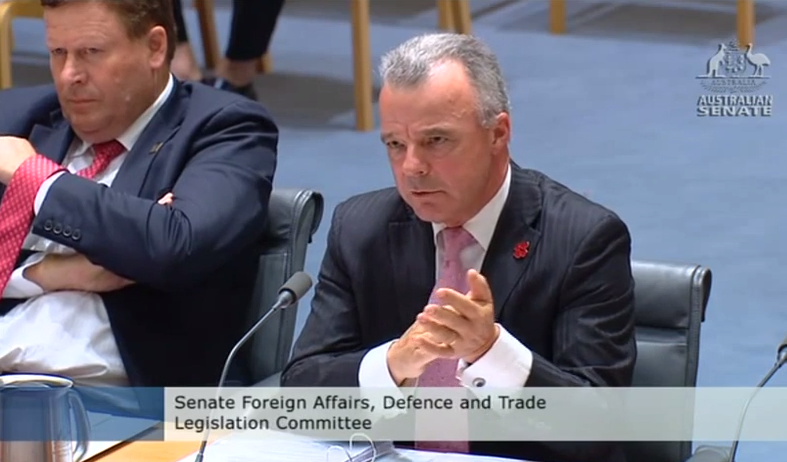 "I have been at the memorial for two years and two months, I certainly know that Lockheed Martin, that Boeing, that Northrup Grunman, as you quite rightly point out have functions there," he told Greens Senator Peter Whish-Wilson.
Minister for Veterans Affairs, Senator Michael Ronaldson then defended the move and attacked the Greens senator.
"I take it from this that the Australian Defence Force should not be using this either?Because they indeed carry and use weapons… is that what you're saying?"
"I find the whole scenario disturbing," Senator Whish-Wilson (pictured) told BuzzFeed News.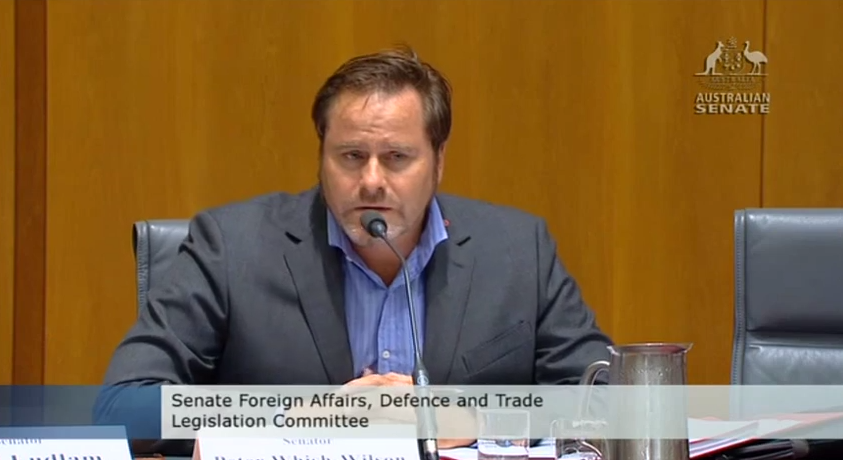 "The War Memorial is sacred to many Australians for many different reasons including those who see it as a shrine for peace. It is offensive and insensitive for those who profit from war to promote their business in such a location."
The memorial is funded in part by large corporate donations from defence companies. Boeing Australia, BAE Systems Australia, Australian Submarine Corporation Pty Ltd and Tenix Pty Ltd are all listed as benefactors who have donated more than $250,000 each.
Other companies listed as benefactors include Rio Tinto, Coles Myer Ltd and Qantas, with businessman Kerry Packer, Kerry Stokes and Dick Smith all donating more than $250,000 to the memorial.
BuzzFeed News has sent a list of questions about hosting defence companies to the Australian War Memorial.