The "Nazi-Free" Twitter Trick Shows That British Twitter Users Are Seeing Hate Speech Banned In Germany And France
Changing Twitter's country of origin to Germany or France filters out some Britain First retweets.
by
,
Two far-right British Twitter accounts that remain verified by the US-based company have been regularly retweeting profiles recently that are banned in France and Germany because of links to hate speech.
Yesterday a tweet went viral from US-based writer Virginia Heffernan that explained how any Twitter user could filter out accounts linked to neo-Nazi groups by changing their current location on the website to Germany.
The so-called Nazi-free Twitter experience (which you can switch on by clicking your profile picture in the corner of the screen and changing your country of origin in "settings & privacy") was seen by some users of the app as further evidence the company was not doing enough to counter hate speech on the social media platform for everyone.
As first reported by Motherboard and Lifehacker, in Germany the neo-Nazi accounts are shown as "withheld" in search.

There's a similar situation in France, where users are also blocked from seeing tweets and accounts because of stricter laws.
BuzzFeed News checked what the timelines of two prominent, verified far-right British Twitter accounts — Britain First's Paul Golding and Jayda Fransen — looked like to German and French Twitter users.
US president Donald Trump retweeted three anti-Muslim videos posted by Fransen last week, with at least one of the videos having been exposed as misleading.
In the last 30 days, Golding and Fransen retweeted accounts banned in France or Germany (or both) on five separate occasions.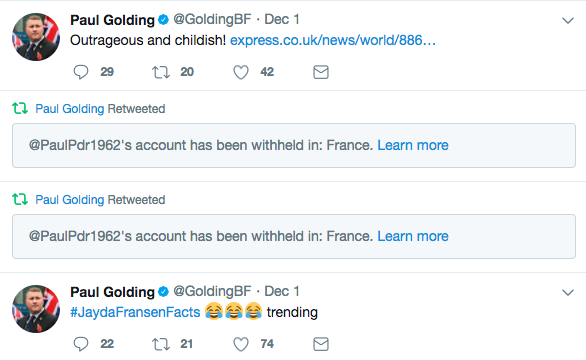 Users are not given specific reasons for the accounts being blocked, but are just taken to Twitter's support page.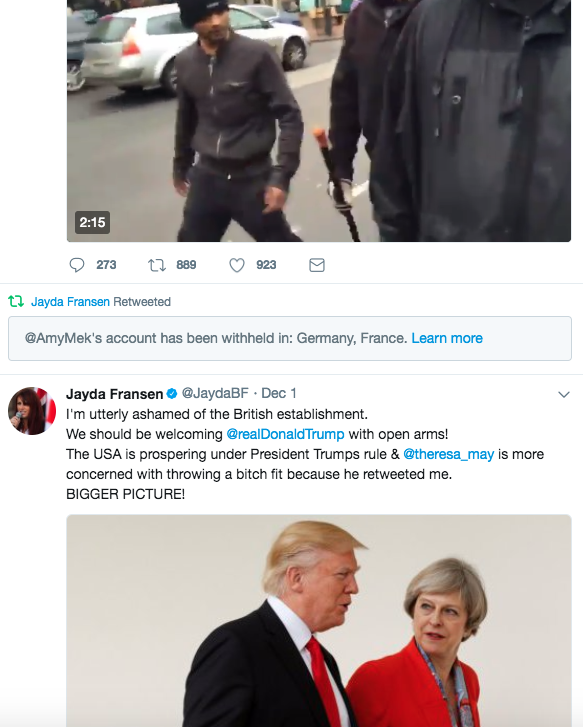 According to Motherboard, in July this year Paul Golding himself was banned from being seen on Twitter in Germany.
It's unclear why the ban on Golding has since been lifted in Germany. A Twitter spokesperson told BuzzFeed News the company couldn't comment on specific accounts.
But in light of the group's misleading tweets and retweets of extremist accounts, BuzzFeed News has again questioned Twitter about why Britain First has retained the benefits of being verified on the platform.

Earlier this year, Twitter announced a crackdown on far-right verified accounts, with founder Jack Dorsey conceding that its blue checkmark system was "broken".
A Twitter spokesperson again refused to explain the company's inaction on Britain First, instead referring to a three-week-old tweet about the fact that the verification system was being reviewed.