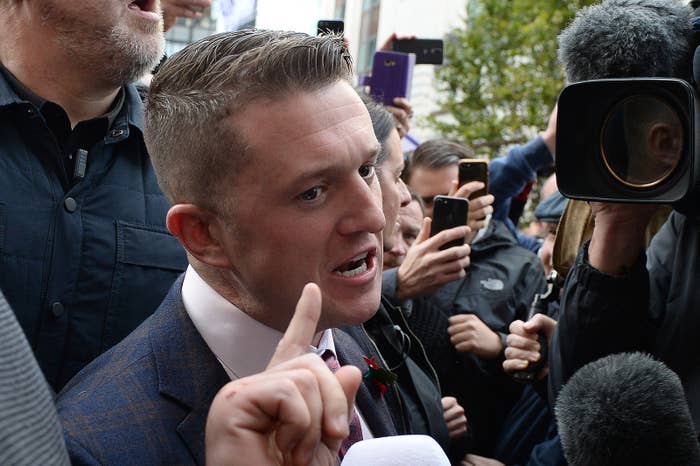 Senior members of UKIP fear the party's partnership with Tommy Robinson at a December Brexit march could spark an "ugly" protest movement in the country and elevate the far-right activist as the national face of Brexit at a crucial moment in the process.

UKIP party leader Gerard Batten has been risking a split within the party for several weeks over his deepening association with Robinson, whose real name is Stephen Yaxley-Lennon.
Robinson founded the far-right English Defence League and recently spent four months in jail for filming outside a gang rape trial in Leeds. He's currently on bail, pending a retrial.
Batten has been trying to get around party rules that ban former EDL members from joining UKIP by pushing for a full membership vote on Robinson. On Thursday evening, Batten named Robinson his "personal adviser" on grooming gangs and prisons — a move that drew heavy criticism from former leader Nigel Farage.
UKIP sources told BuzzFeed News that Batten's decision to partner with Robinson at a street protest dubbed the "Brexit betrayal" march on Dec. 9 — potentially the day before MPs vote on Theresa May's deal — will be a major flashpoint for the party.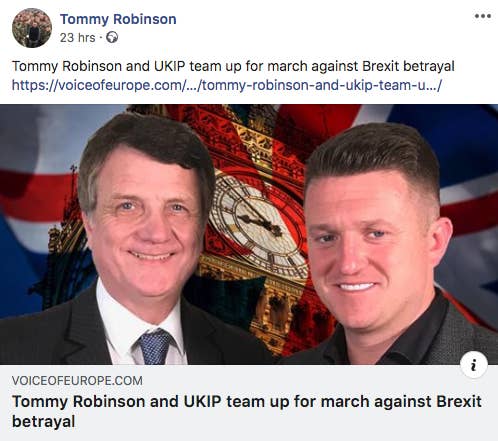 "In what could be the day before the 'meaningful vote', UKIP would be teaming up with Tommy Robinson to form a new, mobilised street Brexit protest movement," said one senior UKIP member. "We'd be making Tommy a leading Brexit voice in the country."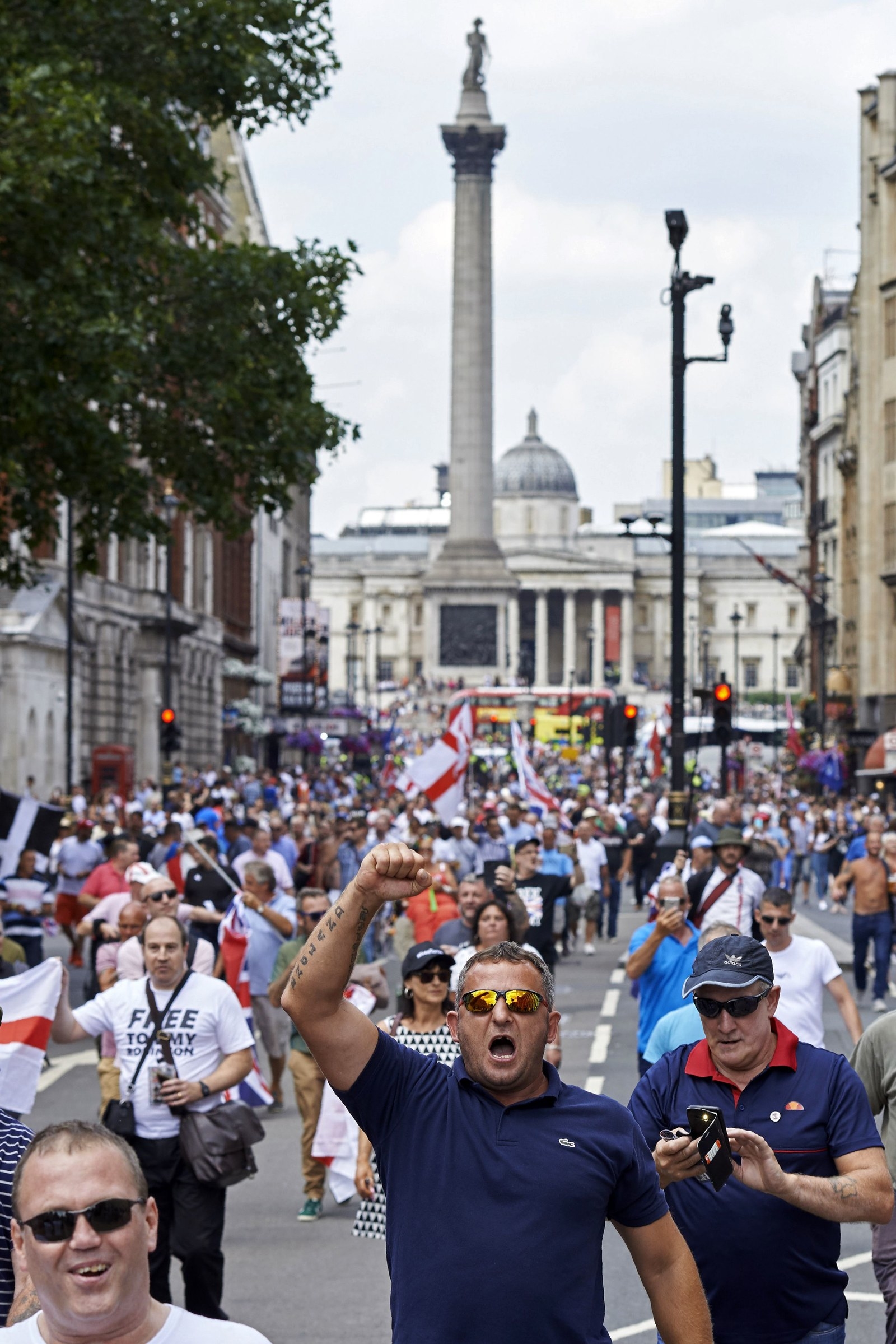 Robinson has been able to draw large crowds in London, with a "Free Tommy Robinson" march earlier this year ending with clashes with police and arrests. He has promoted the UKIP–Brexit betrayal march to his almost 1 million followers on Facebook.
"There could be ugly, violent scenes on the streets and at the centre of it would be UKIP," the party source said.
It was a sentiment echoed by Farage, who has taken a public stand against Robinson's admission to the party.
On the BBC's Today programme on Friday morning, Farage said he'd seek a no-confidence vote on Batten in the coming weeks.
"Gerard Batten has this fixation with Tommy Robinson and discussing Islam and dragging UKIP into being a street-activist party," Farage said.
"It goes against all the things I did as leader to say, 'we will talk about immigration, we will talk about the extreme forms of Islam, we will do it as a non-racist, non-sectarian party.'
"This blows a hole in all of that."
Farage added: "If [UKIP] continues in this direction, electorally it is finished."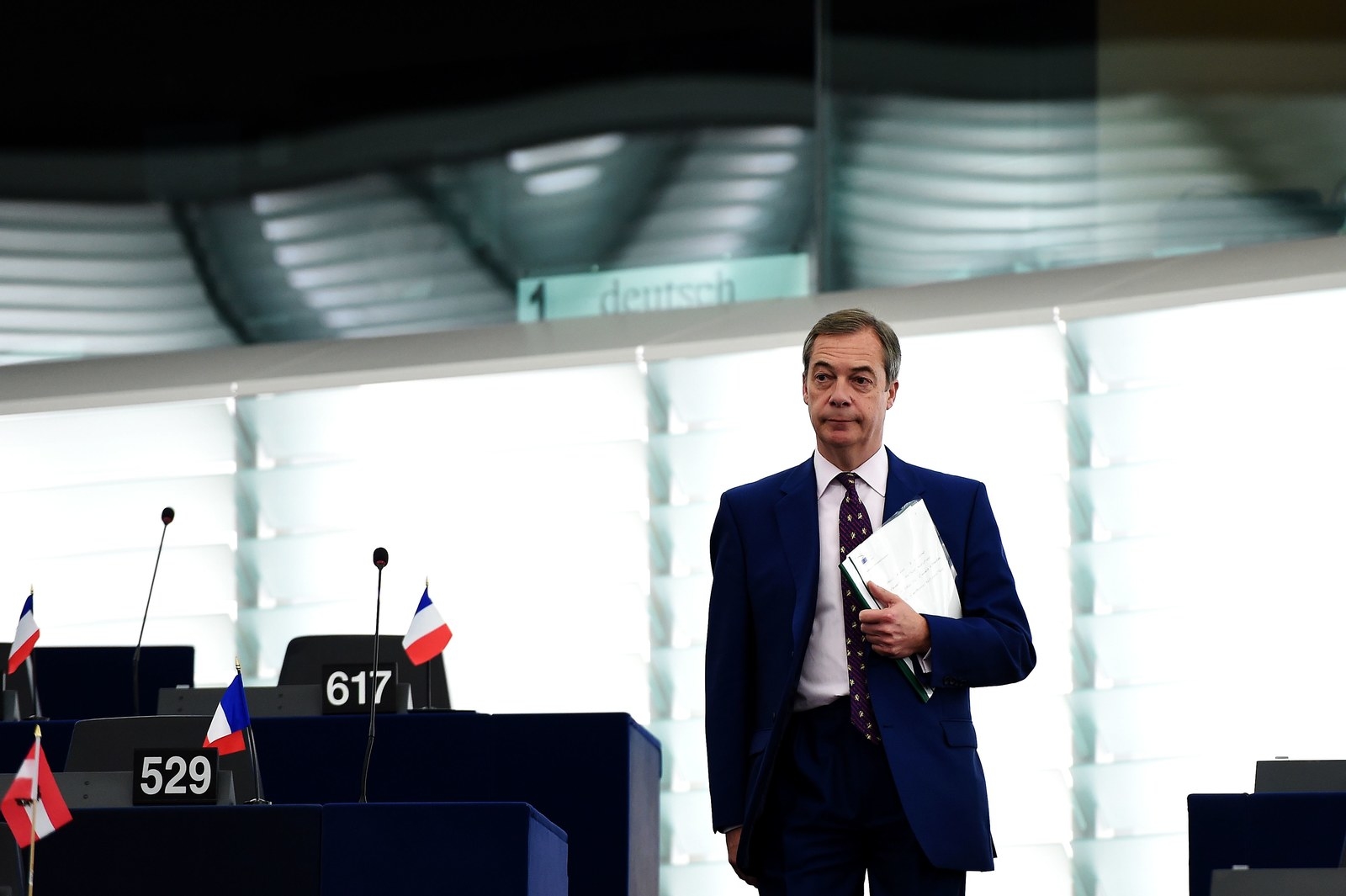 Batten later defended Robinson's appointment as a "personal adviser" and alluded to the fact the far-right activist was being recruited to bring more people to the December Brexit march.

"He's high-profile," Batten said on BBC News. "He can bring a lot of people to that march on the 9th, which he's going to do. He's going to assist us in that."
On Twitter, the UK Board of Deputies of British Jews said UKIP should be "ashamed", calling for the party to "change course immediately".
Batten, a UKIP member of the European Parliament, became party leader in February this year. He's the fourth person to hold the job since Farage stepped down after the 2016 Brexit referendum.
The most striking part of Batten's tenure so far has been his courting of the UK's most prominent online right-wing personalities.

In June, Batten announced Infowars' Paul Joseph Watson (also known as Prison Planet on YouTube and Twitter), Count Dankula (real name Mark Meechan), and Sargon of Akkad (real name Carl Benjamin) were all joining the party.
UKIP and Batten have chosen to ignore controversies surrounding each of the men. Watson is editor-at-large of Infowars, the conspiracy theory–spreading website led by Alex Jones, who has been banned by Facebook and Twitter for hate speech. Meechan was fined for a hate crime after teaching his girlfriend's dog how to do Nazi salutes, while Benjamin has previous associations with men's rights activists and Gamergate.
Party sources have downplayed the trio's involvement in influencing UKIP policy, with one claiming they'd merely been helping with the "packaging of the product" for a younger generation.

"We have had lengthy discussions [with UKIP] about the future," Meechan told BuzzFeed News. "But me, Sargon, and PJW [Paul Joseph Watson] don't actually decide party policy."
But while the party has been willing to accept these three, senior figures say Robinson is a line they won't cross.
"If you imagine Tommy Robinson, who has a million Facebook followers, actually joined UKIP, the next day UKIP will cease to exist," one said. "There'll be no concerns about policy or process.
"We become the Tommy Robinson party."