Men Have Been Using Twitter And Pinterest To Post And Organise Creepy Screenshots Of Women Journalists
In response to questions from BuzzFeed News, Twitter said the accounts sexually objectified women "without their consent", while Pinterest called them "gross" and apologised.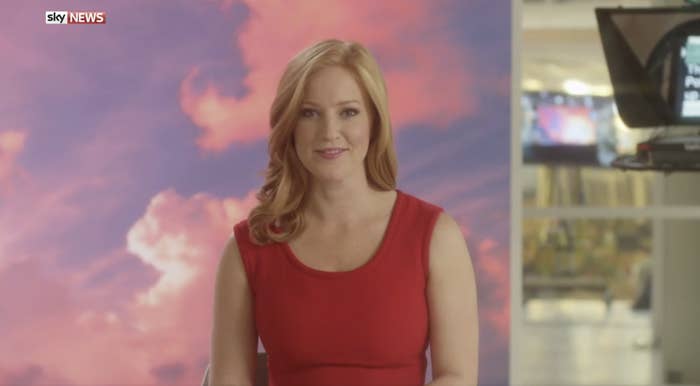 Almost every time Sarah-Jane Mee, the presenter of Sky News' flagship morning, appeared on television over the past 18 months, there was a Twitter account ready to post screenshots of her.
The account called @PSpotter1, which until days ago had thousands of followers, would post what appeared to be fairly innocuous screengrabs of Mee. But the captions revealed the true intent of the account: to present Mee as a sex object.
Accompanying three or four screenshots of Mee seated at the desk, or standing next to Sky News' big screen, would be captions such as, "SJM this morning, her body" or "If you need a wank lads" or sometimes just a series of emojis "🍑🍆💦".
Mee was not the only female television journalist to be subjected to this treatment. The account posted similar screenshots, with similar captions about other high-profile presenters, like ITV's Susanna Reid and Ranvir Singh, and the BBC's Victoria Fritz and Louise Minchin. But it was Mee with whom the account seemed to be particularly obsessed.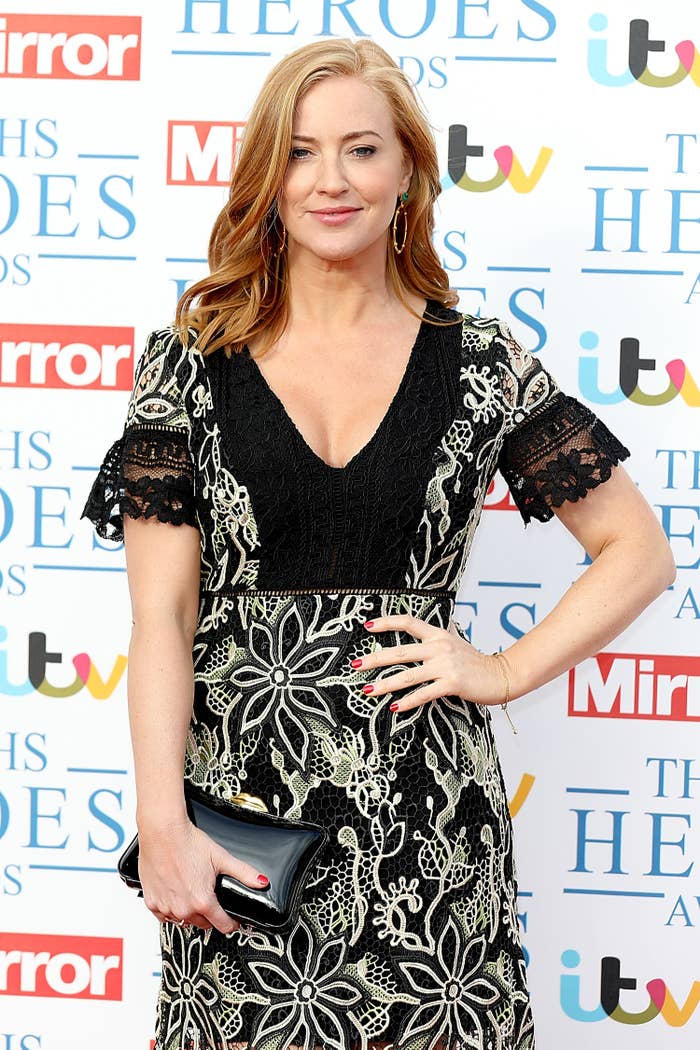 Mee told BuzzFeed News she was both "shocked" and also not altogether surprised at the behaviour.
"There is something very creepy about a man doing that and other men commenting and having conversations about how you look and your figure, and you're not privy to it, like it's going on without your knowledge," she said.
Until last week, @PSpotter1 was part of a Twitter and Pinterest network of accounts BuzzFeed News had uncovered that were posting and sorting creepy screengrabs of high-profile women journalists who appear on UK television.
Using a range of tactics to avoid being detected by the women they were sexualising, the Twitter accounts, with names like "Hot Totty Spotter" and "Wank bank 2018", were devoted to posting images, videos and GIFs which had been zoomed in on their breasts, cleavage, or bottoms. One called "Sky Sports Women" had 54,000 followers, another called "Birds I View" had 15,000 followers. They retweeted each other and sometimes asked followers for "requests".
On other occasions, they manipulated the images, adjusting the brightness and contrast of the pictures, in an effort to see through the women's tops and dresses.
The images were also pinned to Pinterest boards by male users and sorted into categories. One board was called "BBC female journalists"; others had titles like "news-readers", "media reporters", and "beautiful ladies of a certain age". On several of the boards, the female journalists were often featured alongside topless models.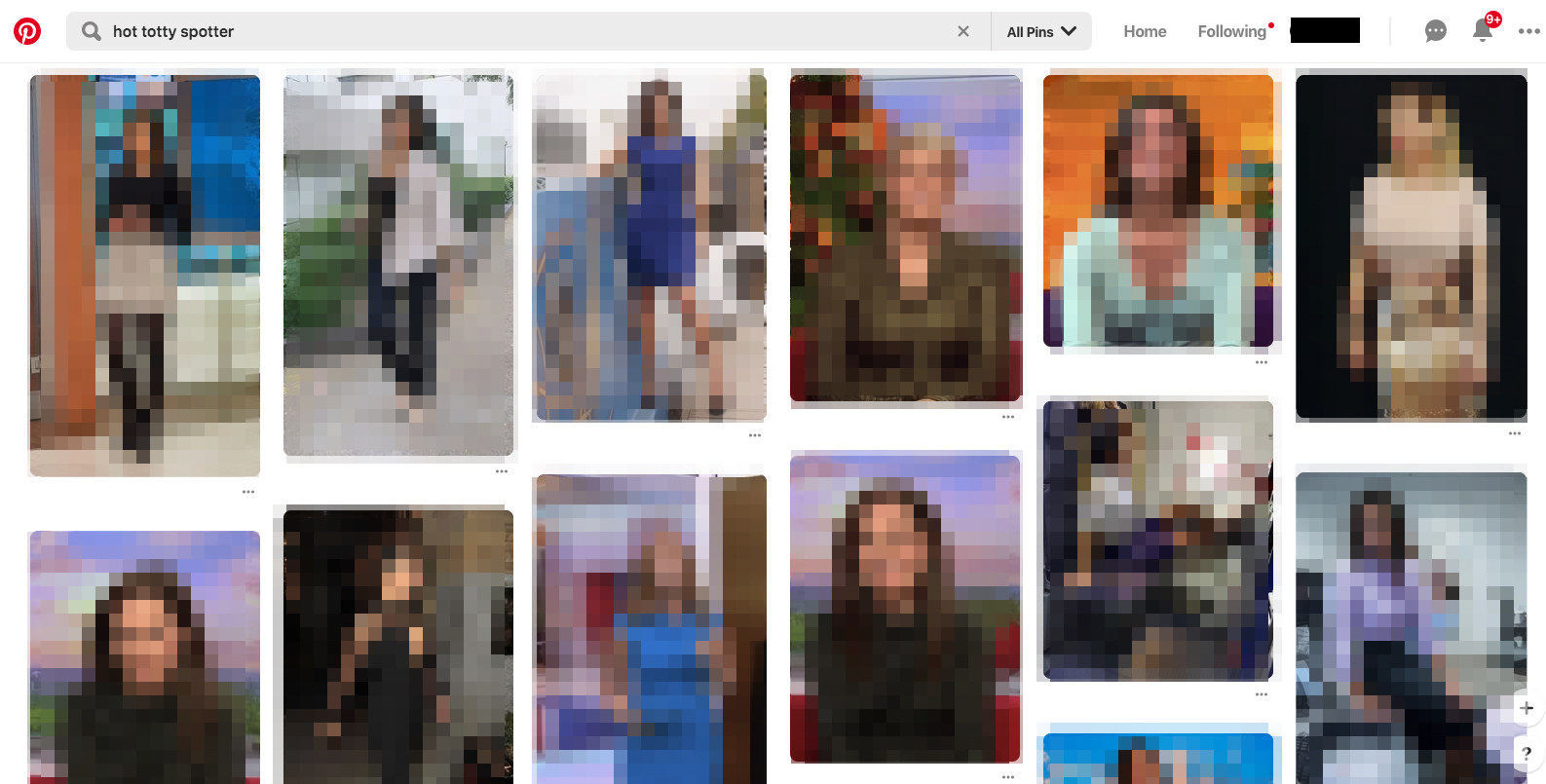 "I had no idea there were accounts with tens of thousands [of] followers, I found that very disturbing," said Mee. "Some of them have obviously been up there for a while, which just invites more comments.
"To be honest, I didn't really have the stomach to read through a lot of them. I find it quite distressing."
Mee said the images and the coordinated behaviour from the accounts constituted "abuse" of women.
"By [Twitter and Pinterest] allowing that accounts to be there it was saying that it was ok to talk to women like this," she said. "It's not.
"Let's not get into the realm of grading abuse, this is abuse, whether it's sexist abuse, gender bias abuse, racist, or homophobic abuse. Social media does so much good, but this drags us back to the dark ages."

When approached by BuzzFeed News for a response, Twitter said it had permanently banned the accounts sharing the images.
"These accounts have been permanently suspended for violating our abusive behavior policy," a Twitter spokesperson said. "The Twitter rules prohibit unwanted sexual advances and content that sexually objectifies an individual without their consent."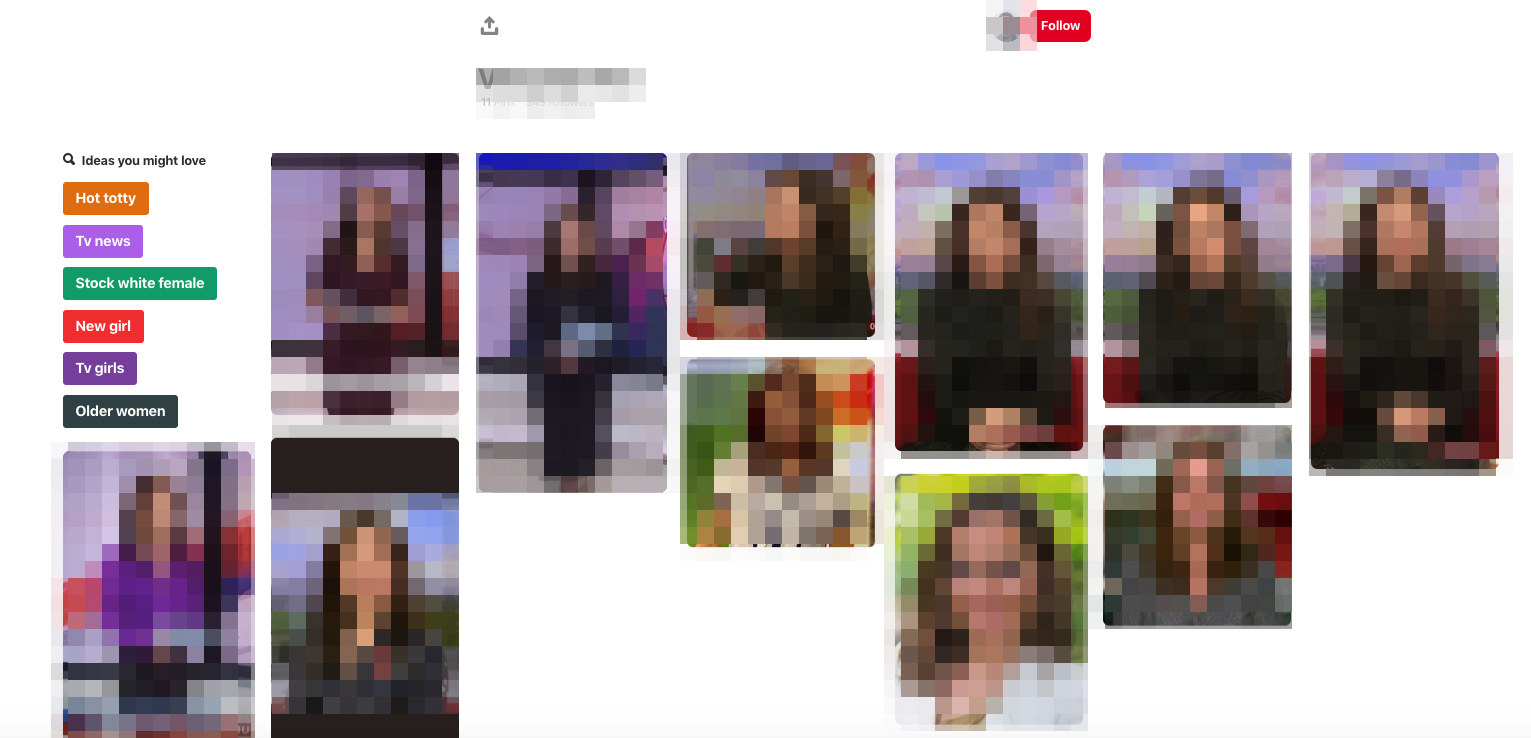 Pinterest has issued an apology to the women and told BuzzFeed News it had already removed thousands of images from the platform linked to the network of accounts.
"It's gross when people use Pinterest like this," a Pinterest spokesperson said. "We're sorry it happened.
"Public figures — particularly women — are often harassed and degraded online. We don't want that to happen on Pinterest. We've removed an offending account and any pins and boards that violated our policies. More importantly, we're taking steps to enhance our protections for public figures in cases like this."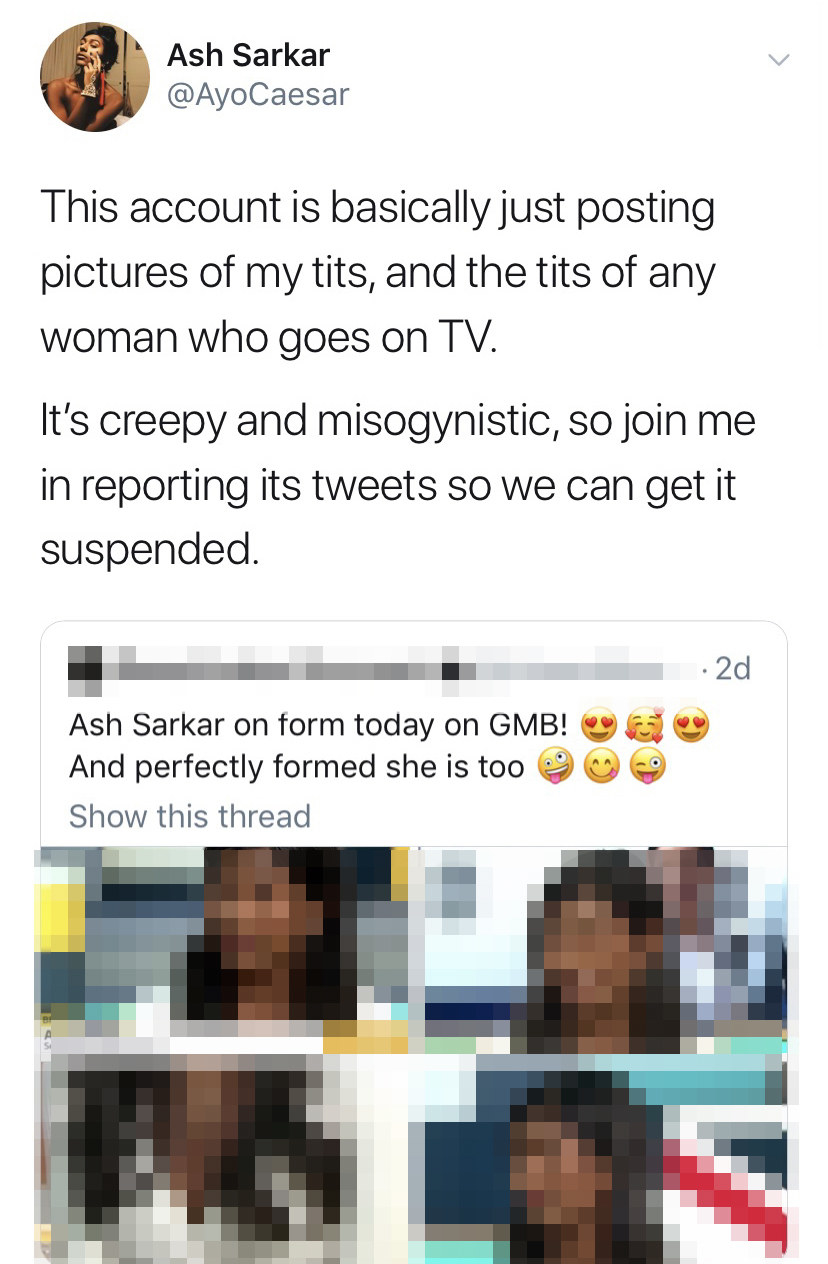 Last week, Novara Media's Ash Sarkar, a regular guest commentator on TV news programmes, noticed she had been targeted by one of the accounts. The account called "Hot Totty Spotter" had posted screenshots of her most recent appearance on ITV's Good Morning Britain.
It had posted zoomed-in screenshots of her cleavage with the caption: "Ash Sarkar on form today on GMB! 😍😘😍 And perfectly formed she is to!🤪😋😜"
Sarkar said she was alerted to the tweet by a friend who'd name-searched her looking for an article she'd written.
"There's a difference between someone looking at someone in the public eye and going, 'I find that person attractive' and the coordinated attempt to find images that make them look pornographic," Sarkar told BuzzFeed News this week.
"That's less of an expression of normal admiration of a kind that all of us feel, and rather it's a way of denigrating the target of that attention.
"You look at the targets, they're journalists, newscasters, Rachel Riley from Countdown, these are women who are accomplished in their field.
"They're saying that it doesn't matter that you've come on to talk about the G7 summit, to us, you're just a pair of tits and that's all you're going to be."
She then shared the tweet with her 167,000 followers, who mass-reported the account. A few days later, when some of the other accounts noticed Hot Totty Spotter had been deactivated, they told their own followers not to use the women's usernames in screenshots, or even use their full names, in an attempt to avoid detection.
"Always one idiot that spoils everything, use your brain ffs…." tweeted one of the accounts. "People tagging celebrities, idiotic." Another account made it clear in its bio: "DO NOT tag me in with celebs".
The accounts were actively blocking followers who used the full name or @-handle of the women in their mentions.
Other techniques and tactics were as, or even more, disturbing. They developed nicknames for the women to avoid detection. They touted having screenshots from private Instagram accounts of journalists and told followers to DM a request for them. Beyond catching the women in different poses and zooming into certain body parts, they played with the contrast and lighting in an effort to make clothing seem see-through.
Victoria Fritz, a BBC business correspondent, had more than a dozen screenshots of her posted on one of the Twitter accounts. All of them were then collected on a Pinterest board by a male user under her name.

Fritz wasn't surprised by the behaviour — she noted that "winter is worse for the pervs" because there were men online who were "weirdos into leather".
"There was a guy who sent me dick pics on Twitter for almost two years," she said. "The last was the most bizarre: a cock and a dead goldfish."
Beyond the coordinated behaviour from the Twitter and Pinterest accounts, both Fritz and Mee said there was always a range of things men were doing online which raised their concern.
Fritz said there was an "Appreciation Society" page on Facebook, which spooked her: "But I managed to get a male friend to gain accreditation so that he check for anything really alarming.
"There's nothing particularly sinister, and the more extreme views tend to be condemned quickly by the more 'principled' appreciation members, apparently."
Mee said she's been sent "explicit pictures" and "doctored images" directly from men, while also having lurid videos uploaded to YouTube.
"I was discussing this with someone the other day and they Googled me, and sadly, one of the first things that popped up were videos from Sky News [on YouTube].
"Rather than focusing on the content of the interview or what was going on, it had been edited to show me standing up and turning at different angles to sexy music. The title of the video was like, 'Busty Sarah-Jane Mee'."
The most popular of the Twitter accounts identified by BuzzFeed News was called "Sky Sports Women", devoted to posting screengrabs and videos of the women sports journalists on the cable channel. Sky released a statement to BuzzFeed News calling the situation "unacceptable".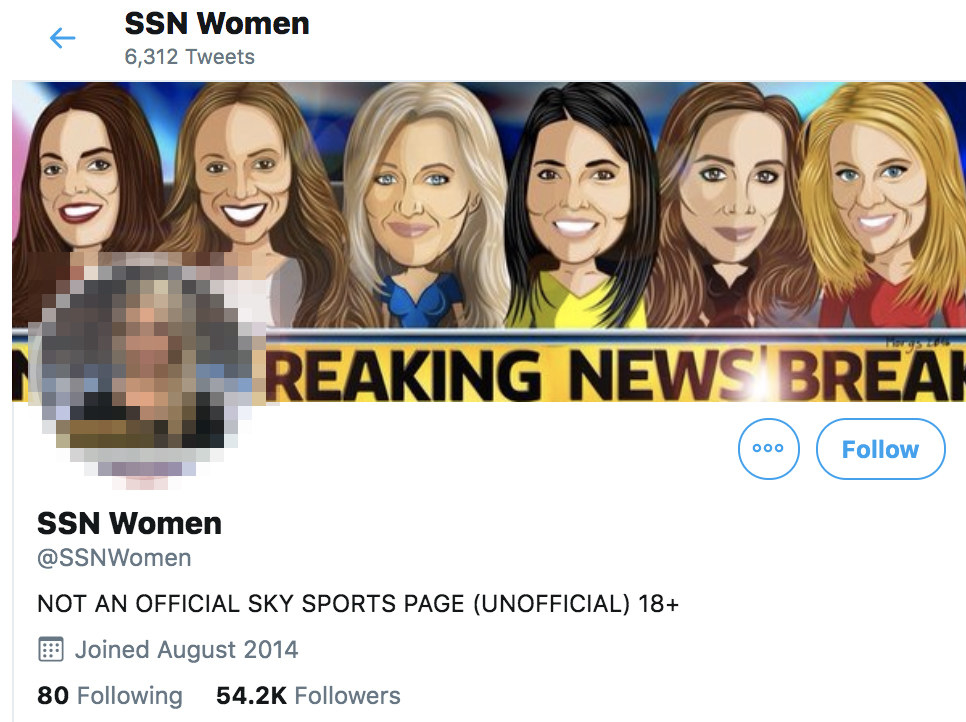 "We are very proud of our journalists and the work they do. This type of abuse is completely unacceptable. We will do whatever we can to protect our people from this type of behaviour, but more needs to be done to regulate the internet companies that facilitate this type of abuse."
But Mee said it shouldn't discourage young women from getting into broadcasting. She instead put it back on social media companies to do more to clean their platforms up.
"It can be really upsetting considering how hard I've worked to get where I am. And it can be quite soul-destroying and very embarrassing. But I want to say to young women who want to get into broadcast media…don't let it put you off.
"It's the social media companies that need to take responsibility for their content."
CORRECTION
Susanna Reid's name was misspelled in an earlier version of this post.