Prime minster Malcolm Turnbull has said state fracking bans are getting in the way of solving Australia's energy and climate problems. He desperately wants to drill for more gas.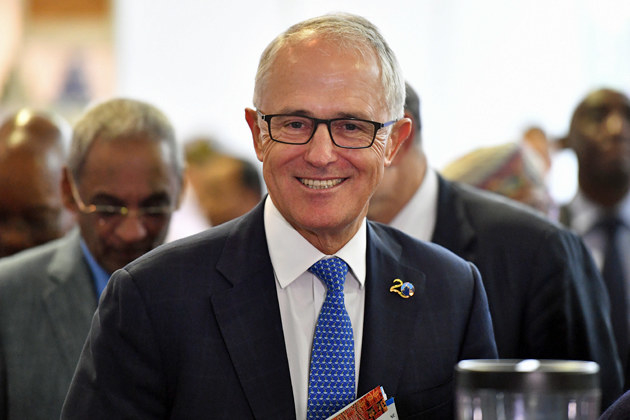 Speaking at the Australian Financial Review's Business Summit on Thursday, Turnbull said many of Australia's energy problems, including blackouts and rising prices, stemmed from restrictions on fracking for coal seam gas:
We are facing an energy crisis in Australia because of a restriction on gas. We can have all of the economic mechanisms, the market mechanisms, you like but they're only as good as the assumptions you feed into them.

We have so much gas in Australia. Gas reserves, or gas resources, is not the issue, the biggest problem at the moment is the political opposition from governments to it being exploited.

Earlier this week, Victoria's premier Daniel Andrews pushed through legislation that banned the exploration of gas reserves in the state by the process known as fracking.
Turnbull said Andrews' decision was one of the examples where Australian governments put "politics and ideology" above solving the problem.
"In Victoria the Labor government is in the absurd position of proposing a 50% renewables target… [it] has allowed - encouraged - the closure of Hazelwood, admittedly a very old power station... and they will not allow the development of the gas resources within their boundaries."

The prime minister said he planned to meet with the country's biggest gas companies in order to figure out ways to "unlock" onshore reserves.
Journalist Laura Tingle seized on Turnbull's suggestion that politics and ideology were getting in the way of progress on climate and energy, asking about recent federal Liberal opposition to an emissions intensity scheme.
"[Businesses say] we need an emissions intensity scheme, we need that for investment certainty, what do you say back to them?"

Business representatives at the event nodded in agreement at the question.
"An emissions intensity scheme would deliver... more gas fired power, but where's the gas? And at what price?" Turnbull said.
He then went on to blame the recent energy problems facing South Australia, including power shortages and blackouts, on the state's use of wind power.
"If you are going to introduce more renewable energy into the grid, fair enough, but you must be able to point to some storage to back it up. Otherwise you get that extraordinary situation in South Australia where you've got this huge wind component to deliver 100% of your supply one moment and zero per cent at another."
Yesterday, energy executives told a Senate inquiry that South Australia's energy problems had nothing to do with the politically charged issue of wind power in the state.
"Dysfunction in the gas market is causing most of the systemic problems we are seeing in South Australia," said Richard Wrightson from AGL.

"We would love to be able to contract more in that marketplace but the main restriction on being able to do that is access to flexible gas contracts that we are able to trade in an out of."
Looks like there are no comments yet.
Be the first to comment!