The eyes of the world fell on a little, curtained room on a decommissioned aircraft carrier on Friday to see if US President Donald Trump had patched things up with key ally and fellow former businessman Australian prime minister Malcolm Turnbull.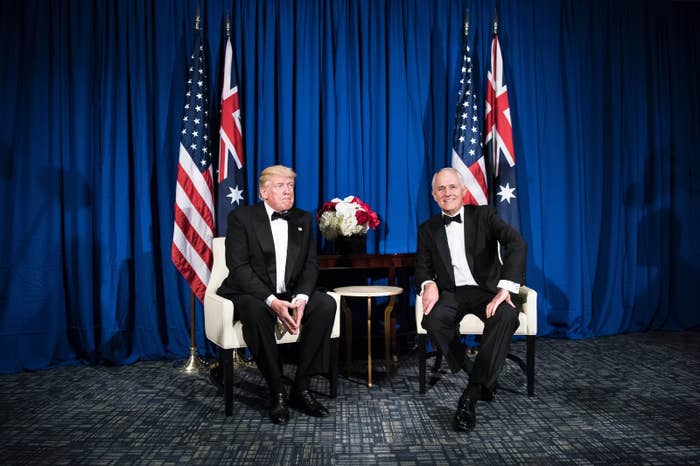 Due to his time basking in the glow of the Republican House victory on healthcare, Trump was running several hours late. But that didn't stop them having a wonderful face-to-face meeting.
"Big day," Trump told Turnbull.

"Big day," repeated Turnbull.
A reporter asked Trump about whether they remained friends and he said yeah, sure, mentioning champion golfer Greg Norman who'd helped set up a phone call between the pair before Trump was elected.
"We get along great. We have a fantastic relationship, I love Australia, I always have," Trump said.

"Greg Norman is here today, a friend of ours"
Trump went on to talk about healthcare. Just hours after the bill passed to start dismantling Obamacare, Trump praised Australia's public universal healthcare system.
But when asked about the pair's fateful second phone call earlier this year, Trump said some of the reporting of the fiery exchange was "exaggerated" and "fake news".
"We're not babies," Trump said.

Turnbull laughed awkwardly, adding, "Young at heart".
"We had a very very good call. That was a little bit of fake news," Trump said.

The two were set to attend a dinner commemorating the WWII Battle of the Coral Sea. Asked to give his thoughts about the battle, Trump replied, "That was some battle. That was a very important battle for both of us."
It appeared the first date had gone well!
It was a raging success for all, with both tuxedo'd men retreating to a ballroom for dinner and drinks.
Later, Turnbull started his speech by congratulating Trump and House Republicans on their healthcare victory.
"It's always good to win a vote in the Congress, or the parliament as we call it," Turnbull said. "I got to say, it's always satisfying to win a vote when people predict you're not going to win it too."

"So keep at it, it's great."
The statement will likely raise a few eyebrows in Australia, where Turnbull has been accused by opposition parties of wanting to privatize the country's healthcare system.
It was then time for the chairman of News Corp Rupert Murdoch to introduce President Trump.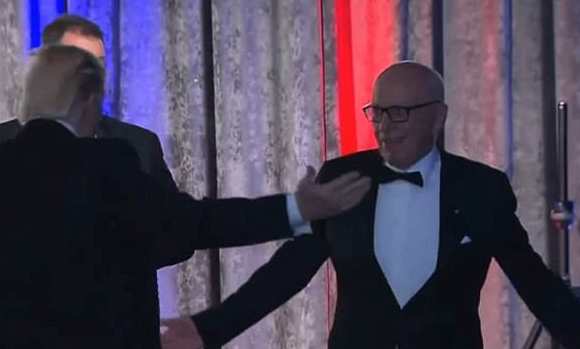 Murdoch gave Trump an intimate, yet slightly awkward, hug before the president took the stage.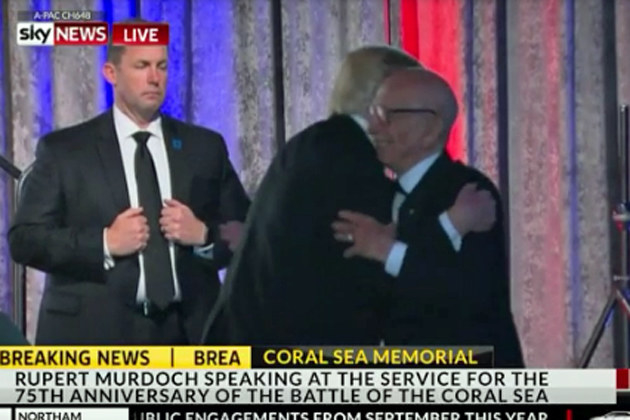 Trump thanked some of the Aussies in the audience, including businessman Anthony Pratt and (again) champion golfer Greg Norman.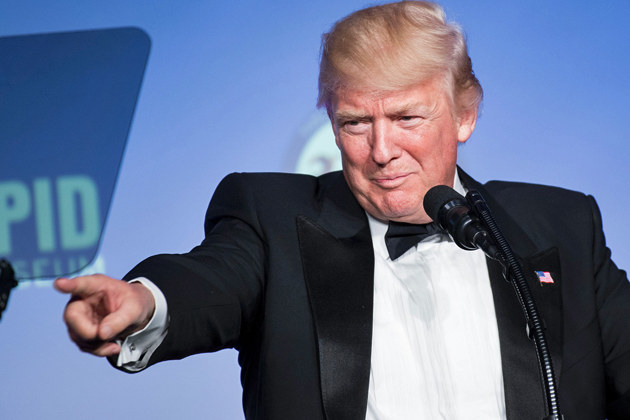 He then joked about donations he'd made to Murdoch over the years.
"I've been contributing to for years through Rupert," Trump said.
"Every year he'd send me this letter – 'Could you please give money?' I'd say, 'What do I have to do with that, Rupert?' And I'd just keep sending him money, money.
"And now I realize, that was money well-spent."