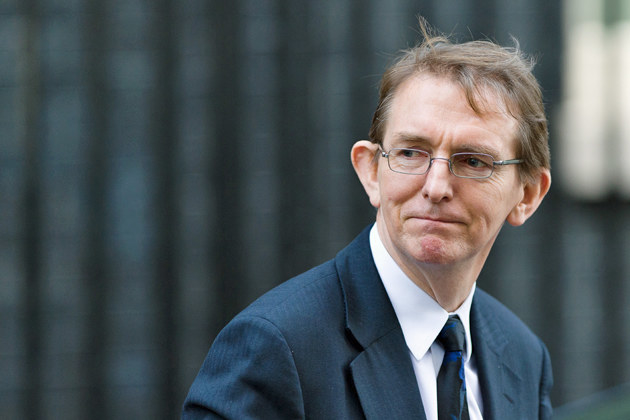 The Sun's editor, Tony Gallagher, has told government regulators his newspaper had "no influence on Brexit", joining another editor of a Murdoch-owned paper in pointing the finger at the internet and social media for the weakened power of the traditional press in Britain.
On Tuesday afternoon, the Competition and Markets Authority released detailed summaries of the latest hearings into whether media mogul Rupert Murdoch should be allowed to complete the takeover of Sky.

Gallagher and Times editor John Witherow both spoke about Murdoch's editorial control over the newspaper empire, while also stressing the influence of his papers was declining.
"[Gallagher] stated that he believes The Sun had no influence on the Brexit vote and
that social media would have a more considerable influence nowadays," the summary read.
"[He] referred to the use of social media in the recent UK elections as an example."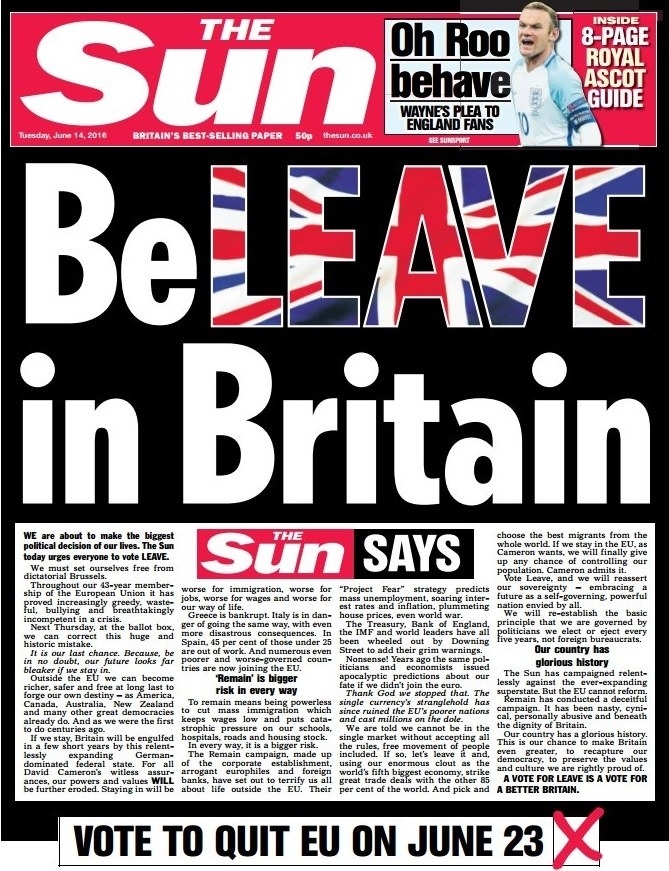 Gallagher's newspaper campaigned hard for Brexit in the run-up to last year's referendum, encouraging readers to "BeLeave in Britain" ahead of the vote.
His humility about the limited influence of the Sun's campaign is at odds with a text message the newspaper editor reportedly sent to the Guardian's media correspondent in the wake of the result: "So much for the waning power of the print media."

On June 25, two days after the Brexit vote, the Sun's own leader claimed victory, with the headline: "It's The Sun Wot Swung It: Our paper led the fight against the EU and had the strongest influence on people voting for Leave."
Gallagher went on to tell the hearing the Sun's influence had been exaggerated.
"Historically, that influence has been overplayed and in the last election research showed that only 48% of Sun readers voted," he said.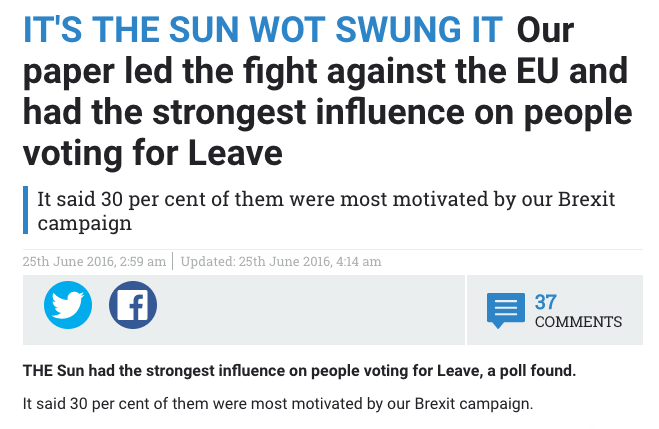 According to data released in the wake of Brexit, the referendum result was heavily influenced by anti-immigration voters who didn't normally turn out in local and general elections.

Since Brexit, the influence of the tabloid newspapers on British politics has again been called into question after the surprisingly strong result for Labour leader Jeremy Corbyn at the 2017 general election.
Labour's Tom Watson invoked the Sun's famous front page after the Tories' 1992 general election victory, telling party supporters last month: "And let me tell you, conference: It never will be the Sun wot won it again!"
According to Witherow, the "wide diversity of views on the internet" was also responsible for chipping away at the newspaper industry's sway over public opinion.
"[Witherow] stated that with different sources of online news, it is now easier for readers to be exposed to different points of view," claimed the transcript. "[He] opined that there is a wide diversity of views on the internet and that may make newspapers less influential."
The CMA inquiry will decide whether to green-light Murdoch's takeover bid for the remaining share of Sky early next year.