The Sun Is Being Targeted By Russian Hackers, According To An Internal Email
"Recently we have seen attempts by IP addresses linked to Russia attempting to connect to our network," said the company's chief technology officer.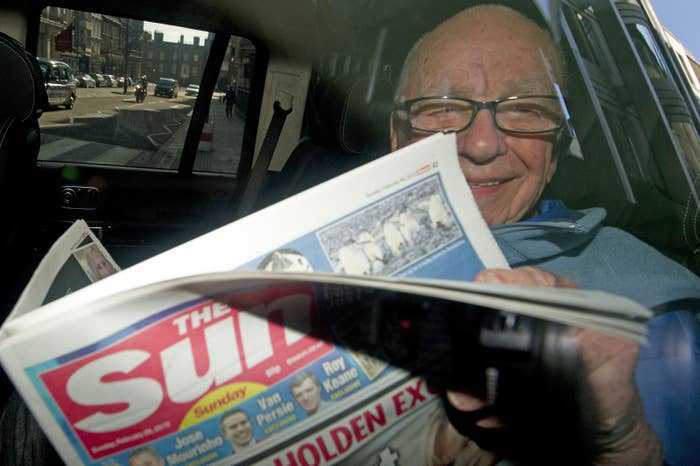 The Sun has called in the UK's cybersecurity authorities after detecting Russian hackers trying to access the tabloid newspaper's internal computer systems.
An email seen by BuzzFeed News sent this week by Christina Scott, chief technology officer for News UK, the Sun's parent company, gave advice to staff about the cyberattack threat and confirmed the company is working with the UK's National Cyber Security Centre in an effort to protect against the kind of high-profile Russian hacking efforts that have affected other companies.
"Russia currently has three active malware campaigns highlighted by the National Cyber Security Centre (NCSC) – Cozy Bear, Berserk Bear and Pawnstorm," Scott wrote.
"We are working with the NCSC to guard against these and are constantly monitoring our networks."
According to Scott, would-be hackers with IP addresses linked to Russia were trying to breach the newspaper's network, with other British news organisations also under similar attack.
"Recently we have seen attempts by IP addresses linked to Russia attempting to connect to our network," she wrote. "We also know email addresses of UK news organisations are being targeted."
A spokesperson for the Sun told BuzzFeed News the attacks had not breached the company's computer systems.

"As far as we're aware, our existing cybersecurity systems have been proven to be as robust as we built them to be and none of the attempts have resulted in any breaches," they said.
The Russian hacking group known as Cozy Bear has been blamed for recent high-profile cyberattacks in the US, including on the State Department in 2014 and the Democratic National Committee in 2016 – resulting in the release of Democratic Party emails during the US presidential election.
Last year, Berserk Bear was reportedly behind an attack on US and European energy companies, which involved tricking employees into opening Microsoft Word documents.
The final group named by Scott, Pawn Storm, was reportedly behind attacks on the French president Emmanuel Macron's campaign last year.
The hacking attempts against Rupert Murdoch's flagship British tabloid come in what has become a hostile media environment, marked by worsening tensions between Russia and the UK.
In recent months, the UK government has blamed Russia for the poisoning of a former Russian spy on British soil, while also joining global condemnation of the Putin regime after a chemical attack in Syria.
The British broadcast regulator Ofcom has also launched seven separate investigations into RT, the Kremlin-backed TV channel formerly known as Russia Today, for its news coverage of the Salisbury poisoning.
But for now, the Sun's response will be to bring in new training for reporters and editors. It'll specifically focus on making sure staff know how to spot possible phishing attacks.
"This is run-of-the-mill training that all news companies and other high-profile organisations are no doubt undertaking," said the Sun's spokesperson. "Cybersecurity is something that, as an organisation that deals with confidential sources on a regular basis, something we take extremely seriously."