Today show host Karl Stefanovic knows his biggest fans are on the internet. The 40-year-old Australian has won global fame with vintage hits like his attempt to crack jokes with the Dalai Lama, and his surrealist interview with Grumpy Cat.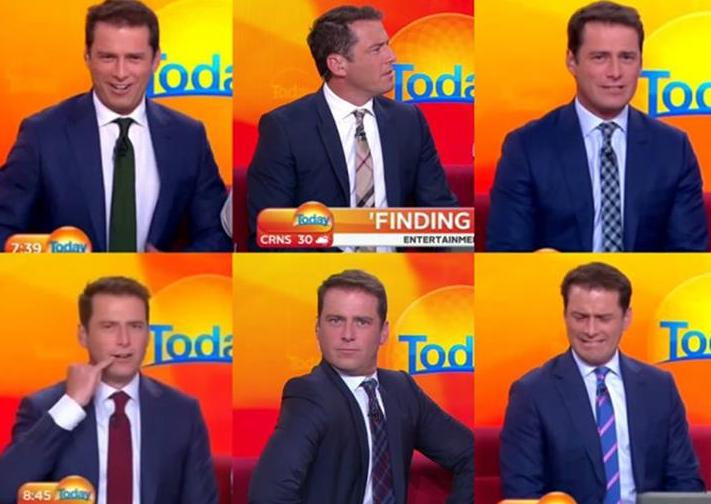 "I just think that the way that women are treated, differently to men it's abhorrent and shouldn't happen."
Stefanovic let slip about his blue suit experiment to a reporter from a reporter from The Age in a Melbourne coffee shop. Within days news outlets around the world were covering the story, and feminist groups had applauded Stefanovic for demonstrating the double standards directed towards Today co-host Lisa Wilkinson.
"Debate is what affects change. I hope that out of all of this that there are female anchors around the world who are judged more on what they are saying, than what they are wearing."
Up close, the blue Burberry suit doesn't have a smell but it is marked with stains. A shiny Queensland flag pin sits on the lapel and his pants sport spotted, faded marks that have avoided all cleaning attempts. "Look at the stains on it bro! There are some very dodgy stains. We don't need CSI to be casting any of their equipment over this."
Stefanovic is parting with the suit. It's been put up for auction on eBay with all proceeds going to the anti-domestic violence advocacy group, the White Ribbon Foundation. The suit's auction on eBay will close this chapter on the internet's love affair with Stefanovic.
BuzzFeed News suggested the presenter's global popularity could be worked into a job hosting on US television.
"The question is, could America handle something as loose as me? I look at that show, Duck Dynasty and I think yes. I'd walk on with my shot-gun and my kazoo and call some ducks and fire some shots across the bow."
Here was Stefanovic turning everything into a joke again.
"But I don't think they'll be calling on Karlos anytime soon."