Barnaby Joyce Really, Really Wants Everyone To Stop Talking About Niche Issues Like 18C And Gay Marriage
"When I am talking to my gay mates... "
"This'll get a run." Deputy prime minister Barnaby Joyce rolled his eyes and looked over at his media adviser, which was meant as an apology for what he was about to say.
"When I am talking to my gay mates, I generally find two blokes who are generally on very good incomes, very good incomes, very good jobs, living a pretty cruisy lifestyle," Joyce said. "Good luck and God bless them.

"But right at the top of my priorities is the person living in a shed who's doing it tough.
"The left say... Barnaby should talk more about gay marriage. The right want me to talk about 18C. And I'm saying, 'mate, in your spare time. Let's just focus on the things that get people more money, a better health system, a better prospect of a job, concentrate on that'."

Joyce sat down for the latest episode of BuzzFeed Australia's political podcast Is It On? to talk about the government's latest initiative to encourage young Aussies to ditch Sydney and Melbourne and move into rural areas.
But we also asked the deputy prime minister to explain why earlier this year he characterised Australia's gay marriage debate as a so-called "George and Oxford St issue".

His answer, essentially, was that the gay people he knew are well off, and his priority was helping people who were on the financial down-and-out.
"When I think about my people... I think about the dumpy little town that doesn't have a school, that doesn't have a police station, that doesn't have a hospital but people live there and my role in politics is that their life is better and that's right at the top of my list."
Joyce suggested both sides of politics – left and right – had their issues. And he's sick and tired of talking about all of them.
The week has been dominated by the debate around penalty rates after the independent umpire called for Sunday rates to be cut for hospitality and retail workers.
Joyce said his four daughters — "they all do casual work, they work in retail, they work in shops, they work in coffee shops and they pack eggs" — weren't complaining about the decision to him.
"They like to make a buck and they want work.

"They don't like sitting in front of the telly as soon – as they've got a spare moment they want to get out there and put something in their 'sky rocket' so they can go out on Saturday night."
During the interview Joyce confirmed his colleague George Christensen bought Subway Footlongs to his last Nationals party room meeting before resigning as party whip.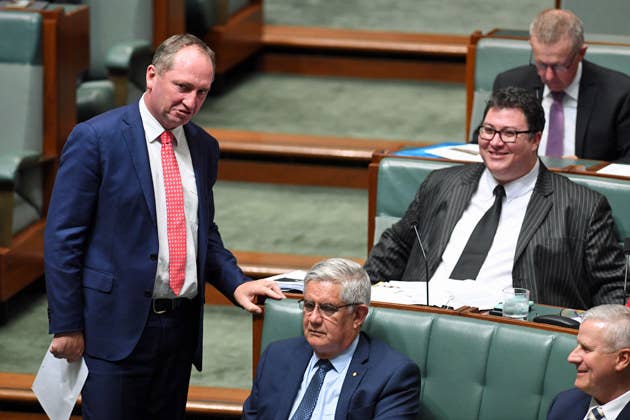 "The Last Supper!" Joyce declared to BuzzFeed News. "George has a figure that reminds me of Subway."
Joyce then looked sheepishly once more at his media adviser, who was by now slumped in her chair.
The full interview with Barnaby Joyce, including his thoughts on public servants using Macca's WiFi, cheaper houses in the country, and yes, Johnny Depp, will feature in BuzzFeed Australia's podcast Is It On? You can listen to it from Saturday. View it on iTunes and subscribe here.