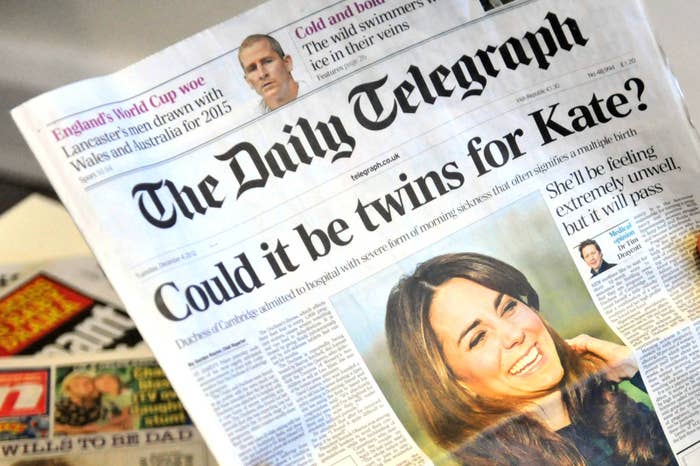 The Daily Telegraph has told staff the newspaper's gender pay gap is 35% — almost twice the national average.
It's the biggest figure in the British media since the government forced UK companies to publicly release gender pay gap data last year.

The broadsheet's chief executive, Nick Hugh, addressed a town hall meeting about the gender pay gap data on Monday, with a source present telling BuzzFeed News the room was told of the company's failure to keep the figure under control.
Hugh told staff the 35% figure, which comes out at nearly twice the national average of 18.4%, came from a "snapshot" from April last year. According to the chief executive, with changes to pay made since his appointment, it would come down to 28% as of next month.
One Telegraph source suggested Hugh had been trying to "turn things around" since last year, pointing to the hiring of women to executive posts, including Jo Morrell as managing editor, Dora Michail as managing editor (digital), and chief people officer Gnosoulla Tsioupra-Lewis.
In a story published on the Telegraph's website, Hugh said: "Women should have the same opportunities to advance their career as men. It is not only right for society but for the success of our business.
"It is this belief that lives at the heart of our commitment to a zero gender pay gap by 2025."
According to figures quoted in the story, 73% of the top quartile of earners at the company are male. It led some of the Telegraph's most prominent female journalists to voice anger about the figures.
A string of top British newspapers and broadcasters have been embarrassed with big double-digit percentage gaps between male and female employees.

Earlier this month it was revealed the Guardian's gender pay gap was 11.3%, while Trinity Mirror's was 18%. The Economist's was 32.5%.

At the broadcast companies, ITN — the maker of ITV News, Channel 4 News, and Channel 5 News — recorded a 18.2% mean gap, with Sky revealing a 11.5% gap.

All media groups are far worse than the BBC — a gender pay gap of 9.3% — which has received widespread criticism around a "gender pay crisis" at the British broadcaster, caused by the disclosure of data around gender pay and presenter salaries.