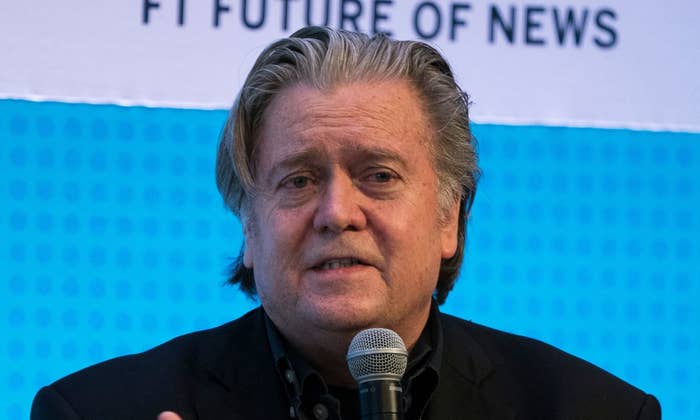 The editor-in-chief of British financial magazine The Economist, Zanny Minton Beddoes, has posted a statement on Twitter explaining why the magazine will host former presidential strategist and Breitbart chair Steve Bannon at its upcoming "Open Future festival".

The statement came after BuzzFeed News revealed the magazine privately told panellists who were invited to discuss #MeToo for an upcoming festival that it would continue to host him, because it was "critical we invite views from all sides".

"My Bannon stands for a world view that is antithetical to the liberal values The Economist has always espoused," Minton Beddoes wrote. "We asked him to take part because his populist nationalism is of grave consequence in today's politics."
"Worryingly large numbers of people are drawn to nativist nationalism. And Mr Bannon is one of its chief proponents."
She also argued: "The future of open societies will not be secured by like-minded people speaking to each other in an echo chamber, but by subjecting ideas and individuals from all sides to rigorous questioning and debate."
A debate about Bannon's presence at so-called ideas festivals was ignited on Monday after the New Yorker magazine announced he'd be a headliner at an upcoming event. Following high-profile dropouts and reported staff anger about hosting Bannon, New Yorker editor David Remnick announced he'd no longer appear.

But Bannon has also been booked to appear as a headline attraction at a similar event hosted by the Economist later this month, titled the Open Future Festival, where he'll be interviewed by the magazine's editor-in-chief Zanny Minton Beddoes.
When the news of Bannon's scheduled Economist appearance was made more widely known on Twitter yesterday, British journalist Laurie Penny and activist Ally Fogg tweeted that they'd be boycotting the event. Penny and Fogg were to be on a panel alongside Laura Bates titled "What is next for #MeToo?", which was scheduled to be held in London immediately before Bannon's feature interview.
"The Economist is a prestigious magazine and this is a prestigious platform," Penny told BuzzFeed News. "Someone like Steve Bannon is not hurting for ways to express his views.
"We know what the views are, but by giving him space at an event like this it dignifies him with the status of someone's ideas who are worth hearing out. There are no new arguments for neo-nationalism. There are only new recruits."
In his letter to organisers posted to Twitter, Fogg said the timing of the #MeToo panel contradicted what the movement was about.
"It is my strongly held opinion that to invite contributions from Steve Bannon and furthermore to schedule his appearance immediately after a discussion about what happens after #MeToo, directly contradicts the very essence and message of the #MeToo movement," Fogg wrote.
"This schedule honours a man whose primary claims to fame are establishing an online magazine that specialised in inciting misogynistic and racial hatred and the manoeuvring [of] a self-confessed sexual abuser into place as the most powerful politician on earth."
As the boycotts were made public, the Economist also tried to get the panellists to change their minds in private. In an email obtained BuzzFeed News, the event organizer said the Economist was not aiming to promote Bannon's ideology, rather to "invite views from all sides".
"The goal of the Open Future Festival is remake the case for open societies and free markets in the 21st century by having a robust debate between people with different ideas. To do that it is critical we invite views from all sides — and challenge those views," wrote the event organiser.
"I want to reassure you that it is not the goal of the Festival to promote the ideology of Steve Bannon or his views. Rather, as a publication that prides itself on challenging opposing viewpoints in the pursuit of progress, he will appear on stage in New York (only streamed to London — he won't be there in person) and will be subjected to rigorous grilling from our editor-in-chief, Zanny Minton Beddoes."