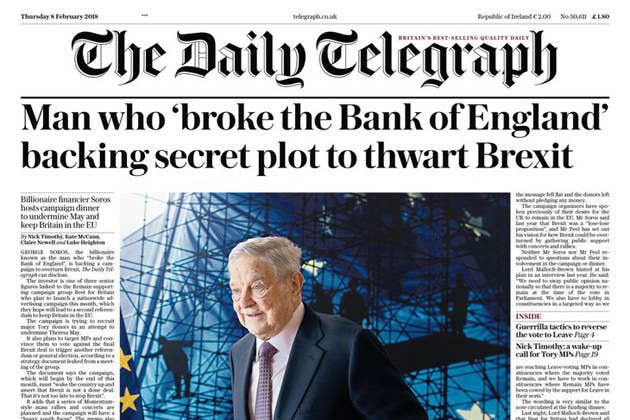 As people leveled accusations of anti-Semitism at the Daily Telegraph on Thursday, the newspaper's editorial team called an all-staff meeting, headed up by editor Chris Evans, BuzzFeed News has learned.
The Telegraph was bombarded with online criticism for its splash featuring the billionaire George Soros, who had donated £400,000 to an anti-Brexit movement, which ran under the headline: "Man who 'broke the Bank of England' backing secret plot to thwart Brexit."
The story also sent shockwaves across Westminster, because the lead byline on the scoop was Nick Timothy — the prime minister Theresa May's chief of staff up until last year.
Timothy, credited with writing the Conservative party's election manifesto in 2017, had been active on Twitter since the story went up on Wednesday night.
The political operative turned journalist was clearly angry he'd been labelled anti-Semitic due to the headline, which claimed the Jewish banker had launched a "secret plot" to overturn Brexit.
Telegraph editor Chris Evans began the "town hall" meeting of staff just after midday on Thursday.
According to multiple sources who attended, Evans pushed back hard against the claims coming at the newspaper from MPs and journalists online. He assured staff the newspaper's front page was not anti-Semitic.
Earlier, Jewish Chronicle editor and Brexit supporter Stephen Pollard pointed out that the language used on the front page, namely the "secret plot", was "exactly the line" being used by right-wing regimes, including by Hungarian prime minister Viktor Orban.
Guardian columnist Rafael Behr called the front page a "dog whistle". He wrote: "What I might have expected is that someone, somewhere in the organisation might be sufficiently literate in European history and attentive to what has been going on in the rest of the world to understand the wider cultural context of this material."
"The main author of the story is Nick Timothy, former joint chief of staff to Theresa May. Perhaps he might have wanted to ensure that his journalism was being handled in ways that would not leave him vulnerable to the charge of riding a global anti-Semitic meme."

When contacted on Thursday night, a Telegraph spokesperson did not doubt Evans had specifically assured staff that he thought the front page wasn't anti-Semitic during the day's editorial meeting.
The spokesperson called the accusations "offensive".
"The Telegraph has a proud history of fighting anti-Semitism," read a statement. "Any suggestion that our story about George Soros was in any way anti-Semitic is offensive and unfounded."