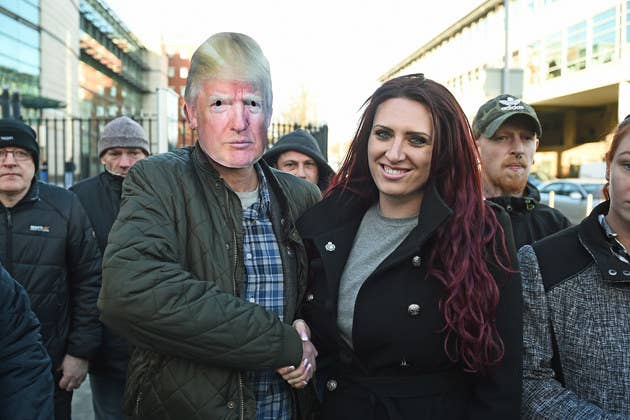 Britain First leaders Jayda Fransen and Paul Golding have been suspended from Twitter after the company announced a new crackdown on "hateful conduct and abusive behaviour".
Fransen's account became global news last month after US president Donald Trump retweeted three videos the Britain First leader had posted that claimed to feature Muslims. One was quickly debunked by the Dutch embassy in the US.
The Britain First retweets kicked off a diplomatic storm between the UK and US, with Theresa May directly criticising the president. Trump later criticised the prime minister on Twitter.
On Monday, Twitter suspended Fransen and Golding from the platform, posting a link to its new policy against "hateful conduct and abusive behaviour", which has been interpreted as a crackdown on far-right accounts.
Twitter said it wouldn't be tolerating accounts that post "specific threats of violence or wishing for serious physical harm, death, or disease to an individual or group of people" and "accounts that affiliate with organizations that use or promote violence against civilians to further their causes".
"Our hateful conduct policy and rules against abusive behavior prohibit promoting violence against or directly attacking or threatening other people on the basis of their group characteristics," it said, "as well as engaging in abusive behavior that harasses, intimidates, or uses fear to silence another person's voice."
Twitter wouldn't reveal what other specific accounts had been suspended in the crackdown. According to Vice, far-right groups including American Renaissance, the American Nazi Party, the Traditionalist Worker Party, and the League of the South were among those also suspended.
Yvette Cooper MP, the chair of the Commons home affairs committee, questioned the timing of Twitter's policy change, with the US-based company due to appear before the committee tomorrow to discuss online abuse.
"The suspension by Twitter of Britain First, Paul Golding and Jayda Fransen is long overdue and comes on the eve of the social media companies appearing again before the Home Affairs Select Committee," said Cooper.

"It should not take the prospect of a Parliamentary hearing to make them do the right thing.
"Had they taken this action earlier, they also might have prevented the vile views of Britain First being promoted around the world by the President of the United States."

Fellow Labour MP Naz Shah said on Facebook: "Interesting that they are suspended the day before twitter appear before our the Home Affairs Select Committee? I hope Facebook also follow suit."
The Britain First duo remain active on Facebook, where they have hundreds of thousands of followers. Britain First's main Facebook account has 1.7 million followers.

BuzzFeed News has asked Facebook whether it'll take similar actions against the Britain First's pages.
To get a sense of the impact of Donald Trump's retweets, Fransen put on about 40,000 followers after the president shared her posts last month.
BuzzFeed News repeatedly asked the company earlier this month why Fransen and Golding retained the benefits of verification on Twitter despite a US crackdown on far-right accounts.
With Fransen now suspended from Twitter, the three anti-Muslim videos that were retweeted by @realDonaldTrump no longer appear on the US president's Twitter feed.