A leaked email has warned staff at the ABC's headquarters that the broadcaster will be pulling up the drawbridge and shutting out the public as the government continues its attacks for airing Monday's controversial Q&A episode.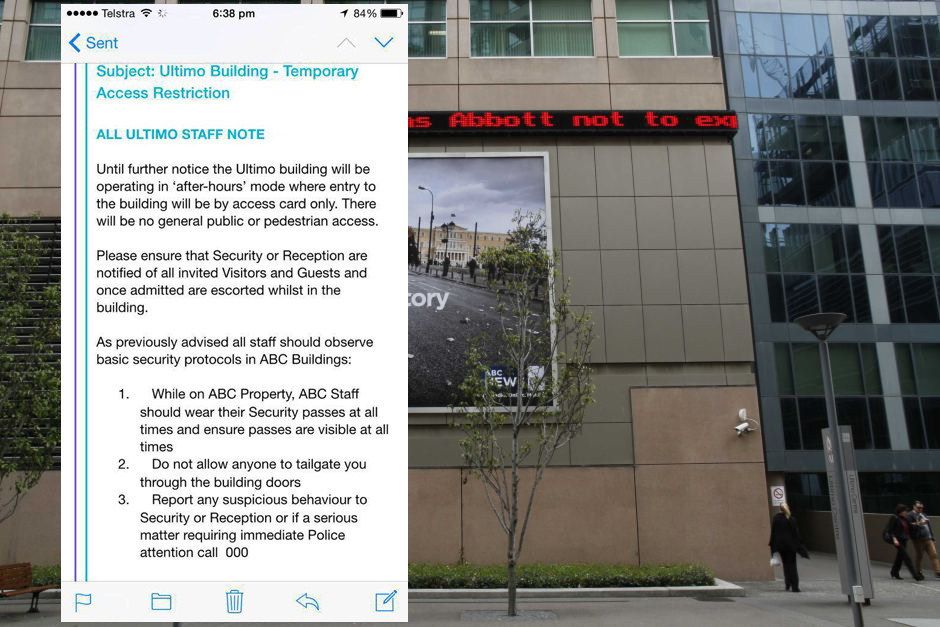 Since the Q&A episode first aired and the prime minister asked the ABC "whose side are you on?", the broadcaster has received more than 1000 phone calls, which include both vicious complaints and serious threats.
BuzzFeed News understands it is the most complaints the ABC has ever received over a single incident in it's history, prompting management to send an email warning all Ultimo staff to be aware of a heightened threat.
"While on ABC Property, ABC Staff should wear their Security passes at all times and ensure passes are visible at all times," reads the email from building manager Larry McNabb.
"Do not allow anyone to tailgate you through the building doors. Report any suspicious behaviour to Security or Reception or if a serious matter requiring immediate Police attention call 000."
BuzzFeed News has spoken to several ABC employees who said, while threats to the building are not uncommon, the email along with the prime minister's threat that "heads will roll" has spooked people.
"(Abbott) is whipping everyone into a frenzy," said one ABC journalist, who was concerned the recent verbal attacks were putting employees at risk.
An ABC spokesperson told BuzzFeed News other offices around the country are having security reviewed in light of recent events.
"Security has been stepped up at major ABC offices across Australia as a precautionary measure to protect the welfare of staff."
It didn't stop ABC managing director Mark Scott getting on the front foot with an aggressive speech on Thursday night, championing the broadcaster's independence.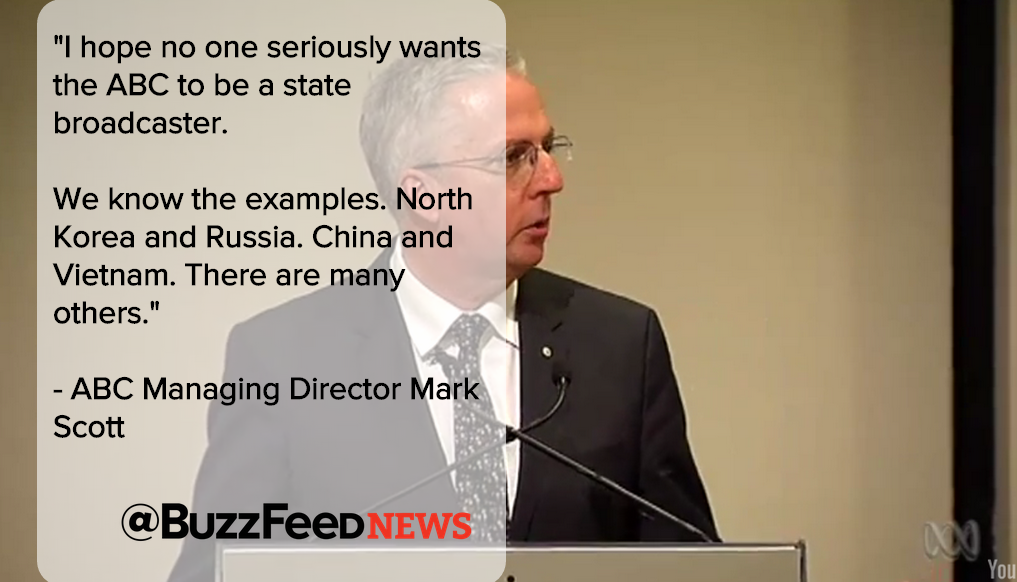 "I hope no one seriously wants the ABC to be a state broadcaster. We know the examples. North Korea and Russia. China and Vietnam. There are many others," said Scott, who has been keeping out of the spotlight in the last few days.
"The ABC is clearly Australian, it's on the side of Australia."
It was left to communications minister Malcolm Turnbull to face another ABC program, 7:30 and host Leigh Sales on Thursday night.
"A lot of people would say that the ABC let down its own standards, betrayed, if you like, its own standards, it's own very high standards," said Turnbull, steering clear of Abbott's strong language on the issue.
The department inquiry into the panel television program will be conducted by early next week. The Ultimo headquarters remains shut out to the public and all visitors will have to pass through security.