Australian-born senator Lisa Singh has told BuzzFeed News she learnt ahead of the 2010 federal election that she had been given automatic British citizenship as a "birthright".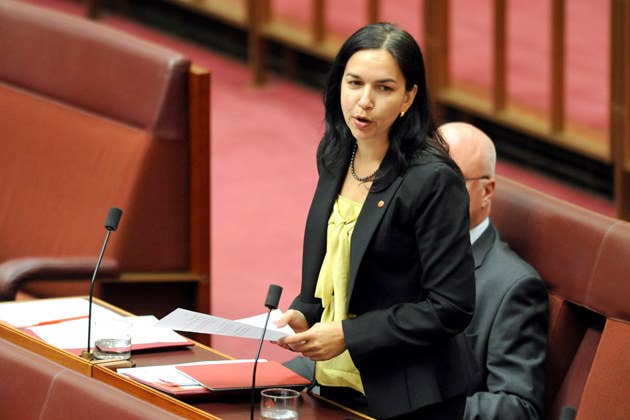 The citizenship status of Australian MPs has come under scrutiny after two Green Party senators were forced to resign in the space of five days after discovering they were dual citizens.
Larissa Waters and Scott Ludlam ran afoul of Section 44 (i) of the Australian constitution, which disqualifies anyone who is "under any acknowledgment of allegiance, obedience, or adherence to a foreign power, or is a subject or a citizen or entitled to the rights or privileges of a subject or a citizen of a foreign power".
Waters and Ludlam were born in Canada and New Zealand respectively and were unaware that they remained citizens of their countries of birth.
It led to some of the 24 overseas-born MPs in the Australian parliament posting documented proof online that they had complied with the Australian Constitution and renounced other citizenship before contesting an election.
However the circumstances that faced Labor senator Lisa Singh, who was born in Tasmania in 1972, suggests it could also affect MPs born in Australia.
"I was lucky the Labor Party did the work because, despite being born in Australia, I was shocked to find out that I was also a British citizen, through my father," Singh told BuzzFeed News.
"Because he had arrived in Australia from Fiji as a British subject - Fiji still being a British colony in those days - his British citizenship that he still held when I was born was conferred on me through birthright.

"So I had dual citizenship that I never knew about."
Singh sent BuzzFeed News a copy of a letter from the British High Commission in Canberra which confirms the Labor MP successfully renounced her previously unknown British citizenship three days before the election.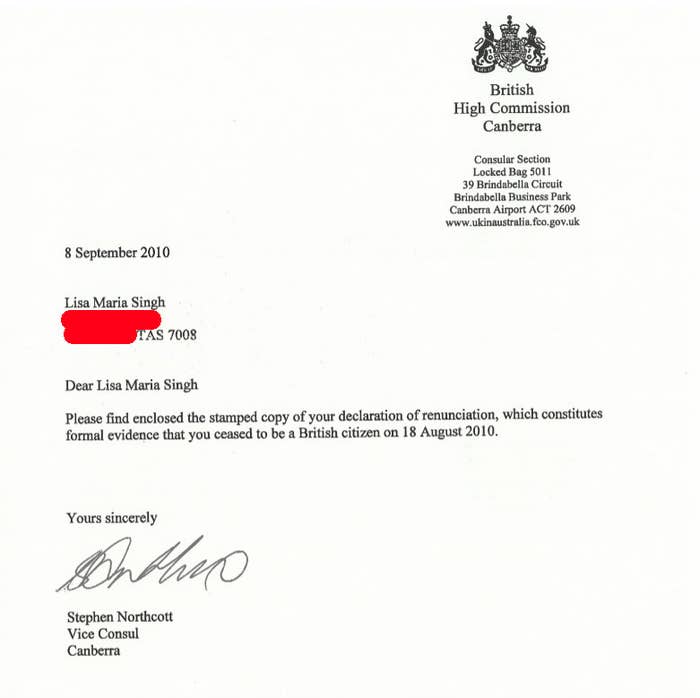 The letter reads: "Please find enclosed the stamped copy of your declaration of renunciation, which constitutes formal evidence that you ceased to be a British citizen on 18 August 2010."

Singh had to pay £300 to the British High Commission to urgently rescind her British citizenship, which was confirmed three days before she was elected.
According to the UK government's citizenship website, people born outside of the UK before 1983 become British citizens if they have a "connection with a colony" through a father.
However, there's also an ambiguous provision that means people could lose the citizenship "if the country later became independent".
Singh's father was Fijian, and although Fiji became independent in 1970 - before Singh was born - she still acquired the British citizenship.
BuzzFeed News asked the British High Commission in Canberra about the legal rules which have seen automatic granting of UK citizenship onto Australian-born children.
A spokesperson for the high commission released a statement which said that UK nationality laws are "complex", and that outcomes are influenced by the citizenship status of a person's parents.
"British nationality law is complex, with a number of factors influencing eligibility including date and place of birth and citizenship of parents," it read.

"It's not possible for us to comment on specific cases or to speculate more generally on whether or not people might hold British citizenship."

One of the MPs who posted about their citizenship status in the wake of Waters' resignation was One Nation's Malcolm Roberts, who was born in India to a Welsh father.
BuzzFeed News asked Roberts if he had checked whether he'd been given British citizenship at birth because of his father.
One Nation adviser Sean Black replied over email, strangely writing a list of countries divided into columns A and B.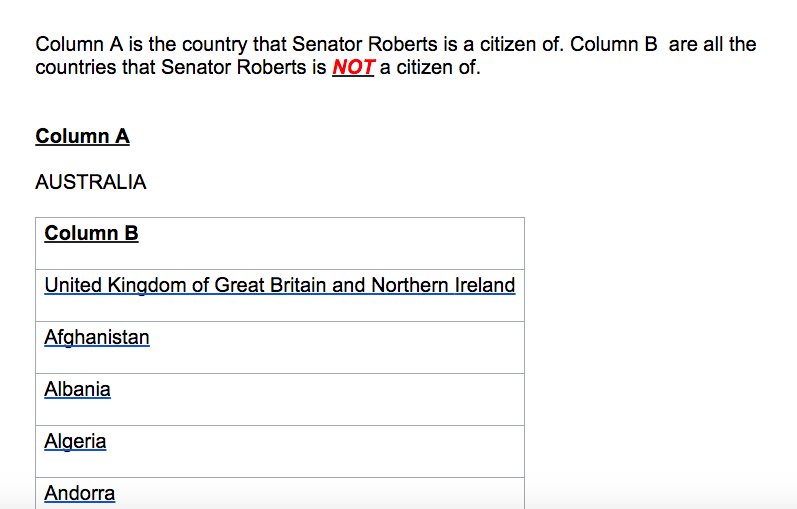 Black did not provide any documented evidence about Roberts' citizenship status, or whether One Nation had checked with the British High Commission prior to the 2016 election.