Tony Abbott Just Questioned The ABC's Loyalties Over Q&A Scandal
UPDATE: Zaky Mallah's appearance on the show has led to a full review into the future of Q&A.
UPDATE 1630AEST : In response to Zaky Mallah's appearance on Q&A, prime minister Tony Abbott has called into question the ABC's loyalties asking, "whose side are you on?"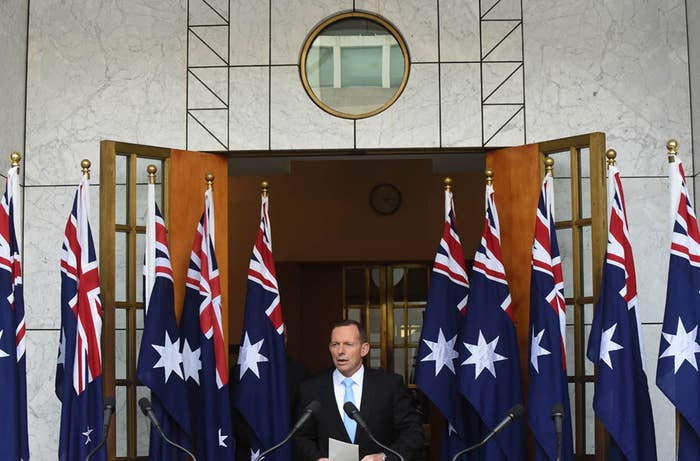 Mr Abbott launched the attack against the nation's state broadcaster while arguing for the citizenship law changes on Tuesday afternoon.
"(The ABC had given) a platform to a convicted criminal and terrorist sympathiser - they have given this individual, this disgraceful individual, a platform and in so doing, I believe the national broadcaster has badly let us down."
"Whose side are you on?"
Mr Abbott earlier reportedly described the program as "a lefty lynch mob" to the Coalition party-room.
Communications minister Malcolm Turnbull joined in, saying he's already expressed deep concern to ABC managing director Mark Scott and called for a complete review in the program.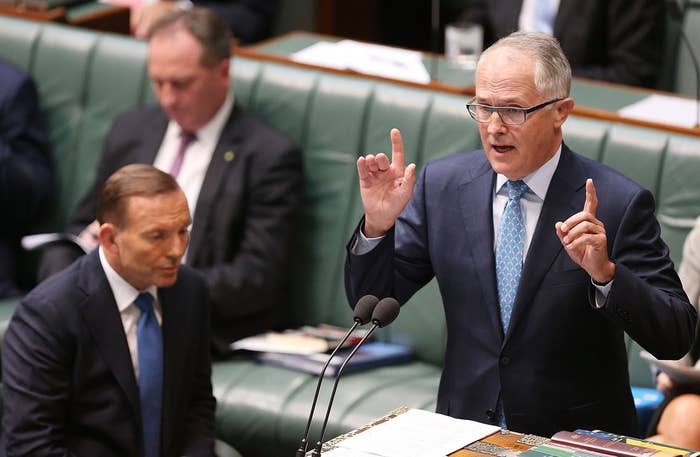 The ABC's head of Television Richard Finlayson has released a statement addressing the controversy.
"In attempting to explore important issues about the rights of citizens and the role of the Government in fighting terrorism, the Q&A program made an error in judgement in allowing Zaky Mallah to join the audience and ask a question.
"Mr Mallah has been interviewed by the Australian media on a number of occasions. The environment of a live television broadcast, however, meant it would not be possible for editorial review of the comments he might make prior to broadcast, particularly if he engaged in debate beyond his prepared question.
"Tony Jones correctly and immediately ruled a statement made by Mr Mallah as out of order.
"Q&A will continue to raise issues that are provocative and controversial. There is always risk in undertaking live television.That is the nature of the Q&A program since it first aired in 2008.
"As has been the case in the past on Q&A, circumstances will happen that are not anticipated. The critical question is whether risks could have been managed and the right editorial judgments made in advance.
"The circumstances of Mr Mallah's appearance will be reviewed by the ABC."
It was in the final minutes of Monday night's program and Ciobo told Mallah, who is convicted of threatening to kill ASIO agents in 2005 and was acquitted on terrorism charges on appeal, that he'd be totally fine kicking him out of Australia under the proposed new citizenship laws.
"From memory, I thought you were acquitted on a technicality rather than it being on the basis of a substantial finding of fact... But I'm happy to look you straight in the eye and say that I'd be pleased to be part of the Government that would say that you were out of the country."
"I would sleep very soundly at night with that point of view."
"The Liberals have just justified to many Australian Muslims in the Australian community tonight to leave and go to Syria and fight for ISIL because of ministers like him."
*pin drop*
Jones tried to fill the gaping silence left by ruling it "totally out of order" and former Howard chief of staff Graeme Morris was asked to comment. He could only shake his head.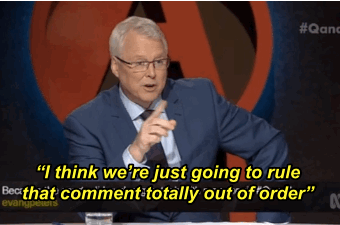 Mallah, who earlier admitted that he had "done and said some stupid things" that saw him pleading guilty to threatening to kill ASIO agents, later tweeted he'd pay to see Ciobo "dumped on ISIS territory".
It prompted some in Australia's Muslim community to decry Mallah's performance.
And others were shocked at what they had just seen.
It was like every Australian right-wing columnist - always highly critical of Q&A at the best of times - was firing up the laptop.
Meanwhile, far-right senator Cory Bernardi stayed up and calmed down with a late movie.