Meet Luke and Emily, the twentysomethings who reportedly bought 19 properties in 12 months.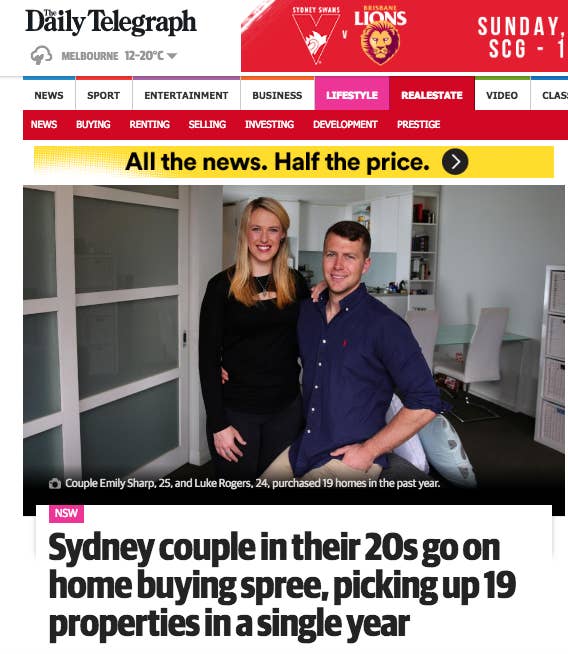 Say hello to Scott and Mina, who reportedly took a mere $15,000 and parlayed it into 25 properties.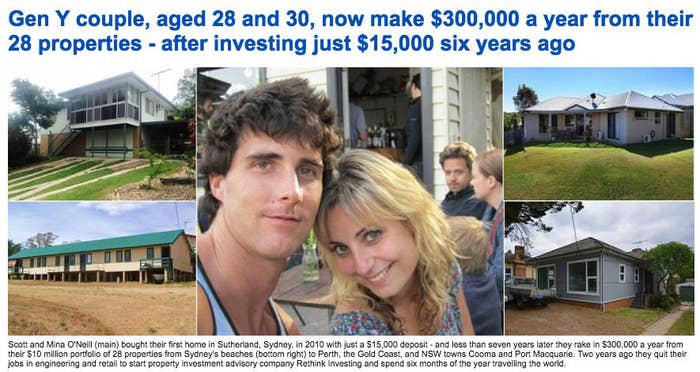 And let's not forget Stephanie, the 24-year-old whose six property portfolio totally proves it's "possible for young professionals to get on the housing ladder".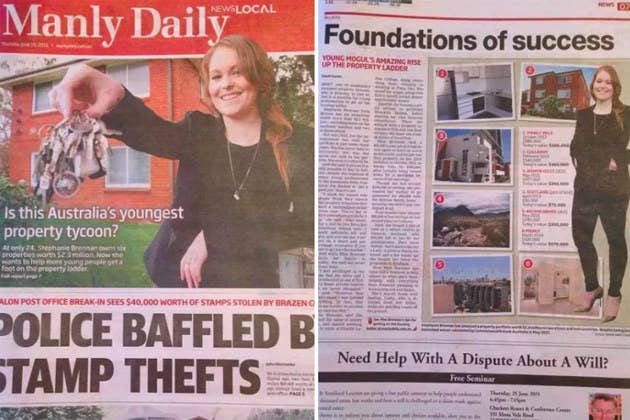 They are Australia's young property tycoons.

They're the subjects of puff pieces in the country's biggest selling newspapers, which are then recycled by online outlets. They provoke anger and outrage on social media and, according to at least one respected economist, are a sign that we might be in the midst of a real estate bubble.
Housing affordability is now at the centre of Australia's political debate and these stories, described as "real estate porn" by some in the industry, are being published more frequently and shared around the internet as proof that young people cannot just buy one home, but get in on the action and buy several very quickly.
Real estate reporters, who have spoken to BuzzFeed News under the condition of anonymity, suggest the stories say as much about the current state of Australian journalism as they do about the housing market.
"The more heated [the market] becomes, the more ridiculous the rhetoric gets," said one senior real estate reporter. "When a cycle has been going up for a long time, you get an increasing number of stories from people who are apparently making easy money. So people ask, 'Well why can't I do that too?'"
Take for instance profiles about twentysomething couple Scott and Mina O'Neill. In December Scott and Mina were profiled by news.com.au: "Gen Y couple 'rentvested' their way from $15K to $10m". The Daily Mail recycled the story (pictured below) using the website's quotes and the piece pulled in thousands of shares. Three months later Scott and Mina's tale of success showed up on domain.com.au. The Daily Mail did it again, literally, ripping the quotes for a similar piece that was widely shared.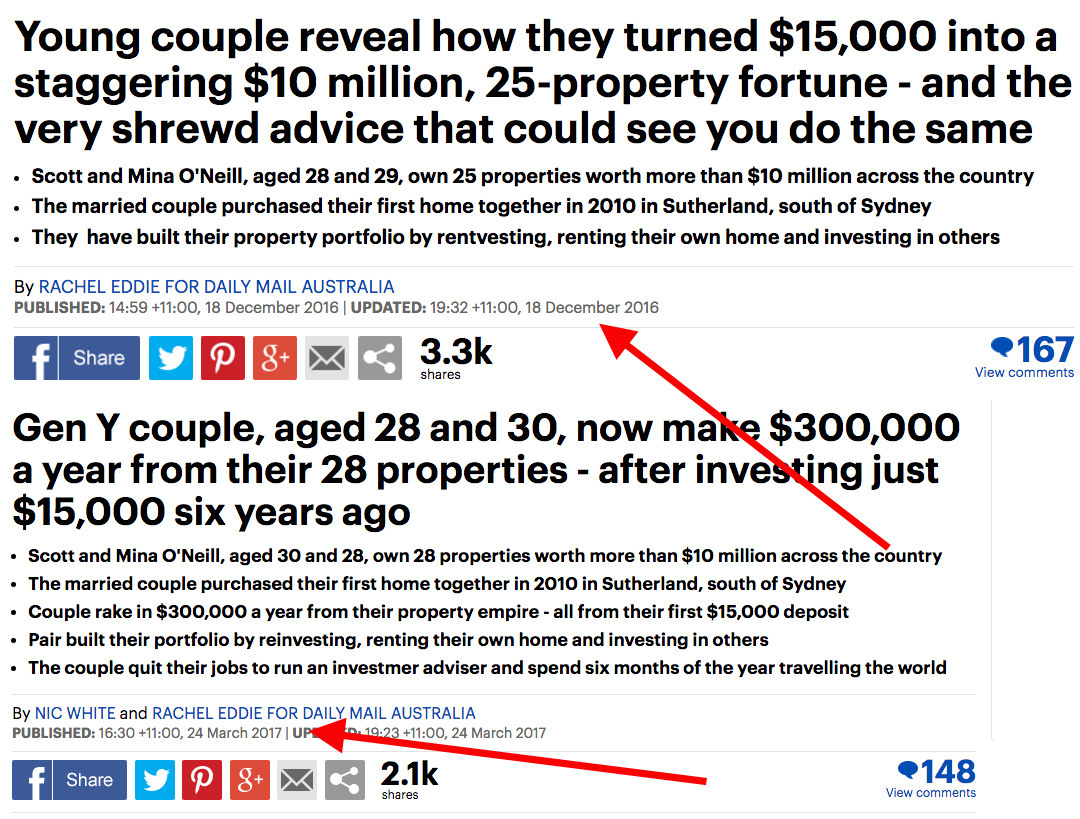 So how exactly do these young tycoons do it?
One real estate reporter broke it down for us:

"Here's the most common strategy: First they save up for an initial deposit – potentially using their parents as a guarantor. They want something a little run down, so they can do it up. Maybe they'll try and add a granny flat to the property and rent that out.
"Then they go to the bank and have their property revalued. [If it has increased in value] the bank gives them access to increased equity when they refinance. They tip [the new equity] straight away into getting deposits for two more properties.
"They need them to be cheap properties with high rent, so the cash keeps coming in and pays for expenses. Many save money in the meantime by living at home with their parents, paying no rent or subsidised rent.
"Soon they go to the bank again and get their properties revalued. [If there has been another increase in] equity, they again use [it] to purchase the next one. It's about adding what the industry calls 'cosmetic renovations', using refinancing and recycling any growth into the next property. It goes on and on."
Some believe the properties being snapped up, many on the outskirts of Sydney, Melbourne and Brisbane, may provide a decent rental return on investment, but would be among the first locations hammered in a housing crash. For those with interest only loans, a significant correction could leave people owing more than the value of their portfolio.
"Often the last part of the market to go up is the first part of the market to go down," said another senior real estate reporter. "These are properties not serviced by real things that give them real value – nearby infrastructure, public transport and job opportunities. The ones who jump in late in the cycle are the ones who are burnt the most."
In the world of rapid property wealth one name emerges repeatedly – real estate "mogul" Nathan Birch, a man in his early 30s who says he owns hundreds of properties.
Birch cofounded the company Binvested, which bills itself as the "leading property investment group, developed for investors by investors".
The Binvested website describes Birch this way: "Inappropriate and a little bit bogan? Maybe, but always straightforward, honest and incredibly successful. If you walked past him in the street, you probably wouldn't realise you were walking past Australia's top young property investor."
In 2014 Birch was profiled by news.com.au, which is owned by News Corp Australia. The company also owns leading property portal realestate.com.au and has a dedicated team of reporters covering the housing market. The headline read: "Nathan Birch went from pouring beers to owning a property portfolio worth millions."
"Love him or hate him, there's no denying 29-year-old Nathan Birch's powerhouse property credentials," the profile begins. "In a notoriously tough property market, he has accumulated 160 properties and 'retired' five years ago. This year, he made $10 million in real estate deals. Jealous yet?"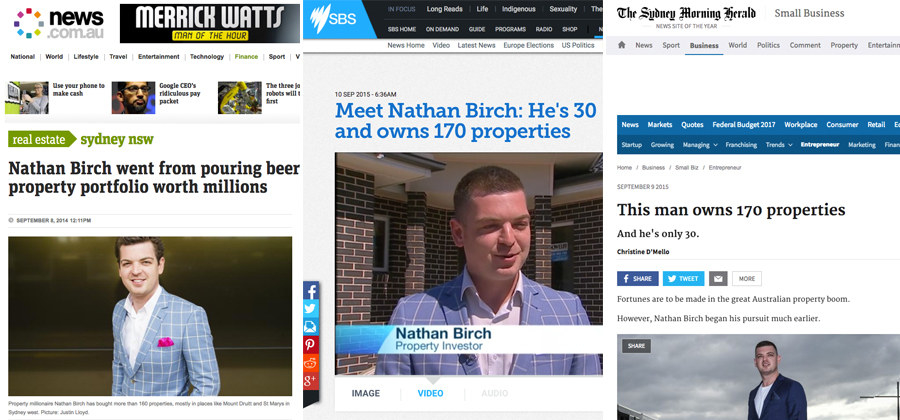 A media release sent to BuzzFeed News shows how Birch's personal story is marketed to journalists looking for an easy angle and a quote.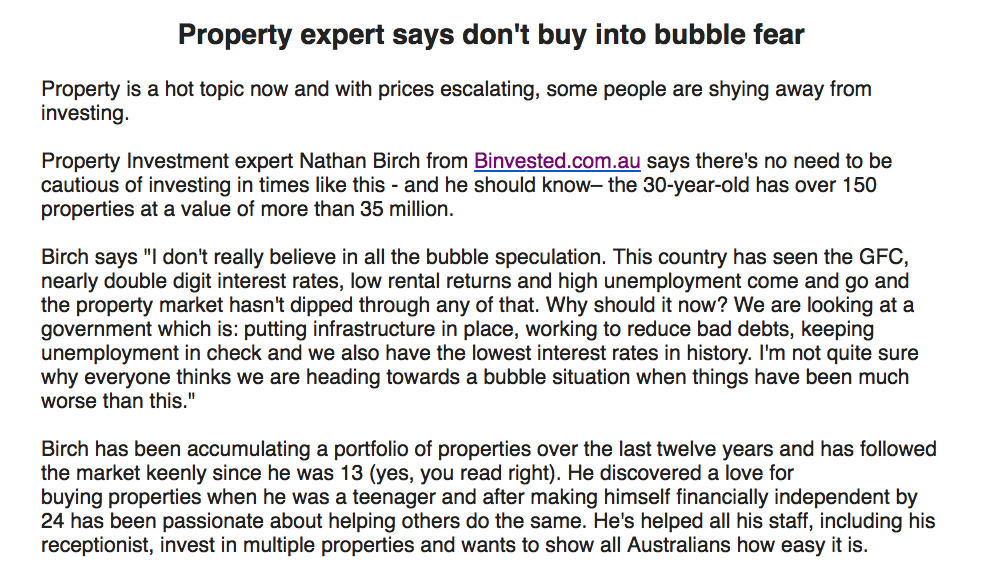 "Property is a hot topic now and with prices escalating, some people are shying away from investing," reads the opening line of the media release. "Property Investment expert Nathan Birch from Binvested.com.au says there's no need to be cautious of investing in times like this – and he should know – the 30-year-old has over 150 properties at a value of more than $35 million."

Birch's Binvested features in other stories published in recent years about young property tycoons.
"Sydney couple in their 20s go on home buying spree, picking up 19 properties in a single year," read the headline on a piece in The Daily Telegraph in September 2015.
The story pointed to Binvested as an inspiration for young couple Emily Sharp and Luke Rogers.
"[Mr Rogers'] research led him to Nathan Birch of Binvested, a Western Sydney native who bought more than 150 properties before turning 30. They decided to mirror Mr Birch's approach."
A profile of Sydneysiders Melissa and Andrew Matheson for Your Investment Property magazine was headlined "From Zero To $2.6m Portfolio In Under Two Years".
The story said the couple "had to get over the notion 'debt is bad' to create their $2.6m portfolio including purchasing four properties in a month and some they've never even seen".
Melissa Matheson is quoted as saying: "Nathan Birch and Daniel Young [of Binvested.com.au] took us through how to set ourselves up to ensure we were protected. It was a no-nonsense approach."
After unsuccessfully requesting an interview with Birch, BuzzFeed News sent a number of questions to Binvested regarding its business model; what advice it has for people taking interest-only loans; and discrepancies on the Binvested website about Birch's wealth. A detailed response was received from a nameless person tagged as "Marketing Consultant".
In phone conversations with BuzzFeed News, two spokespeople for Binvested requested prior copy approval on this story before publication, however BuzzFeed News declined these requests.
Binvested earns part of its revenue by charging people about $10,000 to "find them properties that are in line with their goals and budgets".
"We charge a fee for our Buyer's Agency service which involves more than simply 'recommending properties to investors'," the marketing consultant said.
Asked about what sort of warnings or disclaimers Binvested provided potential customers about the risk involved in buying multiple properties, the marketing consultant said: "We do not think it business wise to discuss our Intellectual Property. We have spent a large amount of money and put in a large amount of effort into developing our documents.
"We have all appropriate licenses and registrations as required and we comply with the law at all times. We encourage all of our clients to get independent advice from lawyers, accountants and finance strategists and we will not work with clients if we don't deem them to be a good fit, either from a mindset perspective or capacity wise."
BuzzFeed News asked Binvested about the worst case scenario for property investors if the market heads south or stagnates.
"We are unable to comment on a hypothetical situation where we don't have any details about the investor's personal circumstances," the response said. "However, we always ensure our clients have sustainable and recession proof portfolios.
"Binvested has always stressed the importance of what we feel are the three key elements of building a successful property portfolio - buying below market value, making sure there is an upside for growth and making sure there is a strong cash flow. Most of the properties we source are neutral geared after all expenses and before any tax deductions.
"We do not advise high-risk strategies, nor do we suggest people can accumulate property wealth overnight – quite the opposite in fact."
In mid April Birch's biography on the Binvested website says he owns more than 150 properties, and that he is worth $20 million. However, further down the same web page the biography says he owns more than 200 properties, and is worth $30 million.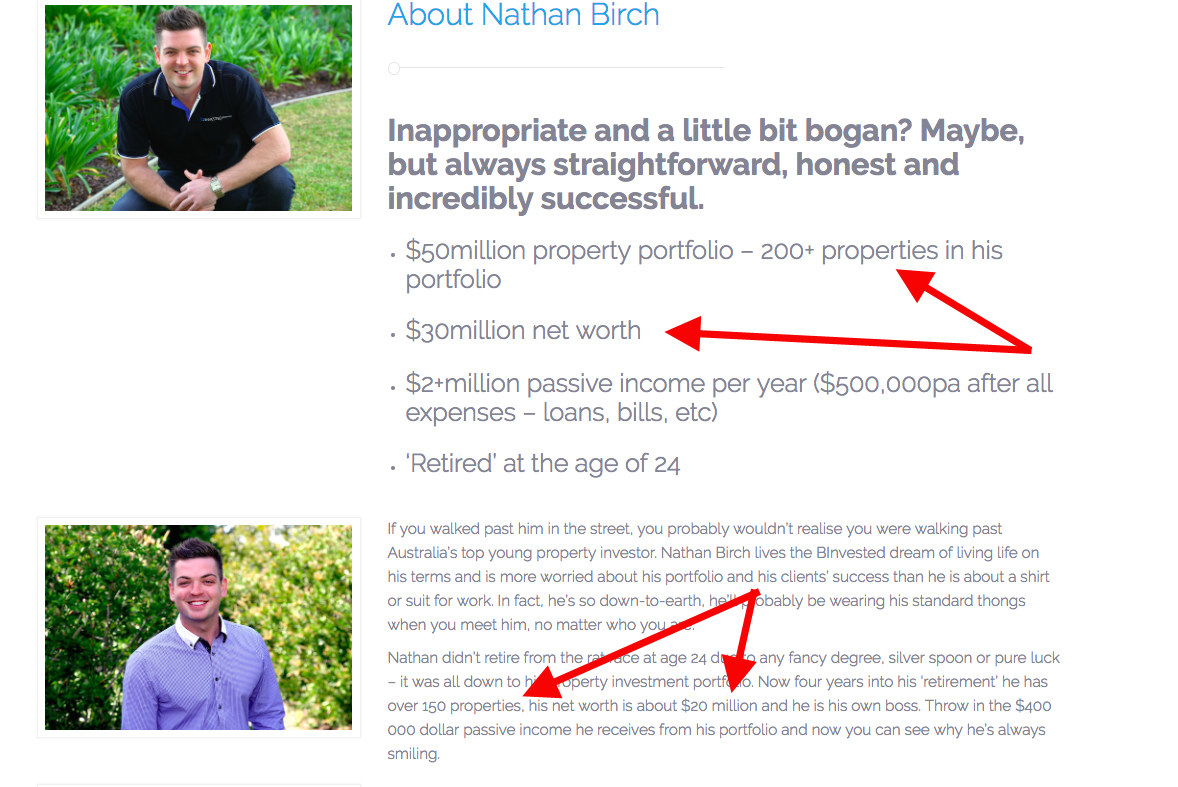 After BuzzFeed News' queried these inconsistencies, the website was changed in late April to say that Birch owns more than 200 properties and is worth $30 million.
A statement from Binvested explained the discrepancies: "Nathan's property portfolio and net worth is ever changing as he is constantly buying and selling properties. His net worth is approximately $30 million and he has a 200+ property portfolio."
Another property developer marketing stories to the media is Zaki Ameer.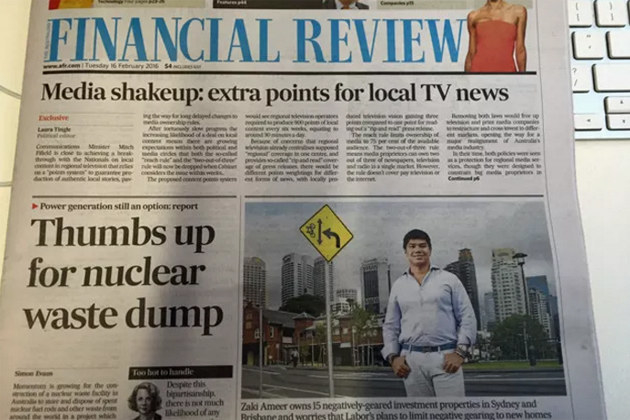 Ameer appeared on the front page of The Australian Financial Review, which is owned by Fairfax Media, last year in the midst of the country's debate about negative gearing.

"Zaki Ameer, who has amassed a $3.5 million portfolio of 15 negatively geared investment properties in Sydney and Brisbane, says Labor's plans to limit negative gearing to new homes, could trigger a house price crash," read the piece.
In the wake of that story, BuzzFeed News revealed Ameer was a member of the Liberal party, a fact not acknowledged in the story.
Recently, a PR agent acting on behalf of Ameer emailed a pitch to property reporters, promoting Ameer's latest young property tycoon success.
"Motivated by a simple desire to be able to retire early and spend more time with his family, Fransiscus Setiawan began investing in property only two years ago and already has seven investment properties around Australia to his name," reads the pitch.
"With the help of Zaki Ameer's team of 25 property professionals at Dream Design Property (DDP), Fransiscus owns five properties in Sydney and two in Logan, Queensland.
"As a 30 year old IT contractor, Fransiscus' only regret is that he wasn't aggressive enough in his initial investment strategy and wishes that he began investing in property earlier on in life."
Fransiscus Setiawan was featured in on News Corp Australia's News Local website under the headline "Landlord buys a better future". The story included the line: "Mr Setiawan urged others looking to start a property portfolio to 'just take action'".

"There's a pretty obvious [subtext] to these stories," said one property reporter, who regularly receives similar pitches about property investors. "Get off your lazy arse, start getting into debt and you can quit your job and never work another day in your life."

So do the PR pitches always stack up? It's difficult to know, as stories never detail whether any of the investors were asked to supply paperwork to backup their claims of property portfolios and wealth.
BuzzFeed News asked Birch whether he had evidence of his 200-plus portfolio of properties and his $30 million wealth. The response was: "Of course, Nathan has evidence of his 200+ properties." No addresses or details accompanied the response.
Zaki Ameer sent Setiawan's list of properties to BuzzFeed News, which were verified with checks of a local property database.
BuzzFeed News asked economist Saul Eslake what would happen if the historically low interest rates fuelling the current real estate mania in Australia headed north and property values headed south.

"If [owners] are positively geared, they should be able to ride it out," Eslake said, referring to portfolio owners who have rent coming in on investment properties that covers loan repayments and costs.
"If they are negatively geared they might have to be forced sellers, if interest rates went up a lot. Their rent wouldn't be enough to cover their mortgage repayments."
Despite serious warnings from the Reserve Bank about some of the lending activity of banks and recent signs that there are skyrocketing levels of household debt around the country, Eslake warned against the idea there's a bubble about to pop.
However he said stories of people buying multiple properties could be a sign that the market is overheated.
"Bubbles are based on a herd mentality and stories like these, to the extent that there's a motive, they're designed to encourage other people to do the same thing," he said.
"It doesn't prove that we're in one, but they are characteristics of bubbles. When everybody's doing it, it's usually a sign that the peak of the market is approaching."