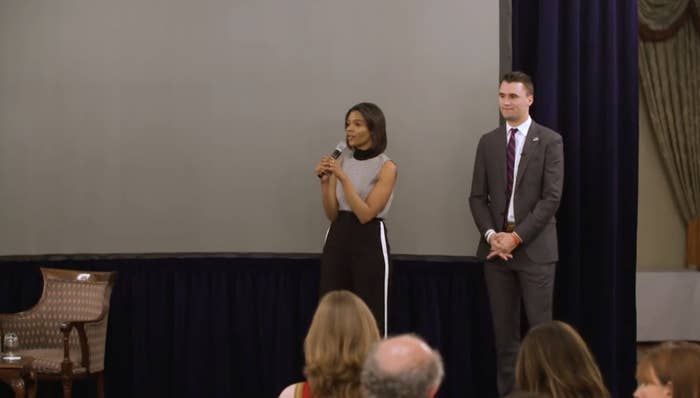 A prominent activist with close ties to Donald Trump urged British conservatives to abandon Twitter and embrace a new social media app dominated by right-wing political views and used by several far-right figures who are banned from Twitter.
Candace Owens — a rising star on the American right who attracted controversy last week because of comments about Adolf Hitler first reported by BuzzFeed News — told an audience in London that the new platform, Parler News, would be a conservatives haven away from the perceived left-wing bias of Silicon Valley and mainstream publishers such as the Guardian and New York Times.
Several leading figures in Trump's circle, including his 2020 campaign manager Brad Parscale, joined the service, however Parler has so far not justified its advocates' claims that it can be a serious rival to Twitter. After a brief flurry of activity at the end of last year, some of the app's most prominent members have gone weeks without posting.
While President Donald Trump and his supporters have used Twitter to amplify their political messages and attack their opponents, building substantial followings on the platform in the process, many have accused the Jack Dorsey led-company of partisanship and censorship. In December, the president tweeted to his more than 58 million followers that the social network was making it "much more difficult" to follow his account.
Owens, who has more than a million Twitter followers and has met with Trump on numerous occasions, has encouraged the same perception that the platform is stacked against conservatives. At the private function in London in mid-December, Owens told the audience that "there is a new Twitter on the horizon" that would help the right push back.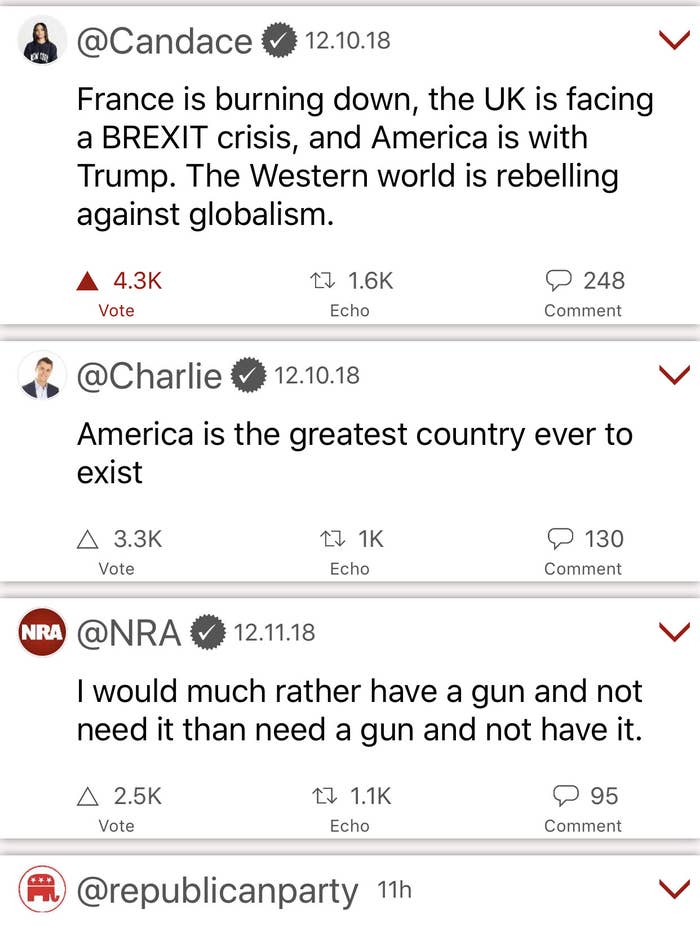 "How do you win?" Owens said. "Are we going to whine and cry and say, 'Twitter removed my checkmark' and 'oh they deleted my tweet?' Or are we all going to migrate to a platform?"
She went on to say that Twitter would struggle to maintain its position if there was an exodus of conservatives. "Twitter was successful because of conservatives. Because of Donald Trump tweeting. Because of people like me and Charlie [Kirk] tweeting. We have high retweet ratios."
Owens added: "If all of us flock and migrate to another platform and it's actually built well, that's how we defeat the [Silicon Valley tech] companies. They need to have an audience, they need to have users."
Conservatives and far-right activists complaining about perceived left-wing bias on social media have been turning to alternatives for several years. Gab has promised users not to ban or censor content posted on its social media platform, but last year made headlines when the Pittsburgh synagogue shooter was found to have posted anti-semitic and extremist messages on the platform before carrying out an attack that killed 11 people.
Owens claimed to have introduced other prominent conservatives to Parler while she was waiting in a Fox News green room ahead of an appearance on a show with Trump surrogate and former judge Jeanine Pirro.
Owens was speaking at an event at the Royal Automobile Club, a private members' club in London, to announce the launch of the pro-Trump youth activist group Turning Point in the UK. Founded by Charlie Kirk, Turning Point has declared that it intends to fight a "culture war" on British university campuses to liberate them from the left. Owens is the group's head of communications and, with Kirk, its public face.
It was at that meeting that Owens made the controversial remarks about Hitler. Speaking about nationalism, Owens said it would have been "fine" if Adolf Hitler "just wanted to make Germany great" and that the problem with the Nazi dictator was that "he had dreams outside Germany".
In the final few months of 2018, several other well-known Trump supporters also joined Parler (pronounced par-LAY, from the French word meaning "to speak").
Parler lists Parscale as having a verified account. Katrina Pierson, a spokesperson for the Trump campaign during the 2016 presidential election, is also a member.
Other notable right-wing figures on Parler include Jack Posobiec, a pro-Trump Twitter troll; Paul Joseph Watson, a British YouTube host; Dana Loesch, spokesperson for the National Rifle Association; and Mike Flynn, Jr., the son of Trump's former national security adviser, Michael Flynn, who pleaded guilty to lying to the FBI after coming under scrutiny for his contacts to Russia.
There are also verified accounts for far-right figures who have been banned by Twitter, including the former Breitbart editor Milo Yiannopolous and the activist Laura Loomer, who recently chained herself to Twitter's building in New York to protest her removal from the social network. An account also appears for Gavin McInnes, the Vice co-founder behind "Proud Boys", a male-only fringe group whose members describe themselves as "Western chauvinists".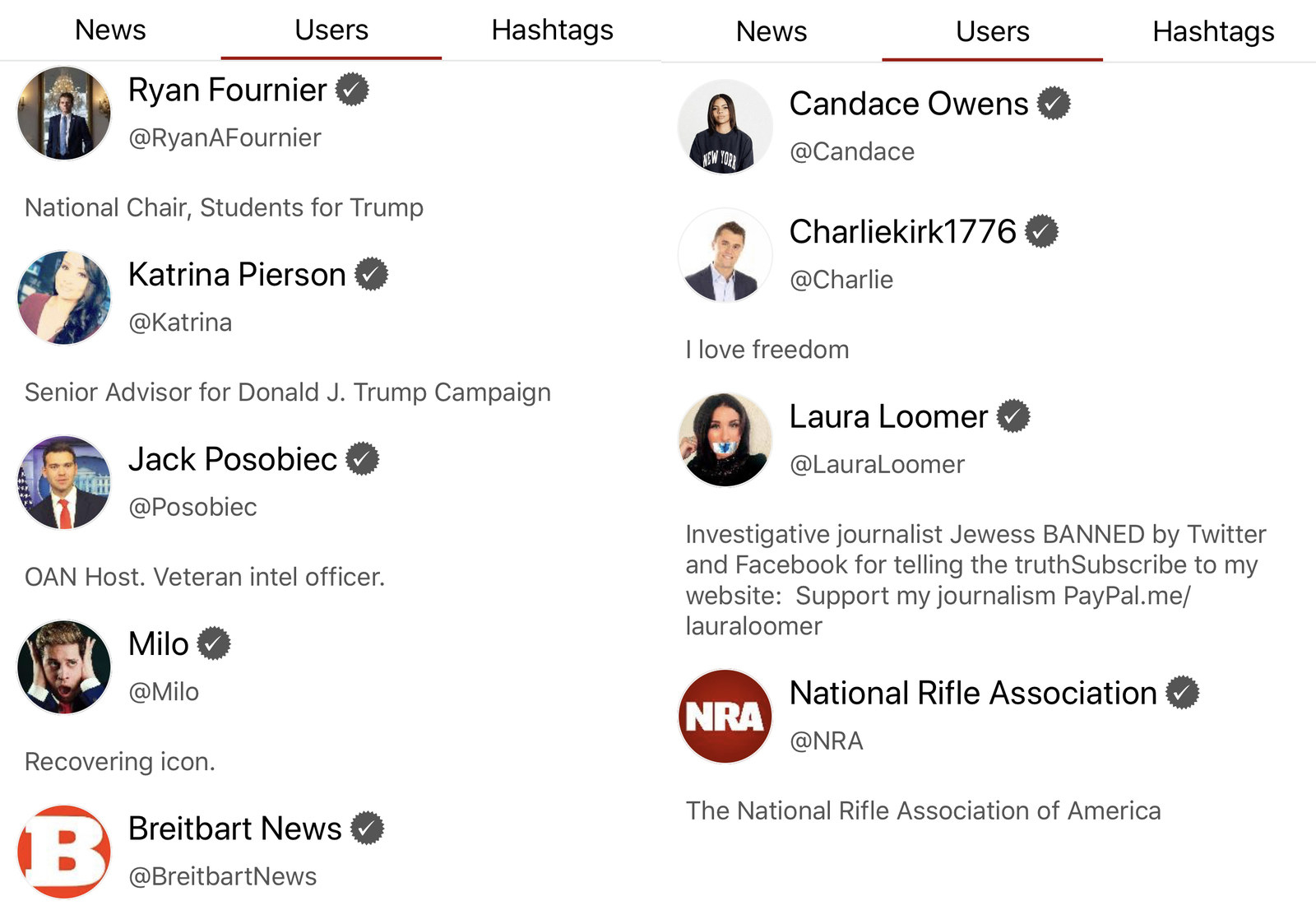 Parler also seems to have set aside usernames for Donald Trump, Donald Trump Junior, and Fox News host Tucker Carlson.
Parler was founded last year by John Matze and Jared Thomson. According to LinkedIn, the founders and several of their senior staff attended the University of Denver. The company's site is relatively nondescript offering a place for "free expression about articles and content online." The company says it also offers a commenting plugin for news articles.
Parler declined an interview and did not respond to questions in a follow-up email about how it came to be the new app of choice for the pro-Trump media set.
The Parler app appears to mimic Twitter in its functionality and design. Users can post updates onto a scrolling feed, although with a 1,000 character limit compared to Twitter's limit of 240, they are free to be more long-winded. Other users can "vote" on posts to indicate approval or "echo" it, which is similar to a retweet.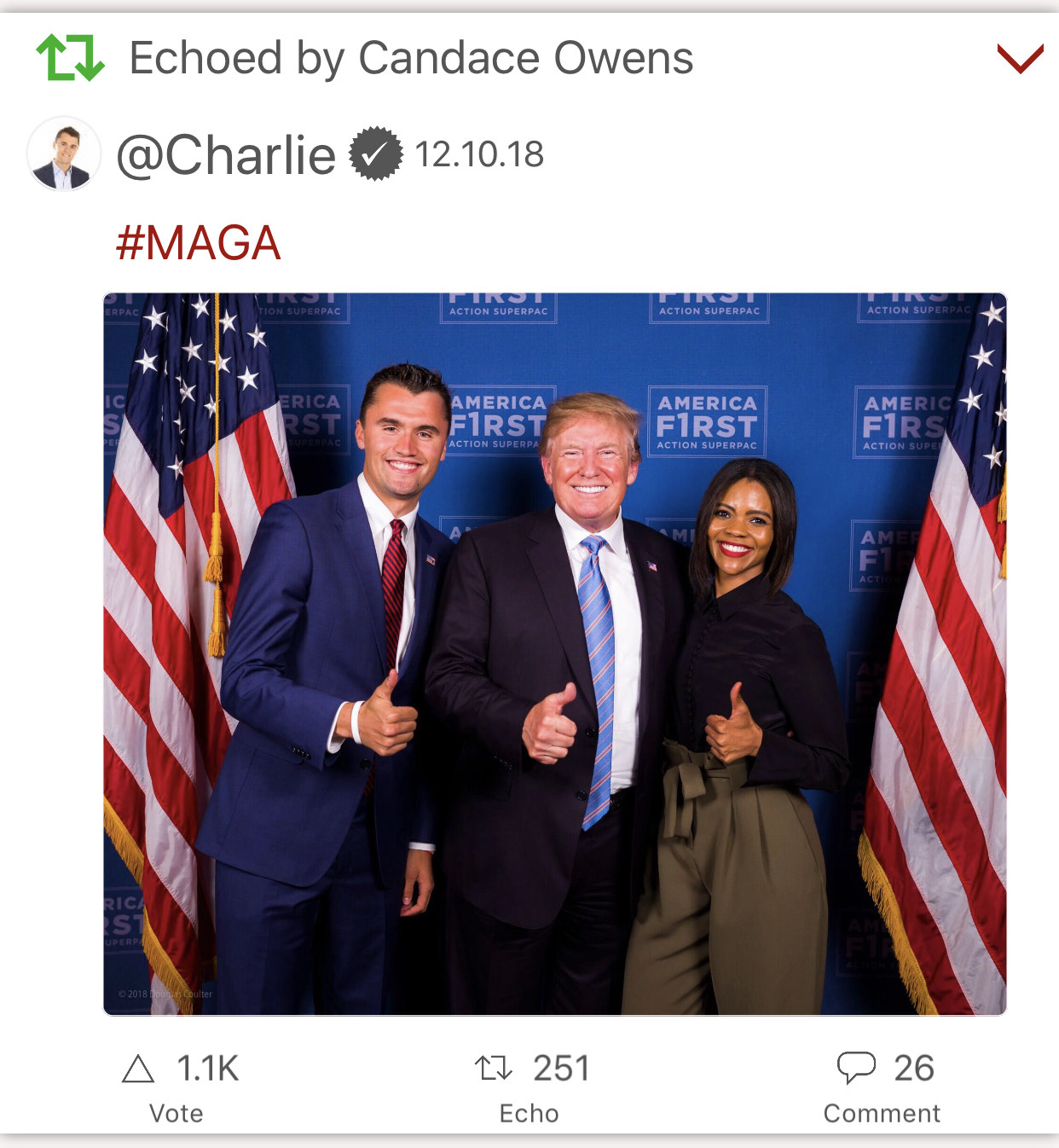 Twitter's CEO Jack Dorsey has denied that the platform is biased against conservatives.
Asked whether Parler posed a threat, a source close to Twitter told BuzzFeed News: "We've seen a lot of lookalike services come and go. We're confident that we'll be able to continue to give people reasons to come here first."
Speaking late last year, Owens described Parler as an "underground-railroad, word-of-mouth movement" and a "long-overdue social media rebellion". Posobiec tweeted about the app five times across five days in December, exclaiming: "Parler is getting good."
BuzzFeed News has asked Owens whether she was paid to promote the app, or was given a financial stake in the company in return for tweeting about it. She has not returned a request for comment.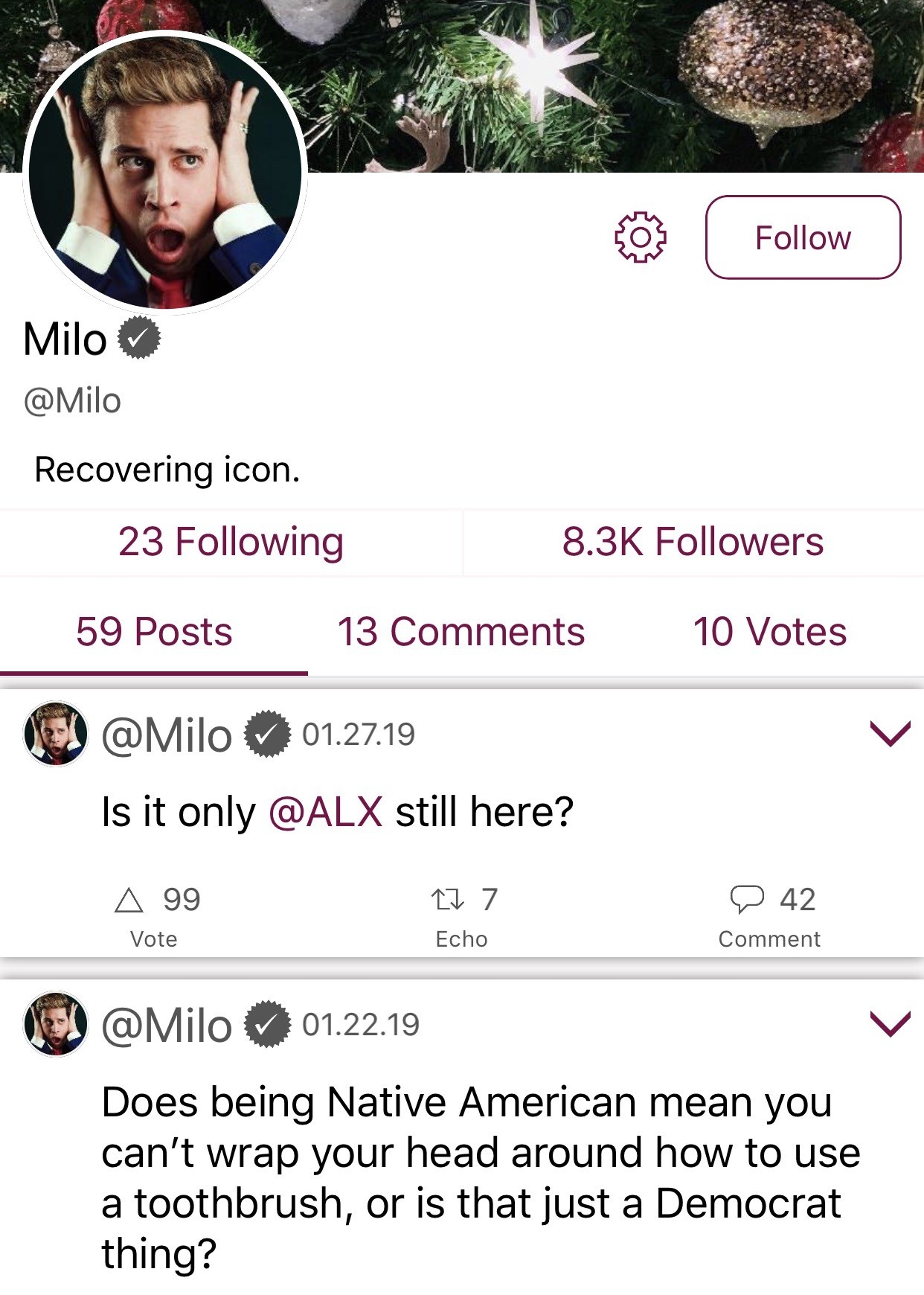 Despite the initial influx of pro-Trump figures, their activity on Parler appears to have stalled.
Owens last posted more than five weeks ago, on January 3. It read: "These Parler updates are looking mighty fineeeeee. Tick-Tock, Twitter, Twitter!"
Her business partner Kirk also last posted on that day, saying, simply, "Build the wall."
Parscale hasn't yet posted at all.
Some appear to have grown frustrated with the lack of activity.
"Is it only @ALX still here?" Milo Yiannopoulous (@Milo) posted at the end of January, tagging a self-describe pro-Trump activist and "social media refugee" with the handle @ALX.
It prompted a string of replies, including one from a user known as @tangofoxtrot016, who wrote: "No we're here. It's just kind of boring."