Last month, transmission towers across South Australia twisted, contorted, and crashed during a wild storm, bringing down the state's entire power grid, leaving millions in the dark.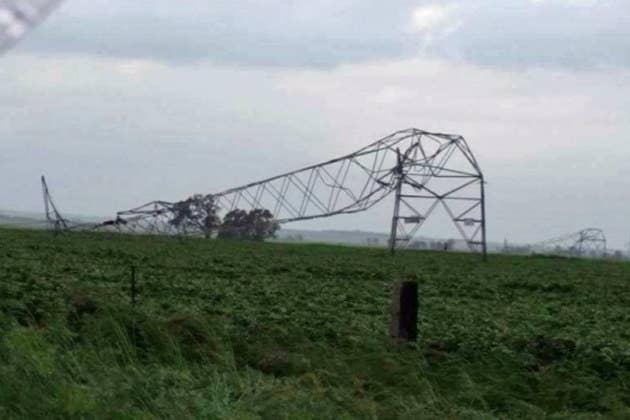 Unsurprisingly, a lot of the anger at the blackout was spewing out online. Like this tweet from Gemma Rubensohn the day after the blackout.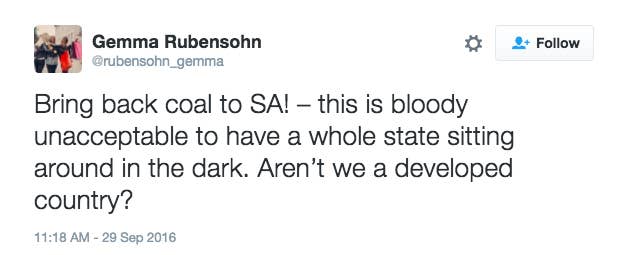 However, if you click through to Gemma's profile, things start getting fishy. The Sydney resident, whose bio was "work hard to shop hard", had joined Twitter that day.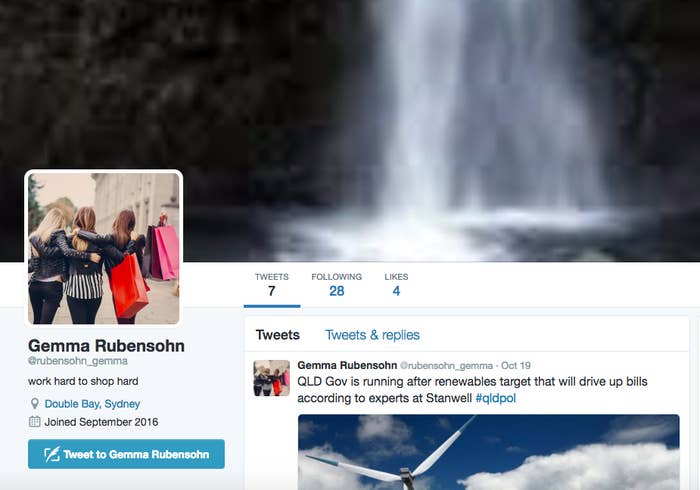 A quick reverse Google image search shows Gemma's Twitter avatar is from a stock image site.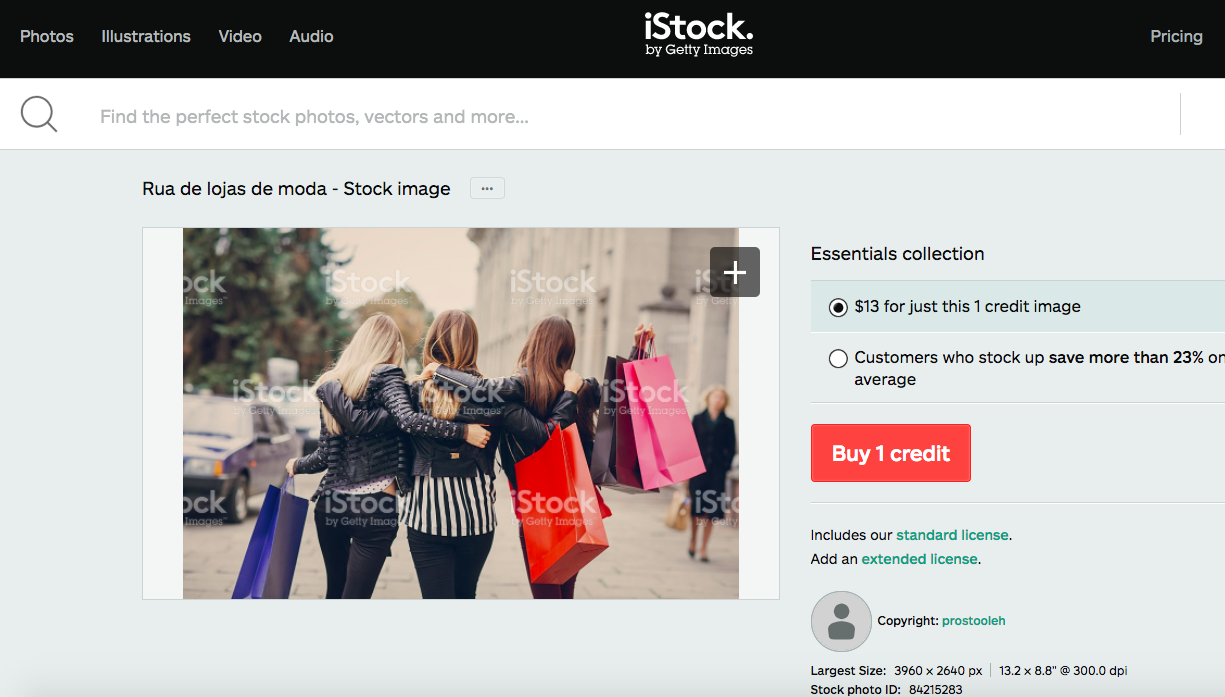 Take another instance: Maddison Dunshea, who praised independent senator Nick Xenophon for his stance criticising the SA blackout the day after it happened.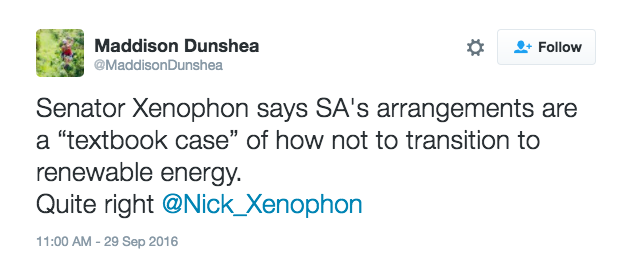 According to her profile, Maddison is a Sydney resident in "HR & recruitment" and an "adrenaline junkie". She joined Twitter in late September and has tweeted exclusively about renewable energy in South Australia and Queensland.
It turns out, if you reverse image search Maddison's avatar, it too shows up on a stock image site.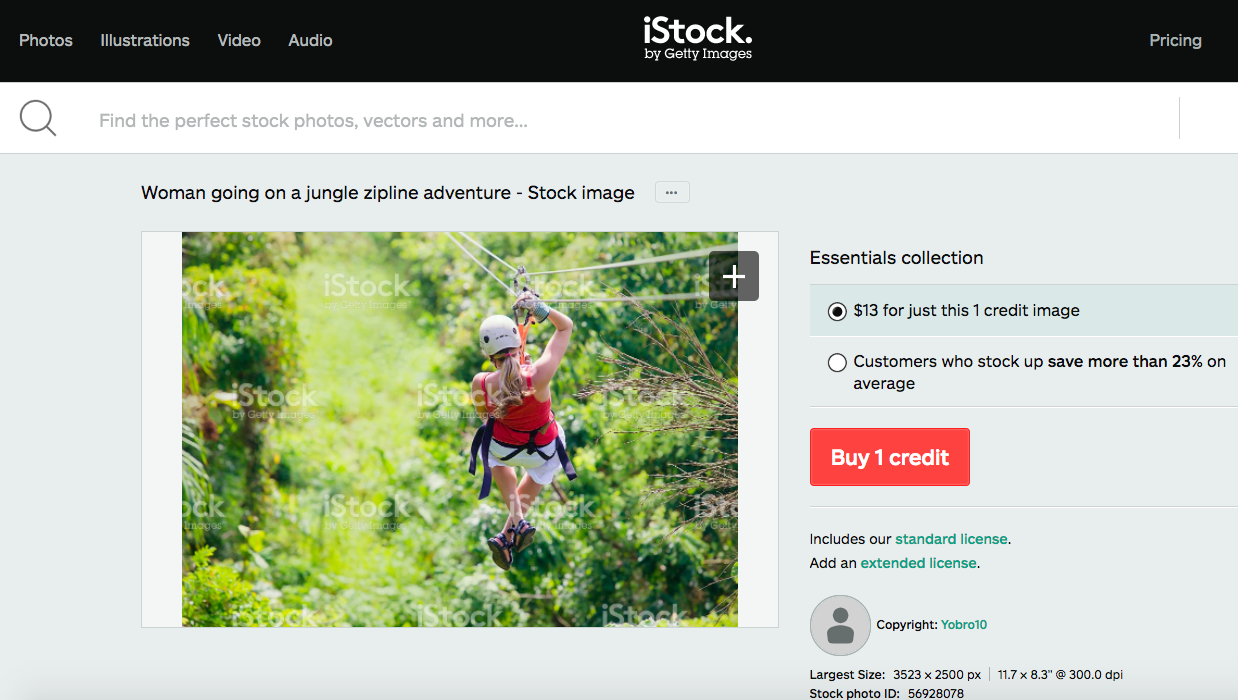 BuzzFeed News found dozens of these Twitter accounts (set up in late September, using stock images, tweeting only about renewable energy). But here's the thing: All of them follow two accounts.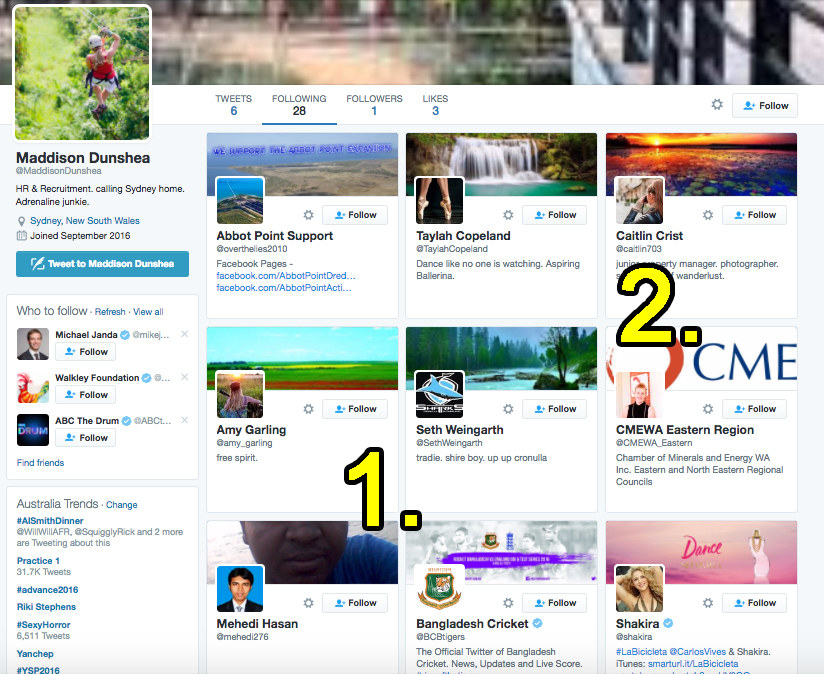 The first is a Bangladeshi data entry specialist named Mehedi Hasan, who markets his services online as "Forum Posting, Content writing ... and so on" for US$10 an hour.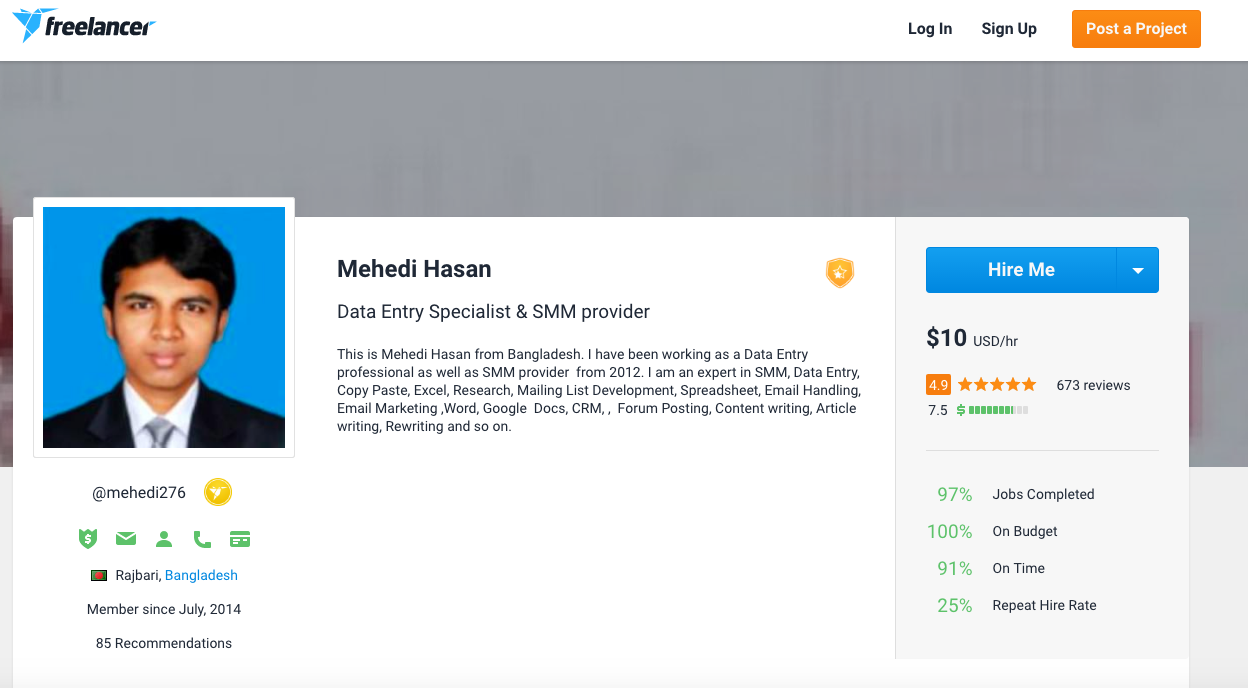 The second is a branch of the Chamber of Minerals and Energy of Western Australia (CMEWA), a mining lobby group.
Of the CMEWA account's few followers, dozens are the newly created, anti-renewable Twitter accounts with stock image avatars.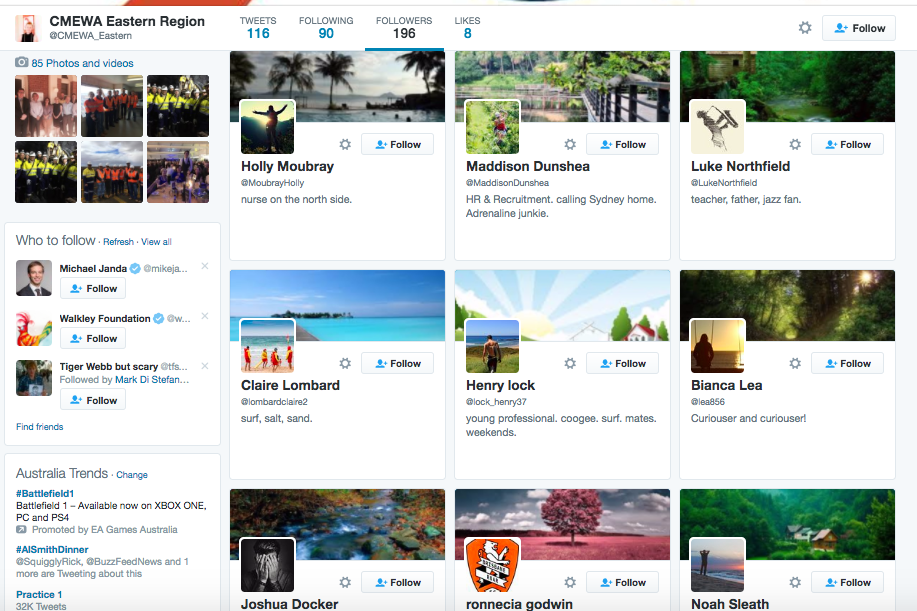 Here's an example of the kind of thing the army of seemingly fake accounts engage in. On the night of the blackout, The Bolt Report had a guest who speculated the power would have stayed on without renewable energy.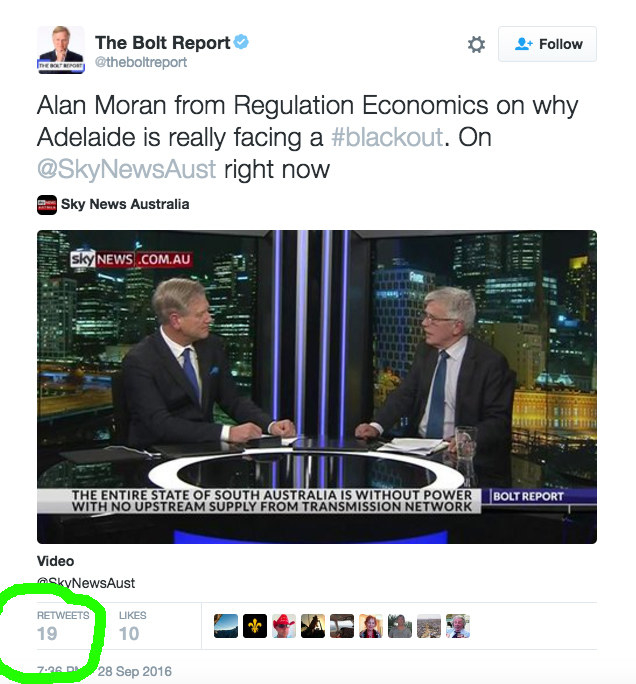 Of the 19 retweets the video received, most of them were from the new anti-renewable accounts.
A spokesperson for the WA Chamber of Minerals and Energy denied it paid for a group of fake, coordinated Twitter accounts to push an anti-renewable agenda.
"CMEWA will investigate the accounts mentioned," said the spokesperson.
BuzzFeed News has also asked the Bangladeshi copy editor for comment.
UPDATE Monday 1230AEST: The CMEWA responded to the BuzzFeed News investigation by denying it was linked to the anti-renewable accounts and deleting its @CMEWA_Eastern Twitter account.
"Claims that the WA CME is linked to the creation and activity of fake Twitter accounts are completely false," read a statement from a CME spokesperson.
"The CME have deactivated the Twitter account in question until the issue has been resolved."
A spokesperson suggested the mining lobby group had been targeted with fake followers, despite the new accounts all spreading a pro-coal mining, anti-renewable message.
Along with the deletion of the @CMEWA_Eastern account, all the accounts disappeared within hours of the story being published.
Here is a list:
https://twitter.com/LukeNorthfield
https://twitter.com/lombardclaire2
https://twitter.com/lock_henry37
https://twitter.com/lea856
https://twitter.com/rechner_leah
https://twitter.com/amy_garling
https://twitter.com/caitlin703
https://twitter.com/TaylahCopeland
https://twitter.com/ryder992
https://twitter.com/SaraMcMaster2
https://twitter.com/SeanRanken
https://twitter.com/SethWeingarth
https://twitter.com/tdvadvadtddsd
https://twitter.com/TriggsZoe
https://twitter.com/WillMacGillivr
https://twitter.com/SkyeCongreve
https://twitter.com/joel_tench
https://twitter.com/HamishMcElhone
https://twitter.com/ImogenMuscle
https://twitter.com/harrymarston360
https://twitter.com/HannahCleggett
https://twitter.com/JasperBertles
https://twitter.com/DeffellMariam
https://twitter.com/DeclanDrury2
https://twitter.com/DeanNiland
https://twitter.com/dakotaturner301
https://twitter.com/crooke_beau
https://twitter.com/BrockLyne2
https://twitter.com/austin14killnit
https://twitter.com/ArchieReimann
https://twitter.com/ashley_narelle