On the same day that tens of thousands of Sunday workers will have their penalty rates cut, federal politicians will receive both a pay rise and tax cut.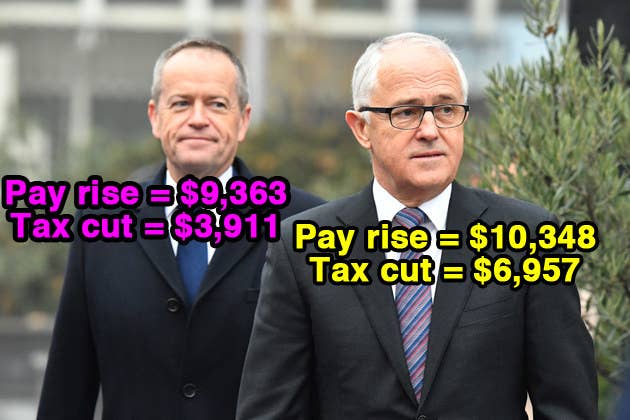 That happens to be the same day that the 2% deficit levy on people earning over $180,000 will expire, AND that penalty rates for Sunday hospitality workers will be cut.
Take, for example, the prime minister Malcolm Turnbull who is in for a more than $10,000 per year pay rise, with his base salary up to $527,000 a year.
The deputy prime minister Barnaby Joyce gets an extra $8,000 a year, with a base salary of $416,000, while the pay for cabinet ministers goes up to $350,000.
This is a bipartisan affair, with Labor leader Bill Shorten's salary up more than $9,000 to $376,000 and Greens leader Richard Di Natale's up to $289,000 a year.
At the same time, the 2% temporary deficit levy will expire, meaning that politicians are in for a double pay day.
Turnbull will get a tax cut of nearly $7,000, while Shorten scores tax relief of $3,911 a year. You can see how the removal of the deficit levy, which Labor opposes, will impact a bunch of the most senior politicians here.
This all comes during a ridiculously bad period of wage growth for Australian workers, with salaries remaining flat for some time, and penalty rates for Sunday workers set to be slashed.
As the new financial year begins, workers in retail, fast food, restaurants and hospitality who are not on enterprise bargaining agreements will see their Sunday and public holiday penalty rates cut.
Happy July 1!