On Monday, the prime minister gently tickled a man's pet rat named "Splinter", which was burrowed in his hoodie.
The history-making interaction (has any former PM ever stroked a rat?) occurred at Penrith Westfield between Malcolm Turnbull and a local constituent named "Shane".
"C'mon give him a pat," dared Shane.
"Oh you've got a little rat?" Turnbull startled by the sight of the furry rat in the man's high-vis hoodie.
"His name is Splinter," replied Shane.
Turnbull then extended his forefinger and gave Splinter a gentle brush on the back. What did we do to deserve this election?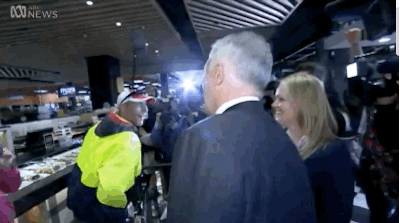 Local MP Fiona Scott tried to move things along, but Turnbull had other ideas ...
"How old is your rat?" asked the PM.
"He's two and half," said Shane. "He's the reason I don't get pests in my home. He eats them all. Cockroaches, silverfish, ants, spiders, fleas, flea eggs."
"Only bad thing he does is he tries to clean my teeth when I'm asleep"
Satisfied with how much he had learned of Splinter and Shane, Turnbull said, "alright, thank you".
Opinion was divided over whether the PM should have laid his finger on the rat.
Although at least one person was asking for more.
Now Turnbull has thrown down the challenge, it's time to see whether Shorten is pro-rat pat or not.
What did we do to deserve this election?