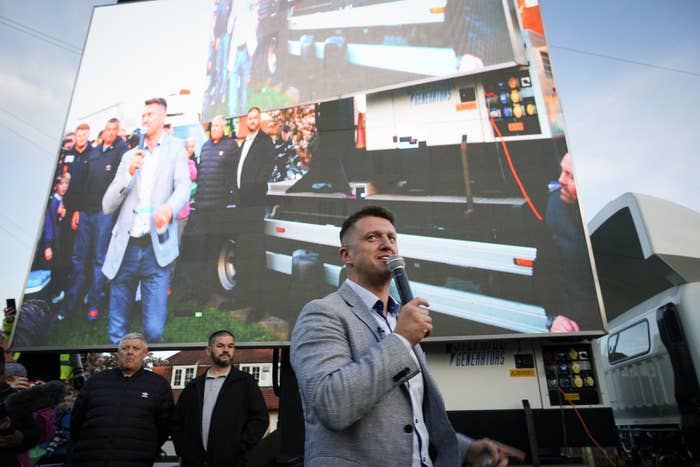 A hyperpartisan news website that has produced pro–Tommy Robinson viral news articles has been permanently banned from Facebook for violating the company's hate-speech policies, according to a company source.
The removal of Politicalite's Facebook page comes amid the anti-Islam activist's run for EU Parliament and the US tech company's crackdown on white nationalism and the far right.
Politicalite was started in 2017 by a writer who goes by the name Jordan James (above, right), with the website getting traction among the anti-Islam activist's huge Facebook following.
It has published a stream of "exclusives" about the former English Defence League founder, along with dozens of recycled news stories about issues Robinson claims to campaign against, such as child-grooming gangs.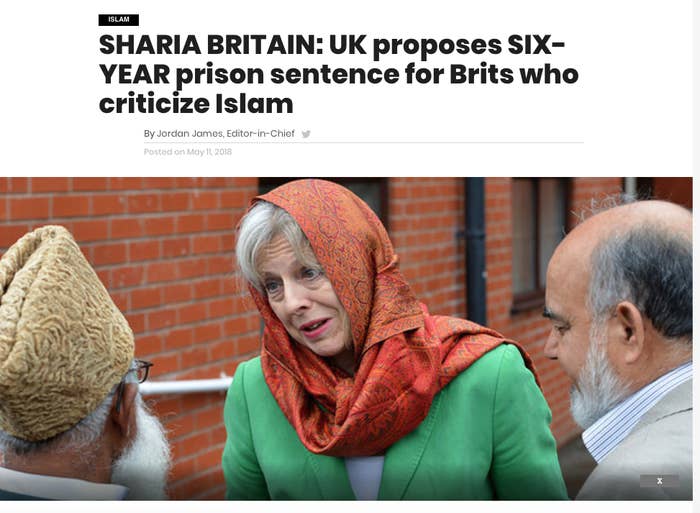 The website's biggest viral hit was a story titled "UNDER LABOUR'S WATCH: 1,000 girls raped, beaten and some KILLED in UK's biggest grooming scandal", which had almost 130,000 engagements on Facebook, according to social media–monitoring tool BuzzSumo.
The story was almost entirely plagiarised from an acclaimed investigation into grooming gangs published by the Sunday Mirror.

Another Politicalite story that went viral on Facebook aimed to shift the blame for the Christchurch mosque shooting in New Zealand from the "far right" to "left wing groups". It gained tens of thousands of engagements on Facebook.
Now Politicalite's Facebook page has been permanently removed, with a source claiming that the news website had committed a number of violations of Facebook's hate-speech policies. Facebook would not comment on the record about specifics of Politicalite's supposed breaches.
After Facebook took initial action against Politicalite's page last week, James complained to BuzzFeed News about the lack of information from Facebook.
"fb hasn't responded to two requests for comment," he said over email. "I know we're edgy but to ban a news outlet is ridiculous, whether you agree with our content/viewpoints or not.
"Are we turning into China..."
In February, Facebook banned Robinson, which included deleting his Instagram profile and Facebook fan page with about 1 million followers. The company claimed that Robinson had been repeatedly posting dehumanizing language and "calls for violence targeted at Muslims".
Since then, Facebook has removed other prominent UK far-right figures — like former BNP leader Nick Griffin and Britain First's Paul Golding and Jayda Fransen — from its platforms, while also announcing that any posts supporting those on the company's "dangerous individuals & organisations" list would be removed.
It all comes as Robinson, whose real name is Stephen Yaxley Lennon, starts his campaign as an independent candidate in this month's EU elections. Last week Twitter – which banned the activist last year – swiftly shut down a campaign account in his name that was getting thousands of followers.
Robinson has resorted to organising the campaign and making announcements through the Telegram messaging app. On the app, Robinson calls on his 35,000 subscribers to flood the more established social media platforms with his videos and messages.