A report into the increasing rates of Indigenous incarceration was released on Monday, prompting a debate about whether policing measures or offending was the main contributor to the rise.
The new statistics released by the Bureau of Crime Statistics and Research on Monday revealed the NSW Aboriginal prison population had gone up 25% between 2013 and 2016.
There were also some eye-opening insights from the report, including the fact Indigenous prisoners were spending more time behind bars after being charged and alternatives to jail time, like home detention, were often not used for Indigenous offenders.
Anyway, while the report was being digested and debated, the NSW police posted this video featuring the new Snapchat dancing hotdog getting cuffed.
That zany, happy hotdog was getting snatched from the top of the police car and taken back to the station.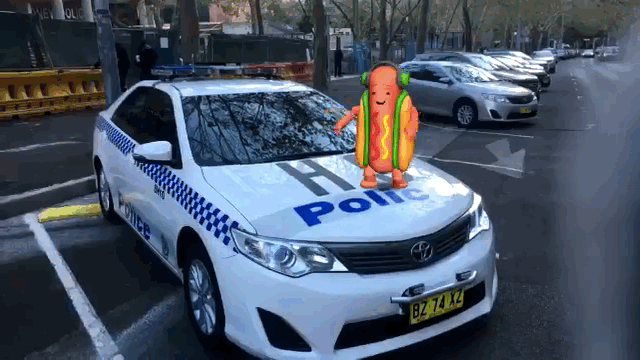 The response from most people was absolute delight! But others saw another story.
Over on Facebook the video was shared and viewed hundreds of thousands of times by the page's many fans.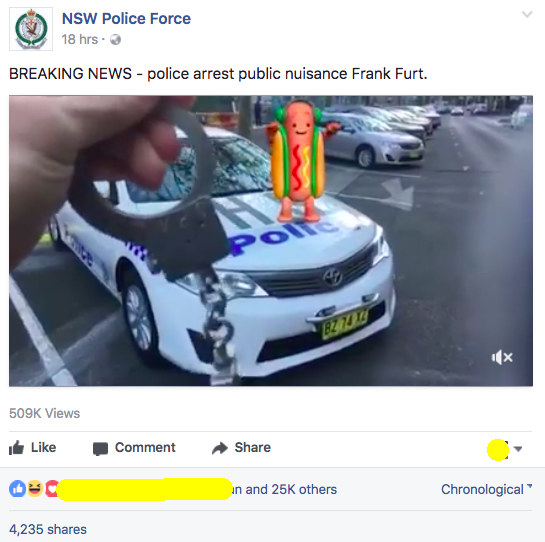 For what it's worth, the full Bureau of Crime Statistics and Research report into Indigenous incarceration rate can be found here.
The authors, Don Weatherburn and Kylie Routledge, concluded the increase in convictions, particularly for stalking and intimidation offences, are likely tied to a change to policing policy rather than a change in criminal behaviour.
And that a reduction in the number of Indigenous offenders receiving a prison sentence in NSW could be brought about if those currently given a short prison sentence for minor assault, stalking/intimidation, breaching an Apprehended Violence Order, breaching a good behaviour bond or breaching a suspended sentence were, instead, placed on an Intensive Correction Order (ICO).

"It is to be hoped that reforms currently underway to increase the use of ICOs have the effect of reducing the rate of Indigenous imprisonment in NSW," said Dr Weatherburn.