New South Wales transport minister Gladys Berejiklian has expressed shock at video footage showing a double amputee, an elderly woman, and a stroke survivor pulling themselves up the stairs of Unanderra train station.
Two videos filmed this week show the unknown male amputee, stroke survivor Bec Schmidt, and 81-year-old Wendy Richardson climbing the 36 steps to the top of the platform.
They are being used by disability advocates to support calls for an elevator to be installed at the train station on the New South Wales south coast.
Local resident Fiona Jordan told WIN News Illawarra she met the double amputee by chance on the way home and decided to film the situation facing the group.
"We actually met them on the train home accidentally and I said, well, while we are here, we'll film you going up and down the stairs," she said. "It just happened that there was a guy without legs and a wheelchair going up at the same time."
Footage also shows the man being forced to traverse the 36 steps backwards in his wheelchair.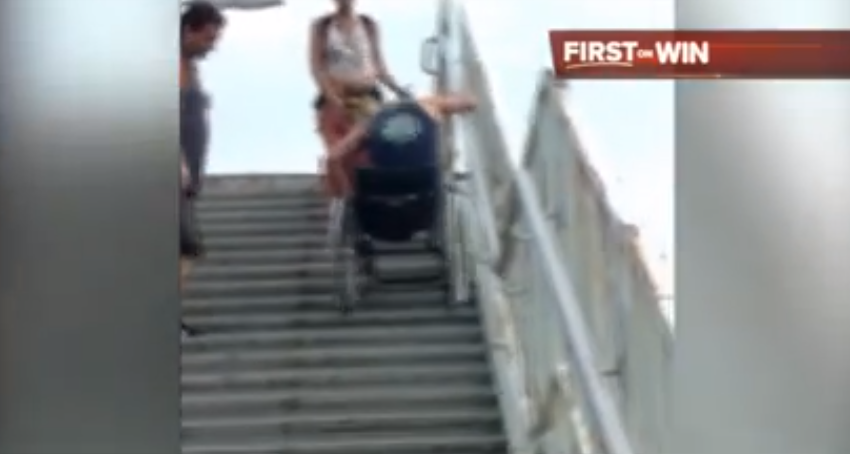 "It's distressing to see anyone in the community struggle to access public transport – whether they're elderly, customers with a disability or families with prams," Berejiklian told the Illawarra Mercury.
A Facebook group, Elevators for Unanderra Train Station, has been set up to lobby for disability access at the local platform in the lead-up to March's state election.
The Illawarra Mercury penned an angry editorial saying the videos prove this is an urgent problem in need of action.
"Now the time for promises is over. You are all on notice. Unanderra is watching," it read.
"And so are we."