Everyone's Freaking Out Because Lush Started An Anti–Undercover Police Campaign
Police officers and their families have joined with the Home Secretary to call the advertising irresponsible.
Lush customers in the UK started seeing some new shopfront advertising earlier this week, with the bath bomb specialists launching a striking campaign against undercover policing.
See, right now there's a public inquiry looking at undercover policing after some political activists discovered that their ex-boyfriends were actually working for the cops. One undercover relationship even led to a child.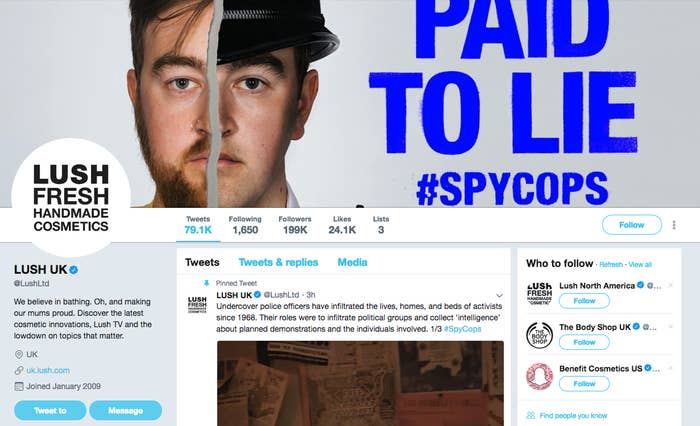 The bathing and cosmetic company's #SpyCops campaign led to a flood of complaints from police officers and their families, who were furious with how it portrayed the police.
It even caused the new home secretary Sajid Javid to slam the campaign as "not a responsible way to make a point".
On Friday afternoon, Lush UK came out with a new statement, insisting the provocative window displays and advertising were not part of an "anti-state/anti-police campaign".
"We are aware that the police forces of the UK are doing an increasingly difficult and dangerous job whilst having their funding slashed," read the statement on Lush's website. "We fully support them in having proper police numbers, correctly funded to fight crime, violence and to be there to serve the public at our times of need.

"This campaign is not about the real police work done by those front line officers who support the public every day – it is about a controversial branch of political undercover policing that ran for many years before being exposed.
"Our campaign is to highlight this small and secretive subset of undercover policing that undermines and threatens the very idea of democracy."
But around the country, people posted photos and videos of some Lush stores removing the police signage.
And because it's 2018, a retail competitor subtweeted Lush, promoting its own bath bomb line and support for the police.