Trump's Data Firm Really Wants You To Know Claims About Its Mystical Powers Are Bullshit
"We tried to correct the press...but unfortunately and somewhat ironically this was an example of fake news that got disseminated and spun out virally," Cambridge Analytica CEO Alexander Nix said on Tuesday.
The boss of Cambridge Analytica, which rose to notoriety for its work on the Trump presidential campaign and has been accused of exerting a shadowy influence on British voters, told a UK parliamentary inquiry on Tuesday that claims about its role in the 2016 Brexit referendum were "fake news".
During a grilling at Westminster that lasted several hours, CEO Alexander Nix repeatedly rubbished suggestions that Cambridge Analytica had manipulated voters by combining data from Facebook and other social media platforms with psychological profiling.
He also claimed that negative coverage of the company was largely a result of its work with Donald Trump, and insisted that the data work it carried out for him was no different from that being done by Hillary Clinton's team, or by digital ad agencies.
"Part of the issue is that [Trump] is somewhat polarising, so people see the work we did in a negative light," Nix told the House of Commons digital, culture, media, and sport committee, which is conducting an inquiry into fake news and Russian meddling in the EU referendum. "They refuse to accept that fact that Clinton's machine was twice the size or three times the size of anything we were doing for Trump."
He said Cambridge Analytica had "40 or so PhD scientists" working "100 hours a week" for Trump for just five months, whereas Clinton "had hundreds of data scientists and digital practitioners working for her".
Intense scrutiny of Cambridge Analytica's operations has led some former Trump officials and GOP digital specialists to cast doubt on the effectiveness of the firm's psychological techniques.
On Tuesday, much of the focus of the British MPs was on Cambridge Analytica's strenuous denials that it had done any work with the Leave.EU campaign during the 2016 EU referendum.
Committee chairman Damian Collins wanted to know why an article had appeared in ad industry magazine Campaign under Nix's byline in February 2016 that plainly stated: "Recently, Cambridge Analytica has teamed up with Leave.EU... We have already help supercharged Leave.EU's social media campaign by ensuring the right messages are getting to the right voters online."

Nix said the article was written by a "slightly overzealous PR consultant", and ironically had generated a lot of "fake news" picked up by mainstream news outlets.
"We tried to correct the press again and again and again, but unfortunately and somewhat ironically this was an example of fake news that got disseminated and spun out virally," Nix said.
"By the time it had penetrated the internet it became a matter of fact but there was no fact behind it."
Tory MP Simon Hart put it to Nix that there was "a certain irony" in him claiming the company was a victim of disinformation. Nix replied that this was unfair.
He did admit Cambridge Analytica had courted work with the pro-Brexit Leave.EU campaign, describing the firm's business relationship using a bizarre metaphor about the difference between dating and marriage.
"We dated each other, we had a couple of dinners, we didn't get married," Nix said. "How can I spell this out to you?"
The MPs repeatedly challenged Nix's version of events, reading out tweets from Leave.EU spokesperson Andy Wigmore and passages from campaigner Arron Banks' book, The Bad Boys of Brexit.

Banks and WikiLeaks founder Julian Assange were also live-tweeting the proceedings, claiming that Nix's version of events was wrong. When Collins put the remarks to Nix throughout the morning, he dismissed them as "absolutely incorrect" and "totally untrue".
Assange, who was approached by the Cambridge Analytica CEO about Hillary Clinton's missing emails in 2016, also tweeted at the committee, offering to give evidence to the fake news inquiry.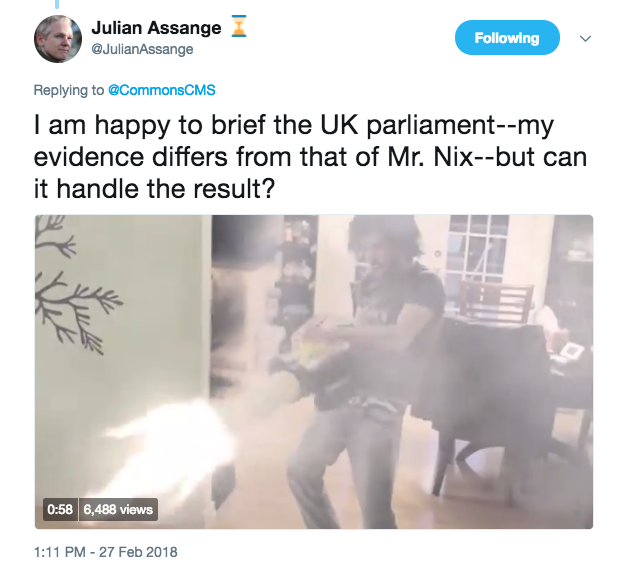 Tory MP Rebecca Pow asked Nix: "Do you see yourselves as an all-powerful presence with all this knowledge and data that you've got?"

He called Cambridge Analytica a "small technology company", doing what others have been doing for years.
"That's very flattering that you might suggest that people might see us as having these incredible powers," he said. "What we're doing is really no different to what the advertising industry at large is doing across the commercial space.
"We are a small technology company... The science of political campaigning goes back hundreds of years and what we're doing is a natural evolution to what's been done before and many other people are doing as well."