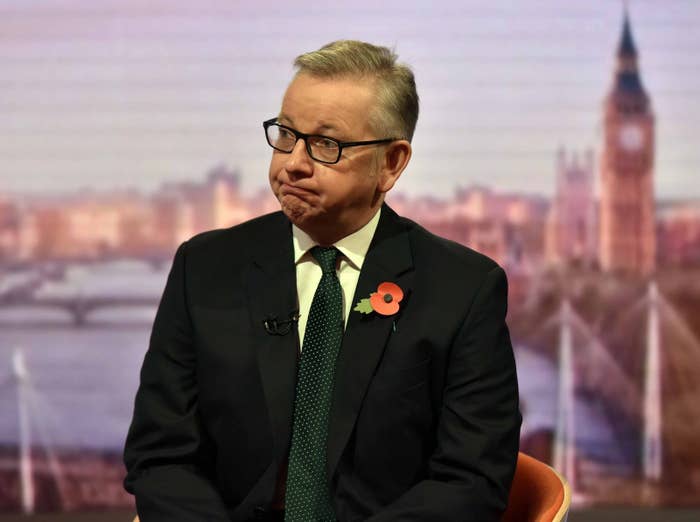 Environment secretary Michael Gove has said he doesn't know what British-Iranian mother Nazanin Zaghari-Ratcliffe was doing in Iran before she was detained there, going on to passionately defend cabinet colleague Boris Johnson from his critics over the handling of the matter.

Appearing on BBC One's The Andrew Marr Show on Sunday morning, Gove was asked what Zaghari-Ratcliffe was doing in the country prior to being arrested and jailed, after Iranian state TV had jumped on Johnson's claims that she was training journalists in the country.
"I don't know," Gove initially replied.
But he added: "One of the things I want to stress is that there is no reason that Nazanin Zaghari-Ratcliffe should be in prison in Iran so far as any of us know."

Marr then reminded the cabinet minister that Zaghari-Ratcliffe's husband Richard had been clear that his wife was in the country on holiday with their daughter, not spreading propaganda as suggested by the Iranian authorities.
Gove said: "Then in that case I take exactly her husband's assurance in that regard."
Labour criticised Gove's remarks, accusing him of being "more interested in protecting Johnson's job than the liberty of a British citizen in jail in Iran."
Shadow Cabinet Office minister Jon Trickett said: "Boris Johnson's cavalier approach to international diplomacy is compounded this morning by Michael Gove claiming he has no idea what Nazanin Zaghari-Ratcliffe was doing in Iran. It has always been clear, she was on holiday visiting her family."
He added: "Theresa May must ensure Nazanin Zaghari-Ratcliffe does not pay the price for her ministers' bungling."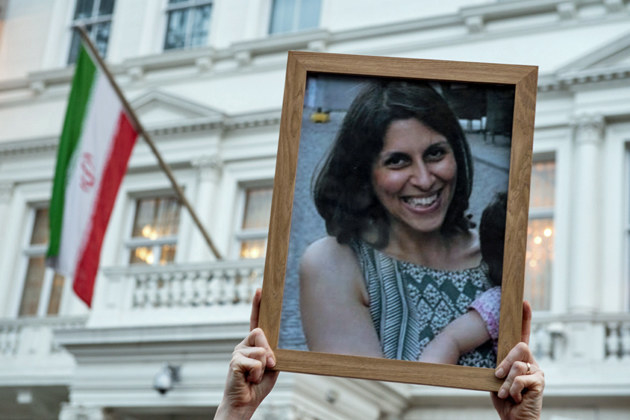 Gove's comments will further fuel the criticism of the government's diplomatic handling of the case after foreign secretary Johnson's claim that Zaghari-Ratcliffe had been "teaching people journalism" raised concerns it could add up to five years on her jail term.
Initially Johnson said that he'd been "taken out of context", but later admitted he "could have been clearer".

Richard Ratcliffe told the BBC on Saturday he was due to speak to Johnson about the case on Sunday, and possibly meet him the following week.
On Sunday morning, Gove repeatedly backed Johnson's handling of the case, calling him "a great foreign secretary".

"There is nothing the Iranian regime would like more than for the attention to be shifted off them and on to us," he said.

"I think we make a big mistake if we think the right thing to do is blame politicians in a democracy who are trying to do the right thing for the plight of a woman who is being imprisoned by a regime which is a serial abuser of human rights."
Brexit secretary David Davis also defended Johnson, telling Sky News' Sunday with Paterson programme: "Why would you want to sack Boris? He's a good foreign secretary".
Senior Labour figures have turned on Johnson, with party leader Jeremy Corbyn calling on prime minister Theresa May to sack the foreign secretary for "putting our citizens at risk".
London mayor Sadiq Khan, also appearing on The Andrew Marr Show on Sunday, said the handling of the Zaghari-Ratcliffe case was just the latest in a long line of Johnson's "gaffes".
"He has offended the Libyans in relation to what he said about Sirte being 'the new Dubai should they get rid of the dead bodies'. He's offended the Americans by saying President Obama is anti-British because he's 'part Kenyan'. He's offended the Spanish, he's offended Sikhs with what he said about whisky tariffs in the Gurdwara," Khan said.
"I think he has got to go."