Meet Australian Greens senator Nick McKim. Earlier this week, he took the piss out of the fictitious "WAR ON EASTER" by handing out halal-certified Easter eggs and delicious looking non-denominational fruit buns to his staff.
But it appears the Daily Mail completely missed the complex layering of the senator's joke, sounding the alarm to its readers that McKim "never once mentions EASTER!"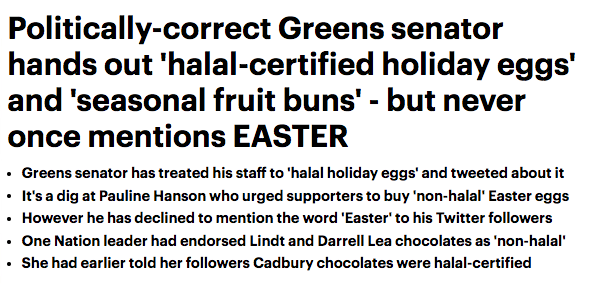 The image to accompany the story included the senator wrapped in a blanket, because, well, look idk maybe cause he looks menacing?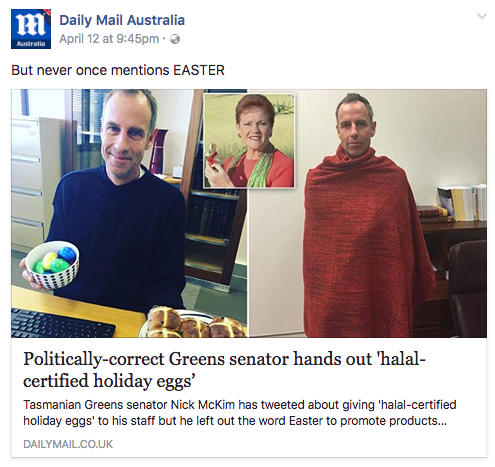 But then it all kicked off in the Facebook comments on McKim's page. He wasn't done with the trolling.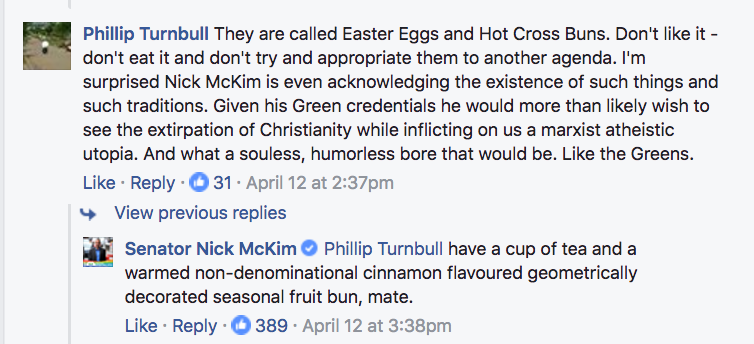 The senator, who remember WOULDN'T EVEN MENTION EASTER, went ahead and wished everyone a "Happy Easter".

There were so many people getting Easter wishes.
He was handing them out left, right and centre.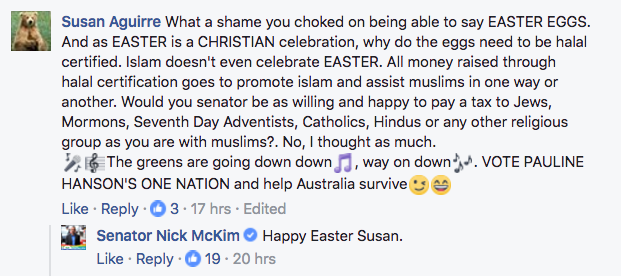 Even people who claimed he was targeting "a religion that doesn't retaliate", got a holiday salutation.

Christian greetings for the Christian festival.

Some called him a "bigot". He wished them "Happy Easter" also.

People have a real depth of feeling about the "holiday eggs"... which, as explained earlier, isn't a thing.
He even started taking the piss out of people's surnames.

Senator McKim told BuzzFeed News, "it's never good to have to explain your jokes but it was a pretty obvious piece of satire."

"And yeah, we were taking the piss out of Pauline Hanson as hard as we could because let's face it she deserves it."

"Most people got it but a few clearly didn't, which led to some good banter."

He had one final message for BuzzFeed News readers: "Happy Easter to everyone and enjoy your hot cross buns!"