Greenwald, Assange, And Snowden Join Forces In Attempt To Bring Down Kiwi Prime Minister
Prime minister John Key pre-empted the attack by admitting that New Zealand considered a mass cyber-surveillance programme.
A group containing the world's most prominent leakers and free speech advocates is set to launch an unprecedented attack on a sitting prime minister at a town hall meeting in Auckland tonight.

Megaupload-founder-turned-Kiwi-politician Kim Dotcom has promised to expose prime minister John Key for allegedly lying to the public over surveillance policies and his role in Dotcom's arrest in 2012.
The public spectacle, dubbed The Moment of Truth, will see US journalist Glenn Greenwald present NSA documents in person and WikiLeaks founder Julian Assange speak via video-link from the Ecuadorian embassy in London.
With NSA leaker Edward Snowden also understood to be speaking, from Russia, the event will bring four of the most outspoken online figures together against Key with just five days until Saturday's New Zealand election.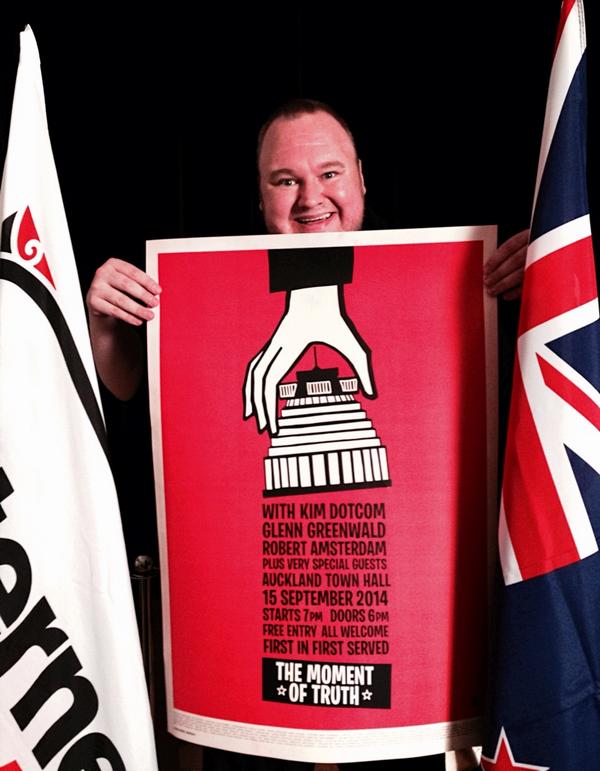 Key pre-empted Greenwald's revelations by confirming that his government considered a "mass cyber-protection" proposal by the Kiwi-equivalent of the NSA, the Government Communications Security Bureau (GCSB), in 2012.
"Only because Greenwald is going to turn up tonight as part of the Kim Dotcom's sound and light show, five days before an election, trying to influence New Zealanders," Key told Radio New Zealand on Monday morning.
"He made claims on television ... that are deliberately attempting to damage my reputation and tell New Zealanders I am doing something I am not, and I have got no option but to protect myself."
Key said he rejected the "extreme" GCSB proposals.
The second front against Key is expected to be "proof" he had prior knowledge of the 2012 arrest of Dotcom on copyright charges – something he has repeatedly denied.
Just hours before the event, The New Zealand Herald reported an alleged email from a film executive is the so-called smoking gun Dotcom aims to use to bring down Key.
According to the report, the email, allegedly from Warner Bros executive Kevin Tsujihara, reveals Key was aware of a plan to get Dotcom into New Zealand so he could be arrested and extradited back to the US on copyright charges.
"Kevin Tsujihara did not write or send the alleged email, and he never had any such conversation with prime minister Key," Warner Bros studio director Paul McGuire told the Herald.
The Herald says the date on top of the alleged email indicates it was sent around the same time Warner Bros was negotiating conditions for filming The Hobbit in New Zealand and Dotcom was negotiating residency.
It's apparently proof that Dotcom was used as a "bargaining chip" between movie studios and the New Zealand government.
Dotcom founded the Internet Mana political party to contest the 2014 election, and has been promising to reveal surveillance revelations over the last few months.
Key has been embroiled in other political controversies during the campaign, but is expected to hold on to power with the support of other parties.
UPDATE 0620 GMT New Zealand prime minister releases cabinet documents to back up "no mass surveillance" claims.
Key released the cabinet documents to the The New Zealand Herald to reportedly set the record straight before tonight's event.
"'There is not, and never has been, a cable access surveillance programme operating in New Zealand," he told the Herald. "The GCSB does not collect mass metadata on New Zealanders, therefore it is clearly not contributing such data to anything or anyone." Like many nations around the world, New Zealand over the last year has engaged in a serious and intense debate about government surveillance. The nation's prime minister, John Key of the National Party, has denied that New Zealand's spy agency GCSB engages in mass surveillance, mostly as a means of convincing the country to enact a new law vesting the agency with greater powers. This week, as a national election approaches, Key repeated those denials in anticipation of a report in The Intercept today exposing the Key government's actions in implementing a system to record citizens' metadata.