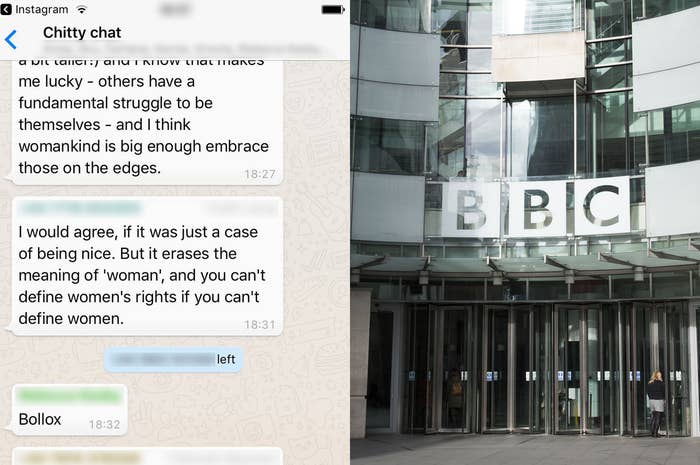 As women at the BBC continue their fight for equal pay, another fight is taking place behind the scenes: Private chat groups of women BBC employees have in the last few weeks been caught up in heated discussions over the role of trans women.
When BBC News last month pledged to ensure an equal number of men and women onscreen contributors by 2019, the announcement was welcomed in several popular WhatsApp groups for women at the BBC.
The groups were set up in the wake of last year's BBC gender pay scandal, partly as a way for senior managers to help mentor young women staff. But not for the first time, the topic then turned to discussing how the new policy would include, or exclude, trans women.
"The reason we don't get on progs and panels is discrimination due to biology and that's the thing that needs to be addressed," wrote one senior BBC producer in the "BBC Sisterhood" WhatsApp group, which boasts more than 100 employees.

Another woman backed in the producer: "Agreed. A panel with 2 men and 2 men who identify as women is not 50/50."
But the messages struck several of the younger women in the group as anti-trans. One wrote back, "Hello, I find this quote offensive… trans women are women and should be included in these discussions?"
These kinds of divisive exchanges around trans issues have become a recurring feature in some of the BBC women's WhatsApp groups in recent weeks. Messages seen by BuzzFeed News show a deep generational divide among women fighting for equality at the BBC.
"There are TERFs [trans-exclusionary radical feminists] clashing with the millennials and just posting blatantly transphobic things in the chats," one BBC journalist who asked not to be named told BuzzFeed News. "It's not pretty and you can see younger women leaving the groups every time it comes up."
These kinds of internal BBC debates are also playing out across the UK. On Tuesday, more than 300 women announced they intended to leave the Labour party because it plans to allow self-identifying trans women on all-women candidate lists.
For the BBC, the WhatsApp exchanges about trans women show the broadcaster has a section of staff fundamentally at odds with one another on how to achieve equality.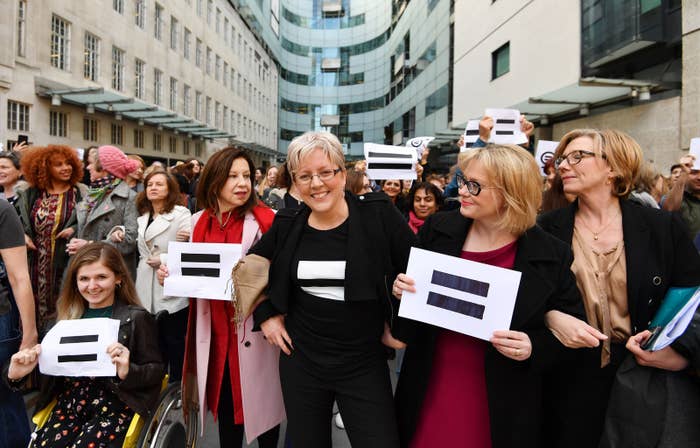 In the wake of gender pay disclosures last year, women at the BBC quickly collectivised in a number of different ways. One was to establish "BBC Women" – a group that sought to lobby management for equal and gender pay, while also mentoring young women at the broadcaster.

To communicate, they set up the "BBC Sisterhood" WhatsApp group. Other groups have since spun off the main channel, like one called "Chitty Chat", a space where colleagues could talk more socially.
According to a source, many of the BBC's most prominent women personalities eventually left the main WhatsApp groups not only because of the sheer volume of messages being sent, but because of concerns they'd be leaked to the media.
And as the broadcaster's gender pay issues slowly slipped off the news agenda in recent months, the groups turned to discussing other areas where BBC women are being discriminated.
According to screenshots seen by BuzzFeed News, a recent debate concerned how the broadcaster's maternity policy would be applied to trans women.

"If transwomen self-ID are eligible for maternity pay or leave, it means the sex discrimination claim of being fired or badly treated for pregnancy is erased," a senior producer wrote in the WhatsApp group. "One loses that resource to a claim for sex discrimination - though of course the discrimination would still happen."

A younger employee replied: "Shouldn't trans women qualify for maternity leave though?"

"As TW [trans women] are biologically male, they will, by definition, only be in a co-parenting situation & would therefore eligible for paternity/co parent leave in the same way as lesbian/gay non biol co-parents," the producer wrote. "Or adoption leave, when relevant."

For the younger women in the group, it was another instance where some had used an issue to attack at the differences between women and self-identifying trans women.
When objections arose about the direction of the debate within the WhatsApp groups, some members pushed on regardless, questioning why the subject had "provoked anxieties" amongst younger members of the group.
"I would love to have this convo. I was genuinely shocked that the very mention of the subject seems to provoke anxieties re speaking honestly that I hadn't seen in the group before," one wrote.
Another said: "Self ID of gender is coming up ... it's a major issue so if anyone wants to talk about it I'm just marking that here. It can affect equal pay, parity of representation on panels, how women's issues are raised and discussed, and our coverage of the GRA [Gender Recognition Act] debate."
At the moment, transgender people in the UK have to get a gender recognition certificate (GRC) in order to gain legal status to their acquired sex. But the government is considering moving to a gender self-declaration system similar to that used in Ireland, Argentina, and Malta, meaning people can transition without going through the legal system, which requires medical checks.
Of the BBC's approximate 21,000-strong staff, 417 identify as transgender, according to a report released last year.
BuzzFeed News asked the BBC a series of questions about the debates happening on the WhatsApp groups about transgender women. The BBC declined to comment.
In some of the exchanges seen by BuzzFeed News, several women tried to bring the debates around trans issues to a harmonious end. At least once, another reply kicked off renewed anger.
"I think womankind is big enough to embrace those on the edges," one woman wrote.
A senior producer replied: "I would agree, if it was just a case of being nice. But it erases the meaning of 'woman', and you can't define women's rights if you can't define women."
The comment saw someone leave the group, with another simply replying, "Bollox."