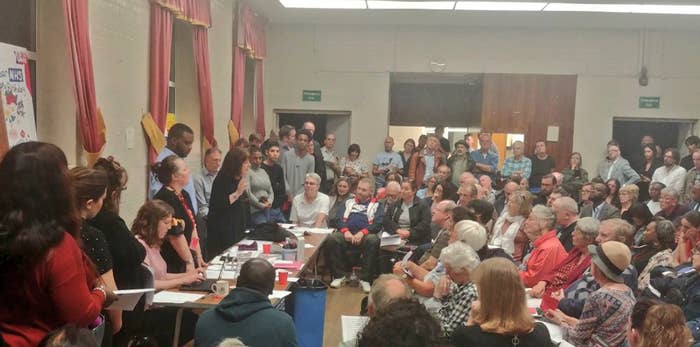 The Labour party has been called on to formally investigate how someone from Iranian state TV was able to get access to a local Labour branch meeting to live-tweet a contentious no-confidence motion against a pro-Israel Labour MP.
On Thursday night, the Twitter and Facebook accounts for the UK arm of Press TV posted images and footage showing local members from the Enfield North CLP meeting narrowly passing a motion against Labour's Joan Ryan.
It comes as Labour party leadership attempts to deal with accusations of anti-Semitism from prominent members of the British Jewish community.

Jeremy Corbyn himself has a long history with the Iranian state broadcaster, appearing multiple times on Press TV before becoming leader. He has reportedly received up to £20,000 for the appearances.

The chair of the Enfield North CLP is now demanding an investigation into the breach.
"The national Labour party has been informed about Press TV's filming of our meeting and will be investigating," the chair, Siddo Dwyer, told BuzzFeed News. "We'll also lodge a complaint against Press TV."
But a spokesperson for Labour HQ said it's the responsibility of the local branch: "Filming of local Labour Party meetings is not permitted, and Enfield North will be reminded of this fact."
According to Dwyer, there's a mystery about who exactly was posting the tweets and clips on behalf of Press TV because there was no press allowed in the room, and everyone present was a paid, registered member of the Labour party.
"No press was allowed to be in that room, nor members of the public, or registered supporters. You had to be a fully paid-up member of the Labour party.
"Photo ID was taken as well as Labour party cards. Everyone was checked and double-checked, but the process isn't bulletproof."
Dwyer said "we'd never seen so many people at a local meeting" and that before Corbyn became leader there'd be "about 15 people" who'd come along to the CLP meetings.
But at last night's meeting, Ryan — who's considered a Labour moderate and chairs the parliamentary party's Labour Friends of Israel group — narrowly lost a no-confidence motion against her 92–94.
She later tweeted that she wouldn't be resigning and characterised those who moved the motion as "Trots Stalinists Communists".
BuzzFeed News has contacted Press TV and the Labour party for comment.