A Twitter Account Is Tricking People Into Thinking It's Paul Keating And It's Just The Worst Thing
Lame zingers trading on the Keating legacy.
To get across the general gist of this story you'll need to know about this dapper guy, the 24th prime minister of Australia, Paul John Keating.
A Labor icon, Keating's rhetorical flair and formidable track record modernising Australia's sclerotic economy in the 1980s mean that he enjoys a venerated place in the country's political history.
Anyway, a few years back the Twitter account @PmPaulKeating emerged, which shows a Keating profile image, a Pink Floyd background, and, unlike other fan/parody accounts, no Twitter bio.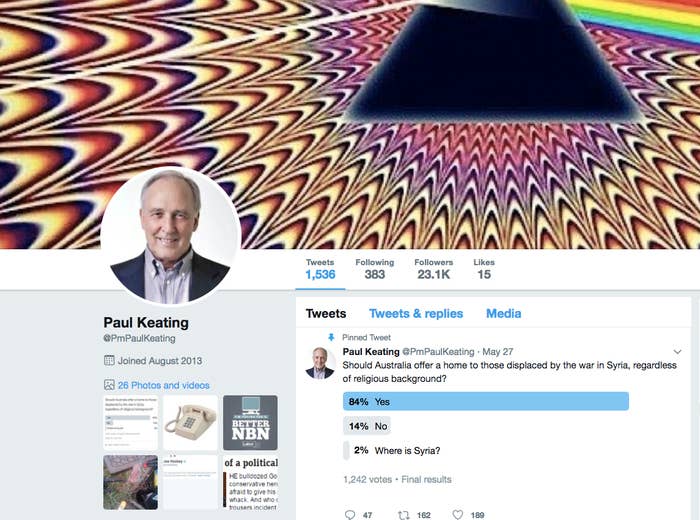 One thing though: When the @PmPaulKeating account tweets, something fucking awful happens.
People think it's him.

A lot of people think it's him.

There are sometimes dozens of replies from Australian Twitter users falling victim and replying to the account thinking it's the former prime minister.

Many, many people ask for Keating to return to Australian politics.
Sometimes it deliberately sets out to make people think it's the former prime minister. Like when he used this pronoun.
It was retweeted hundreds of times, and again people replied to the account thinking it was Keating.

You're probably thinking, "Mate, who cares, it's a Twitter account."

You're right. It is just a Twitter account.

But it's not Paul Keating.

And people think it's Paul Keating.

So BuzzFeed News spoke to a few of the people tricked by the account and broke news to them that @PmPaulKeating is not actually Paul Keating.

"Thank you for pointing that out Mark," Dorothy replied. "I'm quite intolerant of such 'fake' identities."

"Well given the individual in question... why on earth would you want to fake the past," Johnny said. "Perhaps it a dick pull from the conservatives."

Twitter user Fin told BuzzFeed News that he didn't know the account was a fake, and that "it all makes sense when you look at the page".
But Fin made a great point: "He has many influential followers, and it may eventually impact on Paul Keating's public image if it were to be misused."

Earlier this year, veteran political journalist Laura Tingle made it very clear that Keating was not on Twitter.
We decided to call Keating's office and ask what they thought about the account. A spokesperson for Keating said the office was aware of several fakes on Twitter and they were "not amused".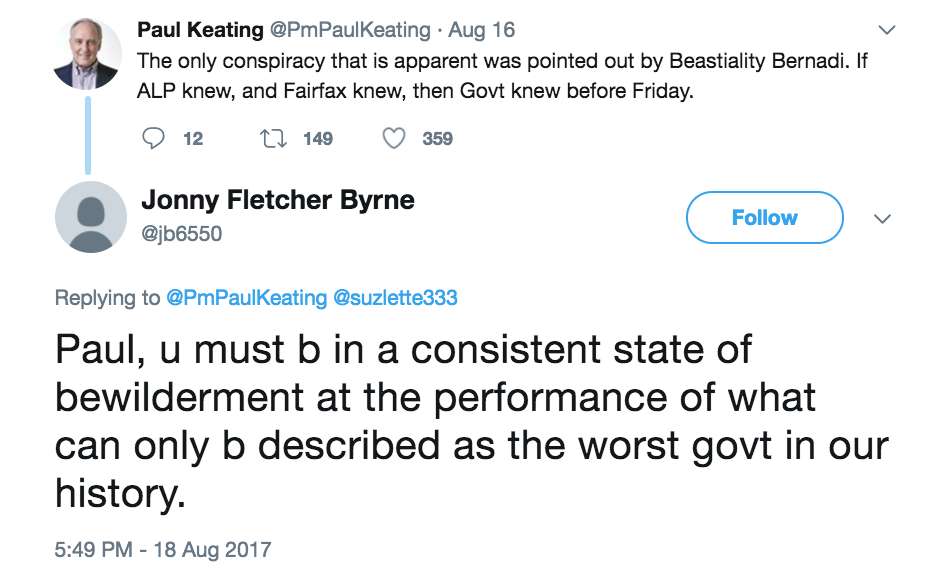 @PmPaulKeating told BuzzFeed News over Twitter direct message: "I have reduced the habit somewhat don't you think?"

"I think most people know the truth," he said. "Thus the low following." (The account has more than 23,000 followers.)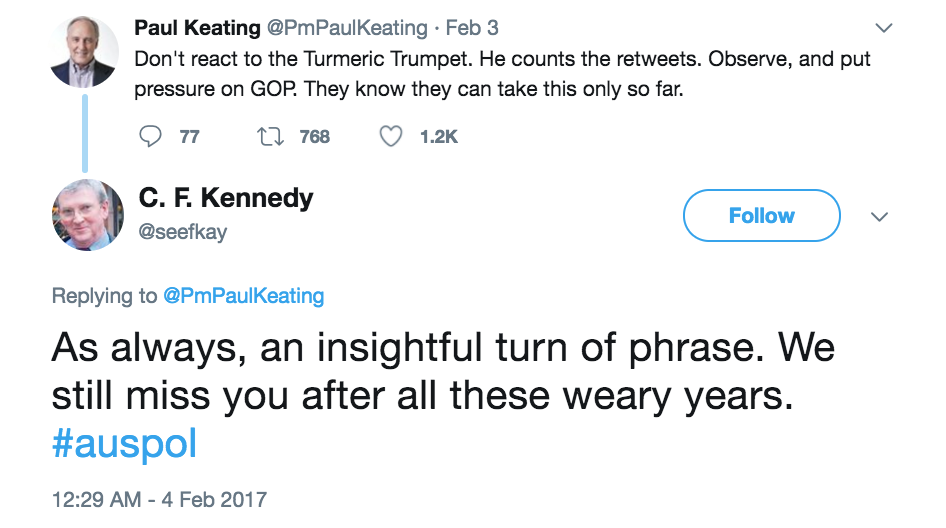 For now, @PmPaulKeating will probably keep tricking people enamoured with the PJK legend with political zingers that trade on his legacy.
Don't worry if you do get fooled though. Just this week, Australia's premiere financial newspaper @tagged Paul Keating with the fake account.